PGA Tour
PGA Tour unveils lucrative changes as top players commit to play together on more regular basis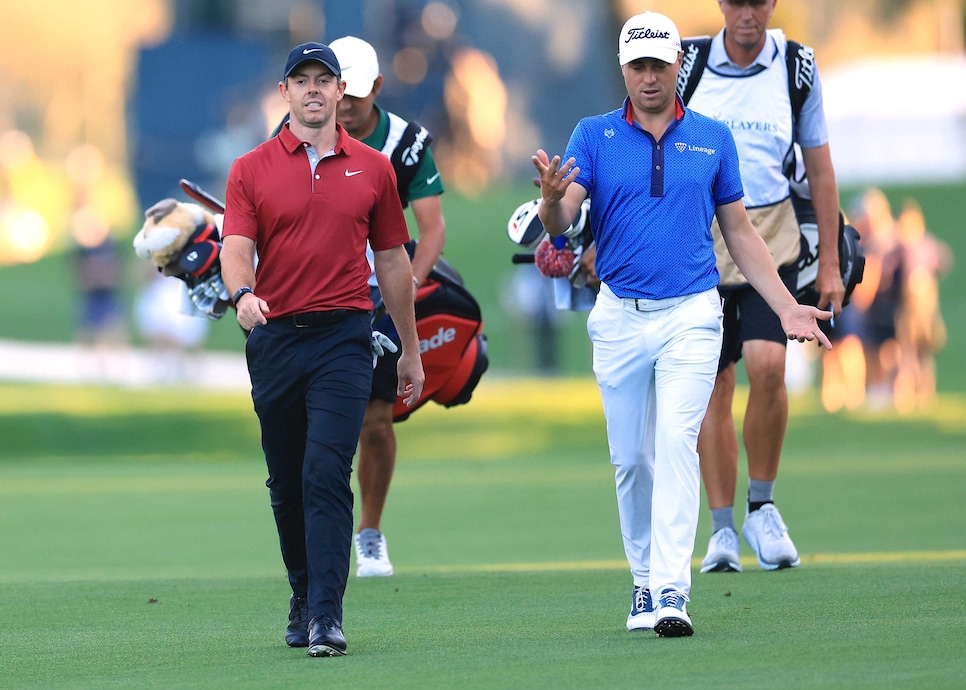 ATLANTA — In the face of LIV Golf potentially luring away more golfers, the PGA Tour is implementing several new measures to guarantee its top players will stay and compete together on a more regular basis in 2023.
PGA Tour commissioner Jay Monahan, speaking on Wednesday at the Tour Championship, revealed a series of significant changes to the tour's ecosystem. Having previously committed to eight "elevated" events in 2023 with purses in the $15 million to $20 million range, the tour will add four more to the 2023 schedule, the specific events still to be determined but each increasing its overall prize money payouts to $20 million. This is in addition to the four majors and the Players Championship. Top players will also play three other tour events of their choosing, thus committing them to a 20-event minimum schedule, with all of them playing in up to 17 of the same events.
The eight previously announced elevated events include the three FedEx Cup playoff tournaments, the Sentry Tournament of Champions, the Genesis Invitational, the Arnold Palmer Invitational, the WGC-Dell Match Play and the Memorial.
On the other end of the spectrum for its members, the tour is also creating an Earnings Assurance Program, which will guarantee all exempt PGA Tour players who play at least 15 events will be paid a minimum of $500,000 for the season regardless of whether they earn that much in tournament prize money.
Qualifying criteria for participation in the eight previously announced elevated events in 2023 will remain the same, although the top 20 in the PIP ranking will be assured spots in these events outside of the FedEx Cup playoff events. In essence, the tour will use the PIP this season to define a "top player."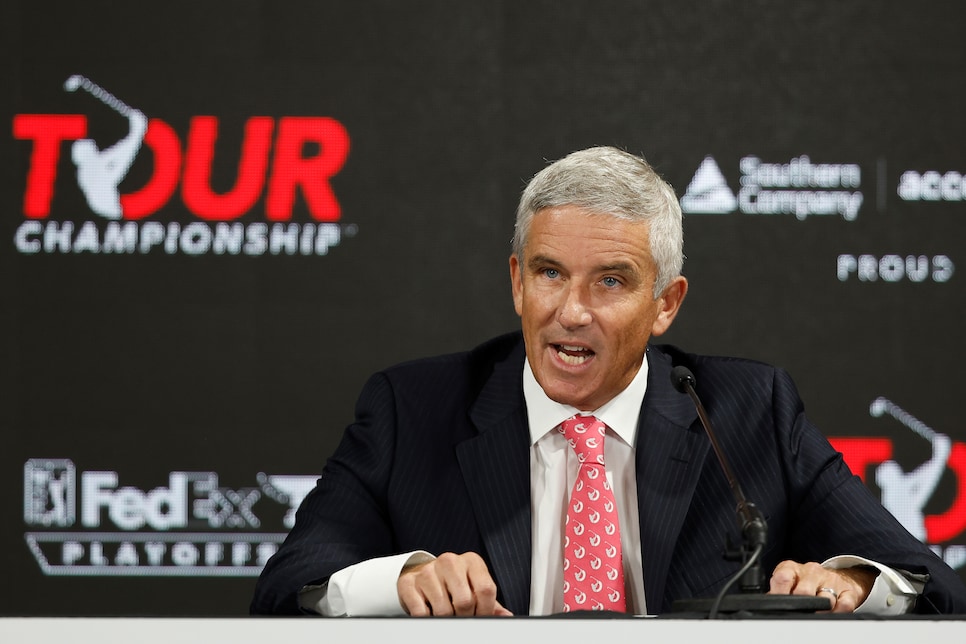 With these changes, the tour can count on its biggest stars playing together more frequently, something Monahan described as "unprecedented."
"Our top players are firmly behind the tour, helping us deliver an unmatched product to our fans, who will be all but guaranteed to see the best players competing against each other in 20 events or more throughout the season," Monahan said. "This is an extraordinary and unprecedented commitment, a testament to who these guys are and what they believe in."
Monahan hinted that the speed at which the changes were turned around and announced was driven by the threat of LIV Golf and the desire to have the players help shape what the tour would look like in order for them to remain committed to playing moving forward.
"It's atypical, but I think when you're in a situation like this, that's understood," Monahan said.
Recent reports say up to seven golfers who competed in the FedEx Cup Playoffs will announce they are going across to LIV Golf next week after the conclusion of the Tour Championship. The highest ranked among those players reported to be set to leave is Open Championship winner and Players champion Cameron Smith.
McIlroy, who has become a lead spokesperson among those committed to the tour, said assessing the tour in the post-Woods era inspired him to push for these changes.
"Unfortunately, Tiger Woods doesn't play as much as he used to," McIlroy said in a press conference immediately after Monahan. "Tiger Woods was the single biggest draw that the PGA Tour had, amongst other things. We have to recognize that. So for the 23 of us that were in that room last Tuesday night, including Tiger, we all have to sit down [and ask], 'OK, what is the best thing for our tour going forward?'"
World No. 4 McIlroy said the PGA Tour being comprised of individual stars setting their own schedules was no longer viable or entertaining. "I think today was a great step in the right direction," he said. "I think if you're trying to sell a product to TV and to sponsors and to try to get as many eyeballs on professional golf as possible, you need to at least let people know what they're tuning in for.
"When I tune into a Tampa Bay Buccaneers game, I expect to see Tom Brady throw a football. When I tune into a Formula 1 race I expect to see Lewis Hamilton in a car. Sometimes what's happened on the PGA Tour is we all act independently and we sort of have our own schedules, and that means that we never really get together all that often."
At the same time, the creation of the Earnings Assurance Program looks out for rising talent. For rookies and returning members, the $500,000 will be given up front, with earnings drawn against the cash advance. Players who fail to earn $500,000 will be paid the difference by the tour.
"We believe it meets the challenging dynamic of how players manage and invest in their careers, and it's comparable to how other leagues approach their athlete compensation," Monahan said.
The final change Monahan announced was a travel stipend of $5,000 paid for each missed cut to non-exempt PGA Tour members in the 126-150 category.
Four more big money events with $46 million of additional prize money, plus another $50 million for the PIP program plus money to support the new Earnings Assurance Program, means the tour will be spending another $100 million on players. Asked where the funding for this will come from, Monahan said the source is three-fold: money remaining in the current budget, money from the PGA Tour's reserve funds and money from tour sponsors.
Three-time major winner Jordan Spieth said Wednesday's changes had given the advantage back to the PGA Tour after LIV Golf has made several big-name signings over the summer, including Patrick Reed, Bryson DeChambeau and Brooks Koepka.
"Most importantly, I think players coming together to continue to want to make the PGA Tour better I think is really the silver lining here," Spieth said. "I think we all wanted to make the product better, so we wanted to get together to do that with Tiger and Rory helping run the show, and I thought it was really great. I listened to Jay's remarks, and I feel like the PGA Tour has a lot of momentum right now."