PGA Tour vs. LIV Golf
Players—save for praise of Tiger Woods—take code of silence on LIV Golf meeting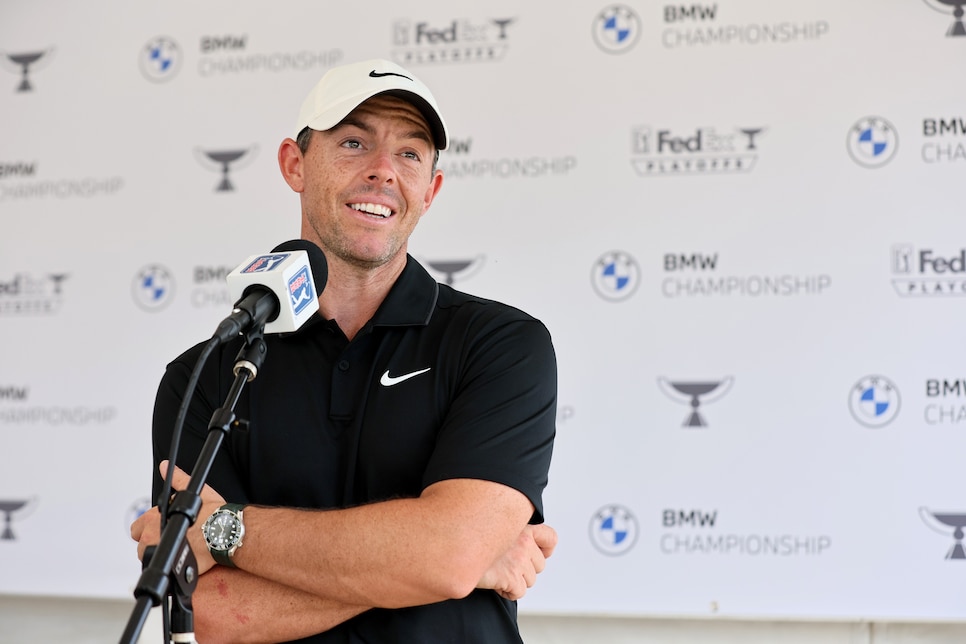 WILMINGTON, Del. — Apparently the first rule of attending the tight-knit, not-so-secret meeting is not to talk about the tight-knit, not-so-secret meeting.
That was the omerta observed by Rory McIlroy, Justin Thomas and Xander Schauffele Wednesday when asked about Tuesday's gathering of the PGA Tour's best and brightest, a group which convened to discuss how they can combat the schism caused by the emergence of LIV Golf.

"Yeah, I think I'd be pretty unhappy if I saw one of those guys from last night just blabbering to you guys what we talked about. That would be really frowned upon, and you probably wouldn't get invited back to the meeting," Schauffele said at Wilmington Country Club ahead of the BMW Championship. "Yeah, there's a little bit of a code there, I'd say.
"I mean, I'm not obviously going to talk about very much," Thomas added. "It was a productive meeting. It's just something that the players who are involved just want the best for the tour and want what's in the best interest."
McIlroy did note that "all the top players on this tour are in agreement and alignment of where we should go going forward, and that was awesome." What that means, well …
The meeting came amid reports that more individuals—including reigning Players and Open champion Cameron Smith—will defect to LIV Golf following the season-finale Tour Championship in Atlanta next week. It is believed one of the topics of conversation was what type of improvements the tour needs in wake of the fracture in professional golf, and how much ownership the players should take in this response.
Alas, the players were light on specifics on what such a response would entail.
"I'd just hope for a better product," Thomas said. "I think that's the hope in general of anything is just to try to improve ourselves, where we're playing, everything the best that we can."
"It was a really nice meeting. It was great. It was exciting. It was new. It was fresh," Schauffele said. "Coming up with other adjectives here, yeah, I am very hopeful with sort of what's to come, I should say."
What those in attendance did acknowledge was the impact of Tiger Woods, who flew to Delaware from his Florida home to attend the meeting in person before going back to the Sunshine State later that evening. Despite spending most of the year on the sidelines, Woods has used his few public appearances to vocalize his support for the tour. "I know what the PGA Tour stands for and what we have done and what the tour has given us, the ability to chase after our careers and to earn what we get and the trophies we have been able to play for and the history that has been a part of this game," Woods said in July at the Open Championship.
In a similar breath, Woods has not been shy in sharing his criticism of the Saudi-backed circuit, its CEO Greg Norman and those players who have jumped to LIV. Woods also allegedly turned down an $800 million offer to join LIV Golf last year.
Both McIlroy and Thomas underlined how much Woods' presence meant to the group
"He is the hero that we've all looked up to," McIlroy said. "His voice carries further than anyone else's in the game of golf. His role is navigating us to a place where we all think we should be."
"I think if someone like him is passionate about it, no offense to all of us, but that's really all that matters," Thomas said on Woods' presence. "If he's not behind something, then one, it's probably not a good idea in terms of the betterment of the game, but two, it's just not going to work. He needs to be behind something. I think he's been a great kind of leading role in a lot of ways in the game for a lot of us."
According to Thomas, Woods flew up rather than video conference in because Woods felt it was the "appropriate" thing to do.
"I think it shows how passionate he is about golf and wanting to improve it and paving the way for the next generation of young players to come out down the road," Thomas said.
There have been reports that Woods has been acting as a shadow commissioner of sorts, rumors that some players have had fun with. "Well, I've heard Tiger is the new commissioner, right? That's what everyone has been saying," Patrick Cantlay joked on Tuesday. Conversely, when asked if Woods has a leadership position with the group or is simply a voice in the proceedings, McIlroy was firm in his assessment.
"I think it's pretty apparent that whenever we all get in the room, there's an alpha in there," McIlroy said, "and it's not me."
However, McIlroy earlier remarked that while Tiger's support means the world, the players and the tour need to—and have to—find more self-sustaining avenues for its future.
"It's impactful, and I think it shows how much he cares about the tour. I think it shows how much he cares about the players that are coming through and are going to be the next generation," McIlroy said of Woods. "Like it or not, they can't really sell Tiger Woods anymore. The tour had an easy job for 20 years. They don't have Tiger—yes, they've got a bunch of us and we're all great players, but we're not Tiger Woods.
"We're moving into a different era, and we just have to think about things a little differently."

LIV Golf's next event is scheduled for Labor Day weekend at the International Golf Club in Bolton, Mass.