The Grind
Bryson DeChambeau's disastrous week, Snoop Dogg's NSFW golf commentary, and an embarrassing Tinder fail
Welcome to another edition of The Grind, where we thought about having a celebratory shot of tequila in honor of Abraham Ancer's win in Memphis. And by thought about it, I mean that I considered it for less than a second before deciding I wasn't going to end a two-decade streak of avoiding that poison since a couple bad experiences senior year in (cover your eyes, mom) high school. When it comes to fast food, I have an iron stomach, but even a sniff of tequila has me reaching for a barf bag. Heck, I don't even like limes. In any event, we're happy for Abe, who in addition to being one of the best golfers in the world is also an entrepreneur with his own line of tequila. I'm guessing that came in handy Sunday night. OK, no more tequila talk, because I'm getting queasy. Here's what else has our attention this week.
Abraham Ancer: How can you not root for a guy who learned the game at a public driving range in Mexico, began his collegiate career at a junior college, and might be shorter than the Wanamaker Trophy? Throw in a bunch of close calls and it was nice to see him notch his first PGA Tour win (Yes, we know he previously won the Australian Open). At a World Golf Championship to boot!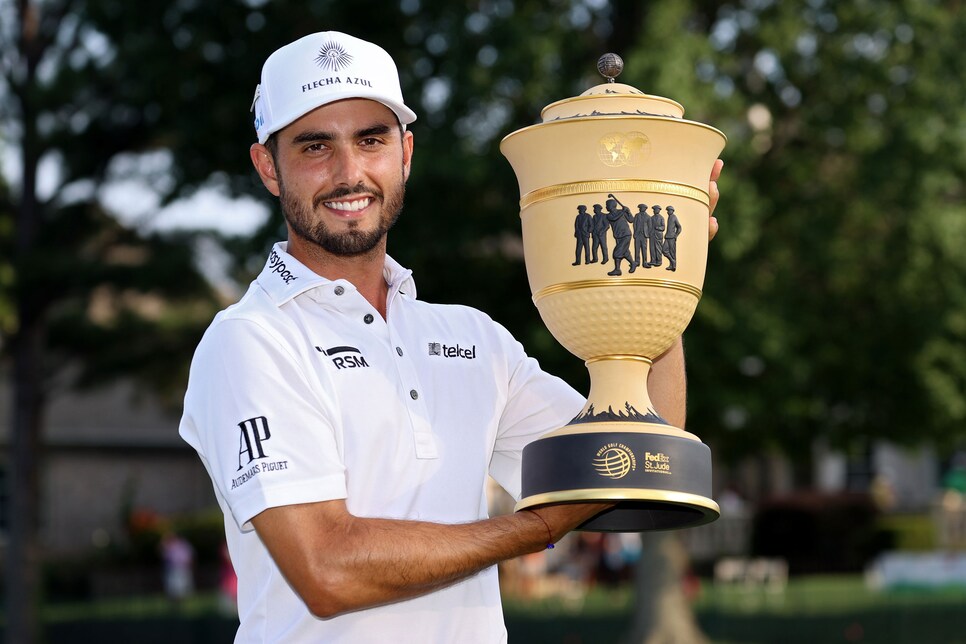 Oh yeah, he can also do this:
As if winning on the PGA Tour as one of the shortest—and shortest-hitting—players wasn't magic enough, the dude is an actual magician.
Nelly Korda: A week ago we were celebrating the return of the GOAT with Annika Sorenstam winning the U.S. Senior Women's Open by eight shots. Well, we could be witnessing the emergence of the next GOAT in the sport. Just weeks removed from winning her first major title, the 23-year-old captured the gold medal at the Tokyo Olympics.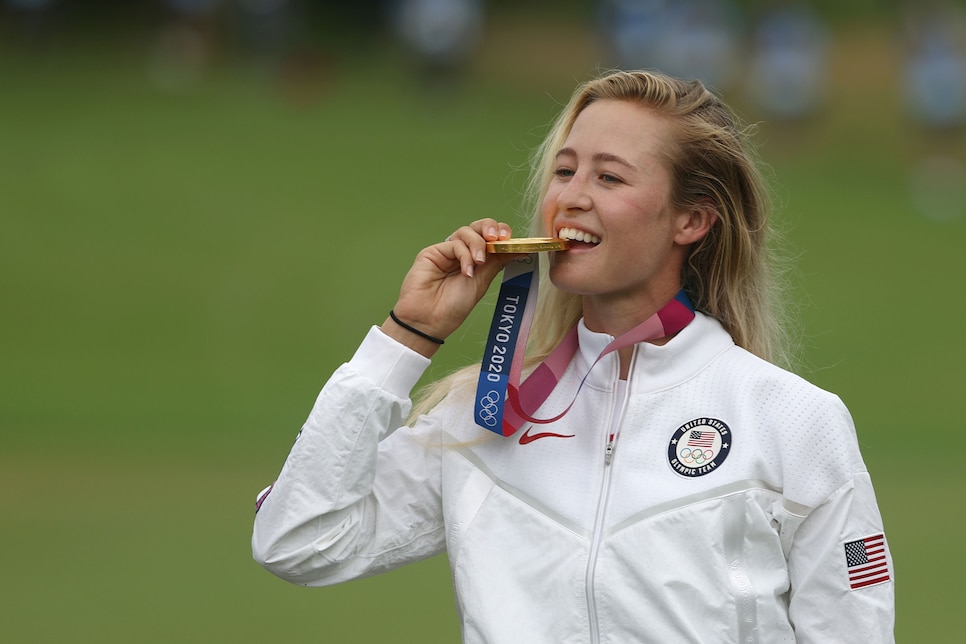 The No. 1 ranking in women's golf has been a bit of a revolving door in recent years, but this looks like the beginning of a lengthy reign for Nelly The Great.
Aditi Ashok's putting: I'm still bummed this 23-year-old didn't medal in Tokyo (Then again, I would have been bummed no matter who missed out on a medal during that fantastic final round), but what a performance by Ashok. Specifically, on the greens, where this Indian star putted like Tiger Woods in his prime as she gained more than 13 strokes on the greens alone. If I need someone to sink a four-footer with my life on the line, I'm calling this lady: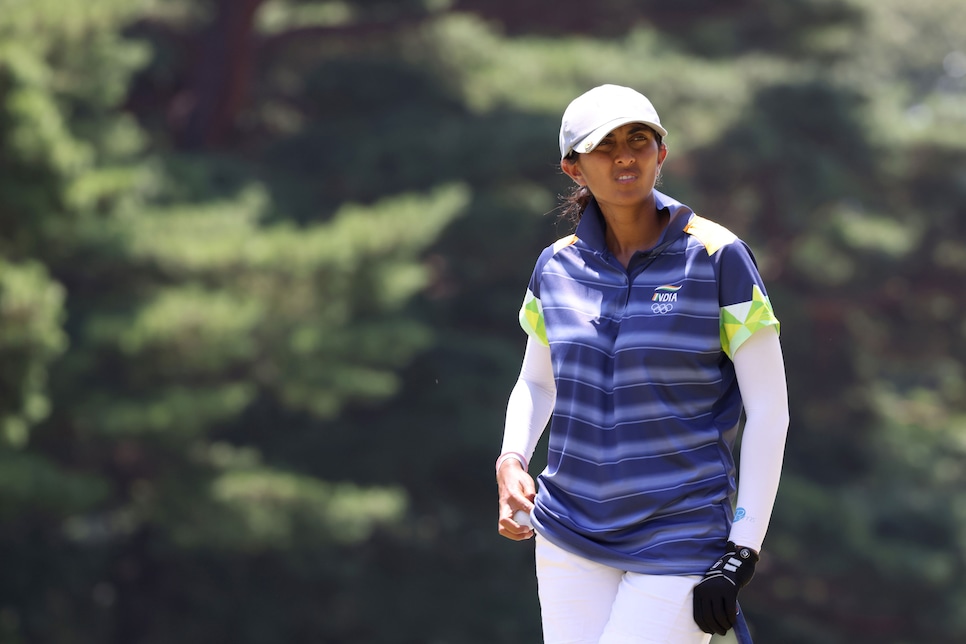 Ashok was surely disappointed to finish fourth, but her showing will do more for golf in her home country with a population of 1.4 BILLION people than any of the other golfers' efforts. That being said, kudos to Mone Imani for following up Hideki Matsuyama's Masters win and Tsubasa Kajitani's Augusta National Women's Amateur title with a silver medal. What a year for golf in Japan. And Lydia Ko is "BACK!" after taking bronze. You love to see it. What a tournament.
Erik Van Rooyen: Nelly Korda wasn't the only joggers-wearing golfer to win this past week and Abe Ancer wasn't the only golfer to earn his maiden PGA Tour title. This South African joined them both with his victory at the Barracuda Championship. Along the way, Van Rooyen shredded Tahoe Mountain Club's Old Greenwood Course like he shreds the guitar, breaking the scoring record at the event that uses the modified Stableford scoring system.
Smashing scoring records seems a lot more fun than smashing tee markers!
Bryson's Sunday back nines: Something is clearly going on here that goes way beyond swing mechanics. Since all this "Brooksy" stuff started (more on that in a bit), DeChambeau has been in position to win two golf tournaments and has failed to break 40 on the back 9 either time. The first, a 44 at the U.S. Open and now a 41 at TPC Southwind, where even just a 39 (3 over) would have gotten him into a playoff. DeChambeau went from holding a two-shot lead at the turn to barely finishing in the top 10. These are just complete meltdowns that you might expect a great player to have a couple times in their careers, not a couple times in a couple months. Again, something is up. Something like . . .
"Brooksy": Bryson has made it easy to root against him at times and this week was certainly no exception. Whether you believe people should get the COVID vaccine or not, to say you didn't get one because you didn't want to "take the vaccine away from someone who needs it" was off the mark given that vaccines are in ample supply in the United States. Oh, and he also said nothing to the media once the tournament started. Bad job. But anyway, that's not the point. I'm actually trying to stick up for Bryson here(!) as did Harris English following the final round and our Shane Ryan, who followed the two during that brutal Sunday back nine. Shane called the fan heckling "bullying" and I agree. It's gone too far (Brooks Koepka stoking the flames didn't help) and it should stop. Seriously, purposely calling someone by the wrong name? What are you, in first grade? Let's do better, people.
Tinder swing tips: These shouldn't be given unsolicited in general, but on Tinder? At the very least, you should know who you're talking to. But "Todd" from IT had no clue he was conversing with a former LPGA Tour pro when he offered some advice for getting more distance on the tee to Anya Alvarez:
Cringe. It doesn't get much more awkward than that. Todd, the only way you'll ever hear from Anya again is if she has computer problems.
The PGA Tour heads to Greensboro for its final regular-season event, the Wyndham Championship, AKA Rickie Fowler's last stand. Fowler enters this week at No. 130 in the FedEx Cup standings so he'll need a good performance just to move into the top 125 to qualify for the FedEx Cup Playoffs and keep his PGA Tour card for next season. Puma, Farmers, Mercedes, TaylorMade, Grant Thornton, Rocket Mortgage, etc. will be watching closely.
Random tournament fact: In 2019, J.T. Poston became the first player since Lee Trevino in 1974 to go bogey-free while winning a 72-hole PGA Tour event. The fact that that's even been done one time is insane.
RANDOM PROP BETS OF THE WEEK
—Rickie Fowler will go bogey-free this week: 1 MILLION-to-1 odds
—Rickie Fowler will win this week: 50-to-1 odds (Actual odds)
—You will see plenty of Rickie next season no matter what happens this week: LOCK
PHOTO/INSTAGRAM OF THE WEEK
Hey, sometimes you just have to laugh at yourself.
Here's Snoop Dogg's (and Kevin Hart's) Olympic golf commentary. (WARNING: NSFW) (Also WARNING: It's hilarious):
Of course, it wasn't quite as good as Snoop's take on Rory McIlroy's favorite Olympic sport, dressage:
Good stuff, Snoop. My favorite Masters remains the one when you hosted a party on the eve of the tournament. And yes, I stayed away from the tequila while sipping my gin and juice.
"I had obviously some close calls this year and the previous seasons. I didn't want to think of like, oh, my God, I'm so due, I didn't want to put extra pressure. I've done enough in other events to win and it just didn't go my way. So I just stayed patient, I didn't change anything. I just try to get better at how I play golf and keep my head cool."—World-class golfer and tequila mogul Abraham Ancer. Ugh, I said the T-word again. Going to need a minute.
THIS WEEK IN PUBLIC DISPLAYS OF AFFECTION
CHRIS VERNON ALWAYS BURNIN'! Wait, CHRIS VERNON ALWAYS EARNIN'! OK, so we're going to have to workshop that some more.
THIS WEEK IN PHIL BEING PHIL JOHN DALY BEING JOHN DALY
John Daly sitting at the slot machines is, well, exactly how you'd picture John Daly sitting at the slot machines: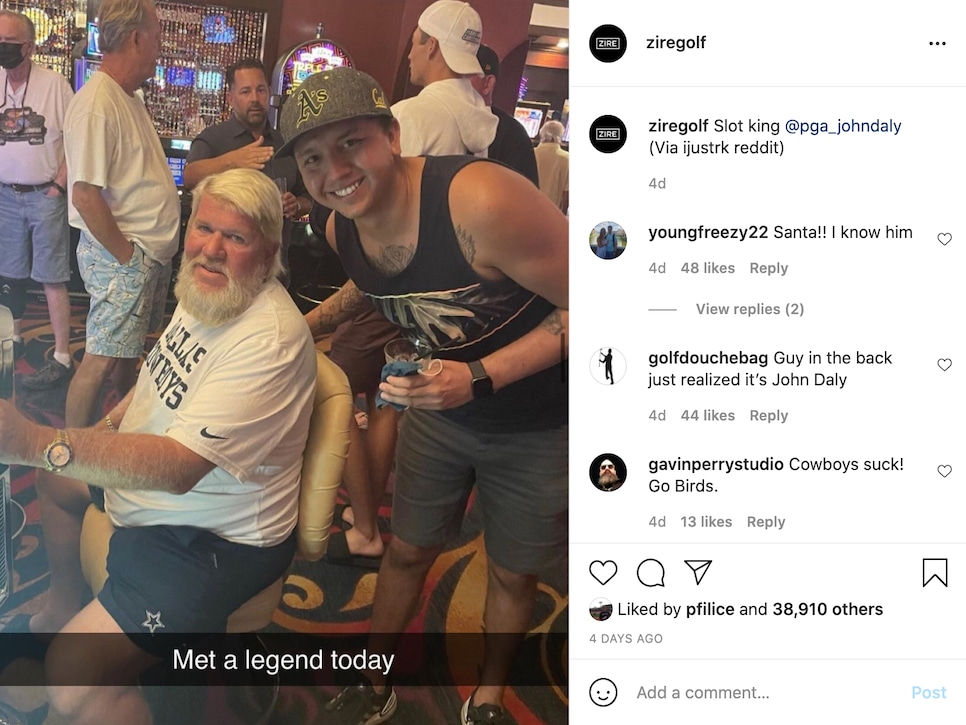 Looks like he's super pumped for the Cowboys season to be starting soon as well.
THIS WEEK IN ME GROWING FORCING THE GAME ON MY DAUGHTER
Actually, this was all her after I came back from playing golf one day! I swear!
Next up? We're going to take a stab at mini golf. Pray for me.
Congrats to University of Tennessee senior Tyler Johnson for shooting 27 under and winning the Tennessee Amateur by 14(!) shots. More like Tiger Johnson, am I right? . . . There is a 288-yard par-3 at Oakmont this week for the U.S. Amateur. Just a guess, but the scoring won't be as good as the Tennessee Amateur. . . . Justin Thomas says he flew 23,587 miles in a recent four-week stretch. That's a lot, but Gary Player probably isn't impressed. . . . And finally, congrats to Chris Reynolds and Ron Kaspriske for winning the sixth annual Golf Digest Trainwreck Tournament (and the first one to have this beautiful trophy-like award):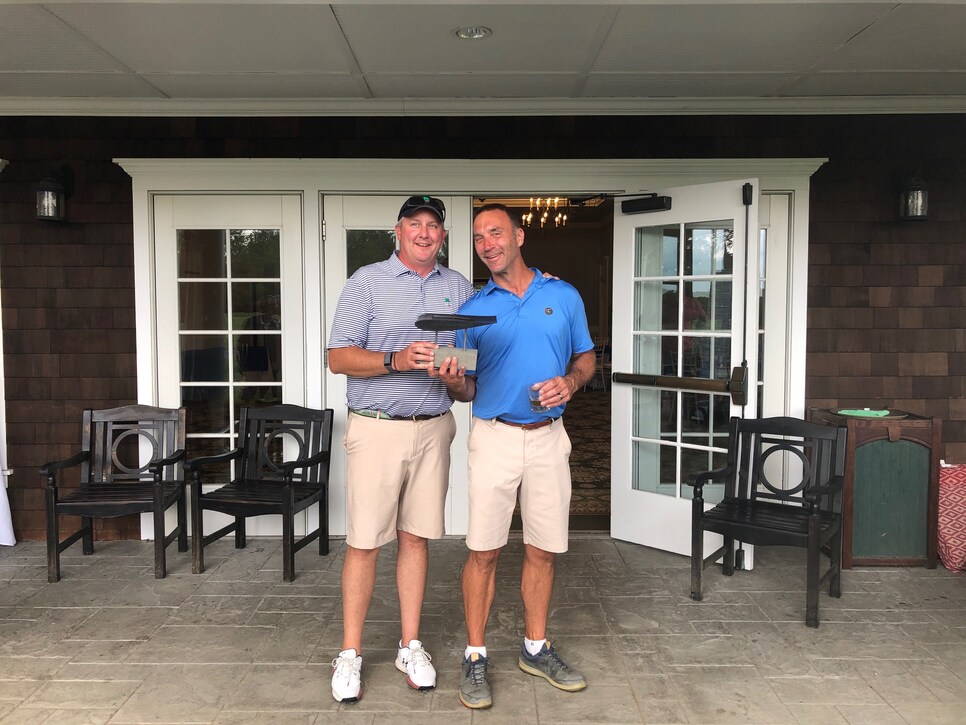 And check out the gallery of co-workers who watched the playoff: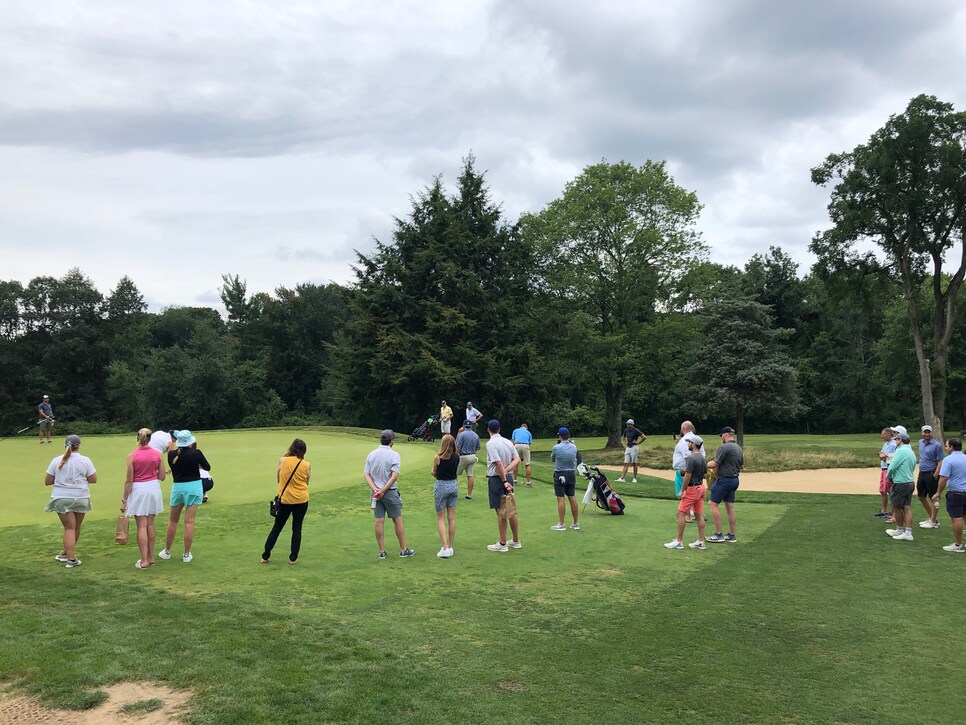 There are some tour events that would love to have that many fans! By the way, the team of Ryan Herrington and myself finished one shot out of that playoff in solo third. Sadly, there was no bronze medal.
RANDOM QUESTIONS TO PONDER
Who will represent the U.S. in golf at the next Olympics?
Will my daughters like golf?
Will I ever (knowingly) drink tequila again?