Go back to the start of 2021 and tell Nelly Korda this is how her season would go. The 23-year-old would be a four-time winner, the World No. 1, a major champion, and an Olympic gold medalist. Her reaction would be like that of any reasonable golfer.
"I would tell the person to leave," she said. "Honestly, it's crazy."
Korda continued her dream season with a tumultuous final-round 69 at Kasumigaseki Country Club to win the women's golf gold at the 2020 Tokyo Olympics on Saturday. Korda, whose victory completed an American sweep of the golf gold medals after Xander Schauffele's triumph in the men's tournament, fought through a double bogey, being caught twice and waiting through a late 48-minute delay with two holes to finish because of looming Tropical Storm Mirinae.
"It's crazy," Korda said. "It sounds absurd that I'm a gold medalist and an Olympian. I don't know. It hasn't sunk in yet."
Korda started Saturday with a three-shot lead that moved to four with birdie on the second hole. It was her first in 14 holes, going back to the sixth hole of the third round.
Playing in the same final threesome, Lydia Ko, wasn't waiting for Korda to close the door. Ko, who ultimately shot 65, birdied four of the first five holes to cut the lead to two. Ko served as a final-round foil for the second time in 2021, as her Sunday 62 in chase of winner Patty Tavatanakit at the ANA Inspiration this year came to mind early at Kasumigaseki Country Club.
It was at the par-3 seventh where Korda's mettle faced arguably its biggest test. She tugged her tee shot to the left of the back-pin location, with her ball rolling down into the collection area.
Korda faced a problematic downhill lie for her chip, but you couldn't have reasonably expected her to take three shots to get onto the green from there. Her first barely got above the fringe to the false front, and it trickled to an uphill lie. After her second didn't stay up either, rolling rolled back past her feet, the fast-playing Korda stepped up the pace and took nine seconds to hit her third. She knocked it pin-high to save double bogey, but had fallen into a three-way tie for the lead alongside Ko and Aditi Ashok.
"I feel like it [the double bogey] just motivated me more," Korda said. "I can't play like this today. I can't go out like this. I always want to fight, and I'm going to fight until the end."
Nelly Korda (left) is congratulated by her sister Jessica Korda after winning the women's Olympic golf tournament.
Stephen McCarthy
Fought Korda did—spectacularly. She birdied Nos. 8, 9 and 10 to battle back to a three-shot lead. Korda holed a 21-footer on the eighth, responding to Ko after the Kiwi knocked a wedge close to the pin to set up an easy birdie of her own. The American maintained the momentum with eight- and nine-foot birdies on Nos. 9 and 10, returning to 17 under par, and back to three ahead of Ko and Ashok.
Korda's three-stroke advantage held until Mone Inami of Japan entered the picture on the back nine. The five-time Japan LPGA Tour winner in 2021 birdied four straight hoels from Nos. 12-15. The streak cut Korda's lead down to one as Inami walked off to the 16th. Ko again challenged, too, capitalizing on the scorable final side with three birdies in a row from the 13th through 15th to get one behind Korda. Her close contact didn't last, as Ko bogeyed the 16th to fall two off the lead with two to play.
The looming weather system—one that had International Golf Federation officials on edge all week, nervous it might wipe out the final round and force the tournament be cut to a 54-hole affair—struck on the 17th. After Inami marked her 15-foot putt for birdie and the last group teed off, the horn blew. Thankfully, it was only a brief delay, and when the players returned, the break didn't cool off the Japanese star. She drained her putt for the fifth birdie of her last six holes to tie Korda.
Korda missed a downhill five-foot birdie putt and remained tied with Inami with the 18th left. Ko two-putted for birdie at 17 to linger just one back.
Inami bogeyed the last after hitting her approach into the wet bunker in front of the green and being unable to get up-and-down. She shot a six-under 65 Saturday, earning the silver medal after defeating Ko with a par on the first playoff hole. It adds to Japan's great 2021 in golf, with Hideki Matsuyama winning the Masters and Tsubasa Kajitani capturing the Augusta National Women's Amateur.
"I'm so grateful [for] the Japanese to win this medal," Inami said. "I'm so happy."
Korda wiped any lingering thoughts of the double-bogey finish to Thursday that ruined her chance at a historic 59 with hitting the 18th green in regulation. The World No. 1 polished her golden coronation with an easy tap-in par, becoming America's second women's golf gold medalist alongside Margaret Abbott from the 1900 Paris Olympics.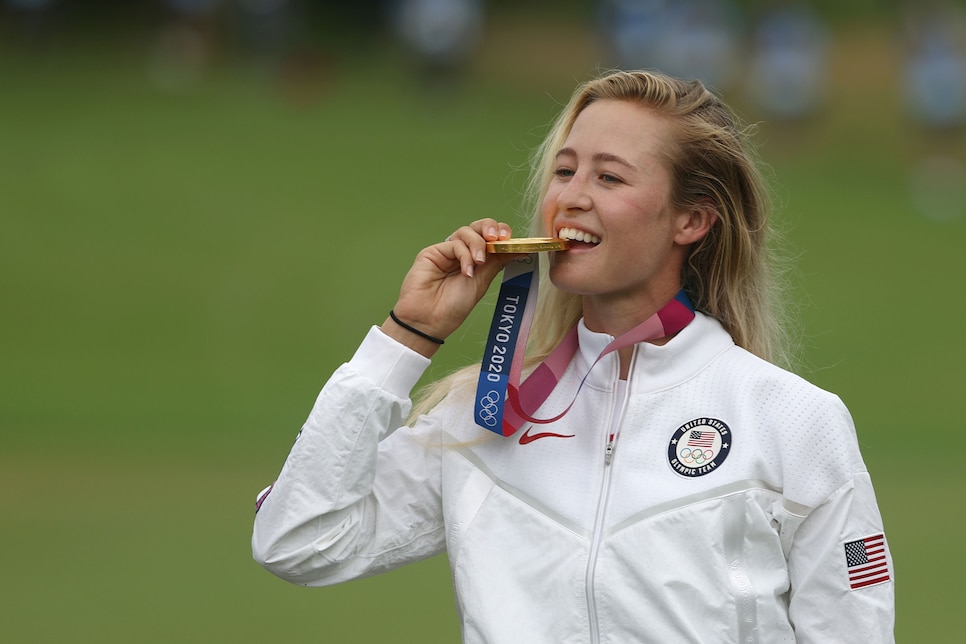 Nelly Korda celebrates with the gold medal after finshing off a closing 69 to win by one shot.
Mike Ehrmann
As the national anthem played during the medal ceremony, Korda teared up as her historic accomplishment sunk in. "You don't really understand it until you're in the position," Korda said. "It's such an incredible feeling, because at the end of the day you're not just playing for yourself, you're playing for your country, and there's so much history in the Olympics. Just to be a part of that feels amazing."
The podium moment marks three wins for Korda over the last six weeks, including the KPMG Women's PGA Championship, where she became the No. 1 player in the world. Leave it to Jessica Korda to put her sister's dominant year into proper context.
"I would just say that this is like a dream season," Jessica said. "This is what you would expect out of Inbee Park. This is just kind of like almost legend status that you would get on just as a golfer period, male or female. This is just a dream season to have.
"I hope that it keeps continuing, because it's so much fun to watch it."