Olympics
No Olympic medal for Aditi Ashok, but she earned the golf world's respect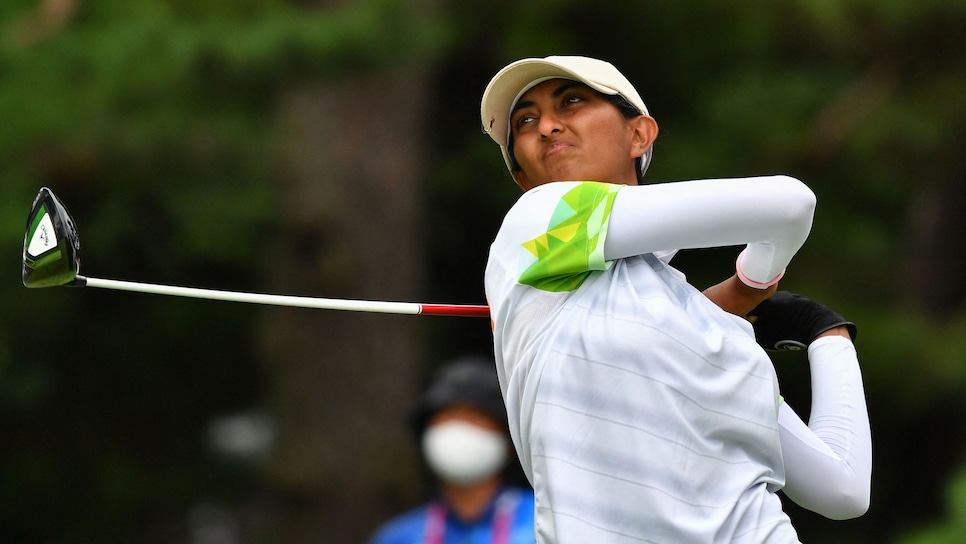 India's Aditi Ashok watches her drive from the 13th tee in the Olympics fourth round.
KAZUHIRO NOGI
Gold, silver or bronze. The medal didn't matter. And in the end, getting no jewelry at all didn't tarnish the respect and admiration Aditi Ashok earned as a Tokyo Olympian. She was the flyweight boxer buzzing circles around the heavyweights. She was the rowing team with balsa wood for paddles. If she was in shooting, her weapon of competition would have been a BB gun.
Think about this: Ashok, the slightly built 23-year-old pro from India, regularly gave up more than 40 yards off the tee to her playing partners, Nelly Korda and Lydia Ko, in the final round of the Olympic women's golf competition at Kasumigaseki Country Club. For the week, she ranked 59th out of 60 players in driving distance with a 226-yard average and was 47th in strokes gained/off-the-tee.
On the par-4 ninth hole Saturday, Ashok pulled her drive into the rough and had 187 yards to the flagstick. She didn't come close to reaching the green with her fairway wood and suffered a bogey. Korda and Ko both used 8-irons, the former making birdie to extend the lead she held onto to capture gold for America.
It all seemed like a terribly unfair fight, except that Ashok never saw it that way. No 200 in the world versus the current No. 1 and the former rankings princess. Up against women her age with loads more trophies and accolades and money. None of that became an excuse, and for that, Ashok's performance will be remembered as one of the gutsiest in these Games.
In medal contention to the final hole, Ashok came up one shot short of getting into a playoff for the silver and bronze medals. She shot three-under-par 68 in the final round to finish at 15 under, one back of Ko and Japan's Mone Inami and two behind Korda. It was Inami who prevailed in that final battle, winning silver with a par on the first extra hole when Ko made bogey after driving into a bunker.
The Golf Channel broadcasters talked glowingly of Ashok's week and what it would mean to her country of 1.4 billion people—a good portion of whom hadn't watched golf or played it until Ashok competed in the 2016 Olympics as a teenager. As Ashok stayed in contention down the stretch, tweets were shared from the people of her country cheering her on, including one from the president of India, Ram Nath Kovind.
But if Ashok was feeling the love, it wasn't immediately evident in the aftermath. She is no Cinderella, but a seasoned player, having bounced between the Ladies European Tour (where she has three victories) and the LPGA (which has presented a much more formidable challenge). Like any Olympic athlete finishing in fourth, there is very little consolation.
"I didn't leave anything out there," Ashok said. "I think I gave it my 100 percent, but, yeah, fourth at an Olympics where they give out three medals kind of sucks."
Ashok tied for 41st in the Rio Olympics five years ago, and despite her experience since then, there was no reason to believe she would contend this time. She contracted COVID-19 in May, and the disease left her weak enough to have lost 15 yards off the tee—a circumstance for a short hitter that all but eliminated her from competing with her peers. Indeed, leading up to the Olympics, Ashok had missed four of the last five cuts on the LPGA Tour and owned one top-10 finish in her last 15 starts between the LPGA and LET.
Ashok is, however, a superb putter with a smooth, rhythmic stroke—a skill that keeps her in the pro ranks. And that was the case in the Olympics, where she was far and away the best putter in the field. In a remarkable stat, she was No. 1 for the week in strokes gained/putting, gaining a cumulative 13.01 shots on the field. That's a stat that is often measured in one-tenths, not by more than 10. The fourth round happened to be Ashok's best margin, beating the field by four strokes on the greens, thanks to 12 one-putt greens, including the first nine in a row.
But only three of those front-nine putts were birdie makes, because Ashok put herself in such trouble off the tee. She found only one of the seven fairways on the front and only four for the round. Even that was too much to ask from a woman who can be a whiz with a rescue club.
"It was a hard day for me because I really didn't have my best off the tee," Ashok said. "It was really hard to make a score missing so many fairways, but I hung in there."
Ashok was asked on the broadcast what she would take away from such a memorable week.
"Knowing that even though I was pretty much the shortest hitter … most of the girls out here on the top of the leader board, I can still contend with them," she said. "If I could maybe pick up 15 to 20 yards, I could be like a whole different player. That's a positive and that's what I'm going to work on."
She's already got moxie and fortitude in the bag.