Olympics
Lydia Ko reveals she was playing Olympics in honor of grandmother who recently passed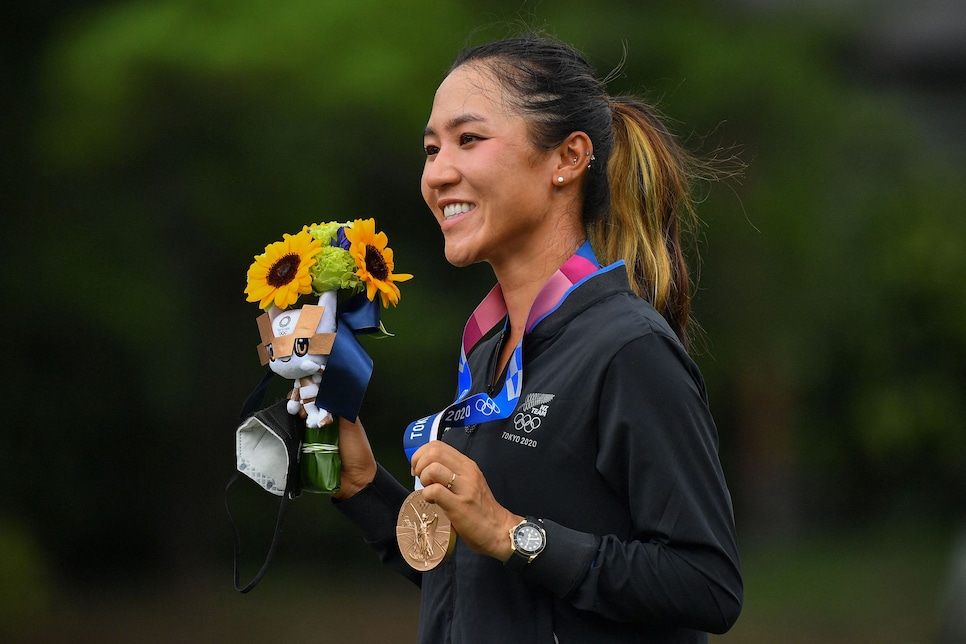 Lydia Ko holds her bronze medal on the podium.
KAZUHIRO NOGI
It was an unexpected moment after the Olympic women's golf event was over. New Zealand's Lydia Ko went in front of a Golf Channel camera to talk about her bronze-medal finish to Nelly Korda's triumph. And even Ko seemed taken off guard when she burst into tears.
The emotions had nothing to do with the golf, but the feeling Ko had standing on the podium for her country and family. Ko revealed that her grandmother had died only about a week before the Olympics.
"I just wanted to make my family really proud and my country really proud," Ko said. "And to be able to win a medal for them, it means so much. Not to me, but to everyone who has been on this journey with me. This is for my grandma."
Ko, born in South Korea and raised in New Zealand, earned a piece of history, becoming the first golfer, male or female, to win a medal in two Olympics. After being including in the 1900 and 1904 Games, the sport returned to the Olympics in 2016 in Rio, and Ko earned silver behind winner Inbee Park.
That finish five years ago was rather anticlimactic, with Park running away by five shots. This time, Ko started the final round five shots off Korda's lead but charged with four birdies in her first five holes en route to shooting six-under-par 65. When Korda double-bogeyed the seventh hole, they were tied at the top.
Ko matched Korda with a birdie at the eighth, but she bogeyed the 10th and 11th, and despite four birdies down the stretch, a bogey at the 16th turned out to be the difference between being in a playoff for the gold medal, and one for the silver, which Ko lost to Japan's Mone Inami with a bogey on their return to 18.
Ko laughingly said that when she finished the 72nd hole, she already thought she was going to get bronze. "I didn't know I was going to a playoff," she said. "It would have been great if the color was different. But at the end of the day I was able to win a medal for my country. I'm very proud of it. To say I'm a two-time medalist, I'm very honored."