The Loop
Bryson DeChambeau, Paul Azinger and hoodie haters: Golf's biggest turkeys from 2020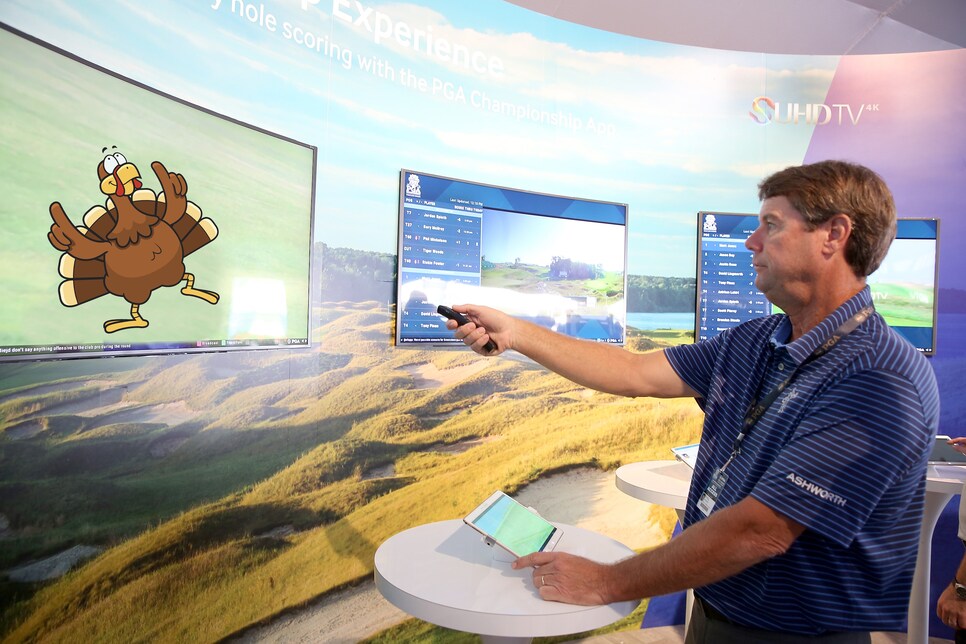 A lot of crazy things happened in golf during 2020, including, ironically, the fact that not much at all happened when a global pandemic broke out. But while Thanksgiving gatherings have been discouraged this year, the CDC said nothing about handing out pretend turkeys. So we should still be safe going forward with our annual Thanksgiving rundown of the year's biggest turkeys, recalling the moments from 2020 that our culprits would probably rather forget.
In a pre-pandemic world, Zinger's zinger at Tommy Fleetwood and the European Tour during the final round at the Honda Classic was all the rage. In case you don't remember what he said—we don't blame you, because again, there's been a LOT going on since—it was basically, "Yeah, yeah, he's won a few times in Europe, but he hasn't proven he can win on the PGA Tour." Was there some truth to what the NBC analyst said? Sure. Even Fleetwood himself is on the record saying the PGA Tour is "another level," and he did himself no favors when he found the water on the 72nd hole and ended his chances of grabbing that first PGA Tour win. But Azinger's condescending tone rubbed people the wrong way and went a bit too far. The world would mostly forget once COVID-19 became a much (much) more important topic of conversation, but we didn't forget here!
Nothing summed up Rickie Fowler's disappointing year better than a missed tap-in at the PGA Championship. Hey, it happens to the best of them, but a six-incher? To miss the cut at a major by one shot? Ouch. And ouch for anyone who had him on their DFS roster that week …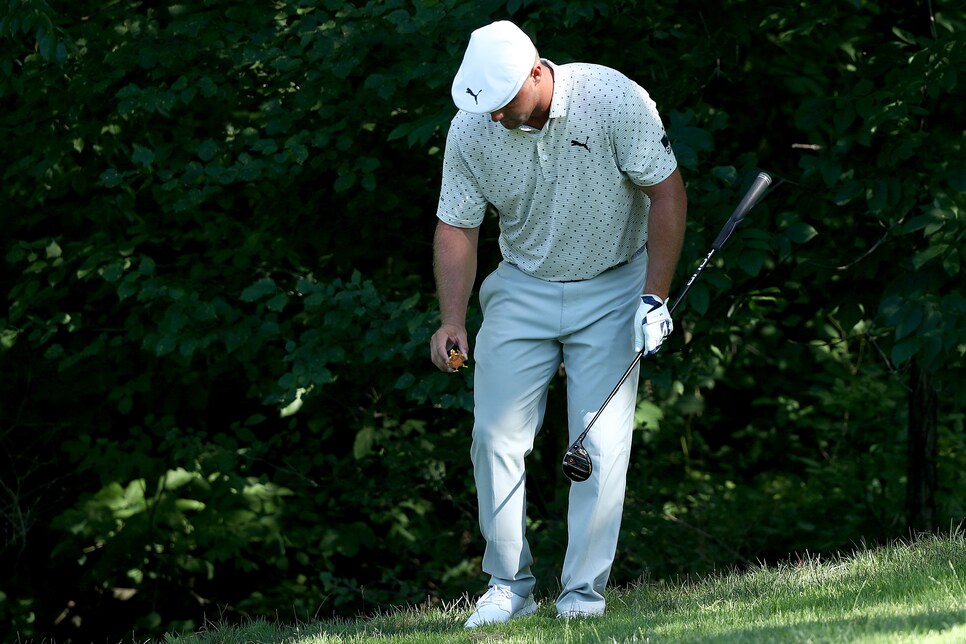 To be clear, Bryson had a fantastic 2020. He firmly established himself as one of the world's longest and best players, won his first major and replaced Tiger/Phil as the most-talked-about golfer on the planet. But that last part wasn't always good. Whether it was scolding people around him on the course ("sound travels"), getting into bizarre rules arguments (fire ants!) or making statements than came back to bite him ("This plays like a par 67 for me"), there were plenty of turkey-ish moments. So eat up, big guy. Or, drink up. Bryson will probably be guzzling turkey smoothies on T-Day.
Honda Classic first tee announcer
This guy had one job and yet he made three mistakes during Luke Donald's intro. First, mispronouncing Donald's hometown in England. Fine. Then, saying Donald had won the tournament in 2016 instead of 2006. A little worse, but still, we'd let it slide. But then he announced Donald as "Luke McDonald." Not acceptable! The man is a former World No. 1! And with two first names, he has one of the easiest names to remember! Turkey!
We hate to rub in the fact that someone lost money on a bet. A lot of money, in fact. But when you're a high-profile gambler, you've got to take the bad with the good. Last year, Adducci was all the rage for his bold and brilliant $85,000 bet on Tiger Woods to win the 2019 Masters that netted him $1.2 MILLION. He made another bold bet this year, but it certainly wasn't brilliant: $45,000 on Phil Mickelson to win the U.S. Open. This time, he was hoping for a $3 MILLION payday, but Mickelson missed the cut. By seven shots. Maybe Adducci should quit while he's ahead. At least, we think/hope he's still ahead …
Look, Winged Foot's greens are notoriously difficult, but a six-putt is a bit much. Especially when recovered footage showed Lee slapping the ball around No. 18 during the third round of the U.S. Open like he was playing polo. See for yourself:
Shortly after this meltdown, Lee withdrew from the tournament, citing a wrist injury. Perhaps he really did hurt his wrist with those club slams because he was still in line to make a decent check. In any event, Lee would eventually apologize for his actions—but that doesn't keep him from earning a turkey.
We don't know his name, and that's better for him—because this is just, wow:
Sure, there are bound to be some first-tee jitters in front of a gallery at the world's most historic golf course, but yikes, that's rough.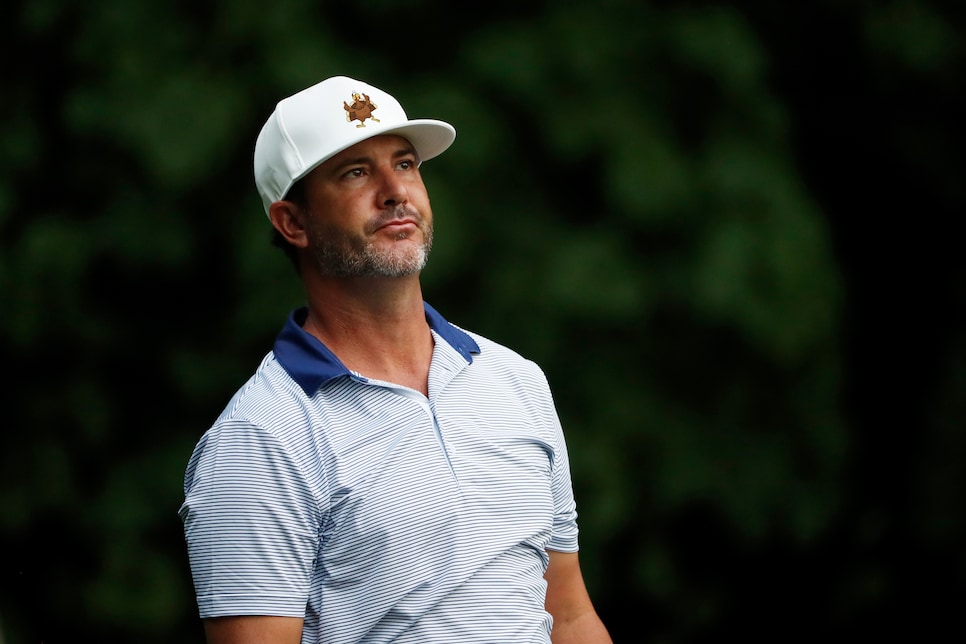 In the far more serious division, the four-time PGA Tour winner posted a homophobic meme on Instagram about former Democratic presidential candidate Pete Buttigieg, and another referencing far-right conspiracy theorists QAnon. Despite issuing a quick apology, Piercy was dropped by all five of his sponsors, including Titleist, FootJoy, and J Lindberg. "Yeah [it has been tough week]," Piercy said after his opening round at the Players before the season was put on hold. "People got the wrong idea of me."
Golf fans got a different idea of Kisner as well thanks to an insensitive tweet. In response to former NBA player Rex Chapman tweeting about the hardships COVID-19 has caused his family, being upset over the country's rising death total and expressing displeasure at President Trump's handling of the pandemic, Kisner replied, "Guess they can't follow the guidelines." Like with Piercy, he quickly apologized, and called his comment reckless. But also like with Piercy, the damage was already done. OK, let's get back to some sillier gaffes, shall we?
In a Phil Mickelson-like move, Matt Wallace had his caddie tend the pin on a 56-yard shot during the U.S. Open. Unlike Phil, though, Wallace proceeded to completely chunk the shot—embarrassing!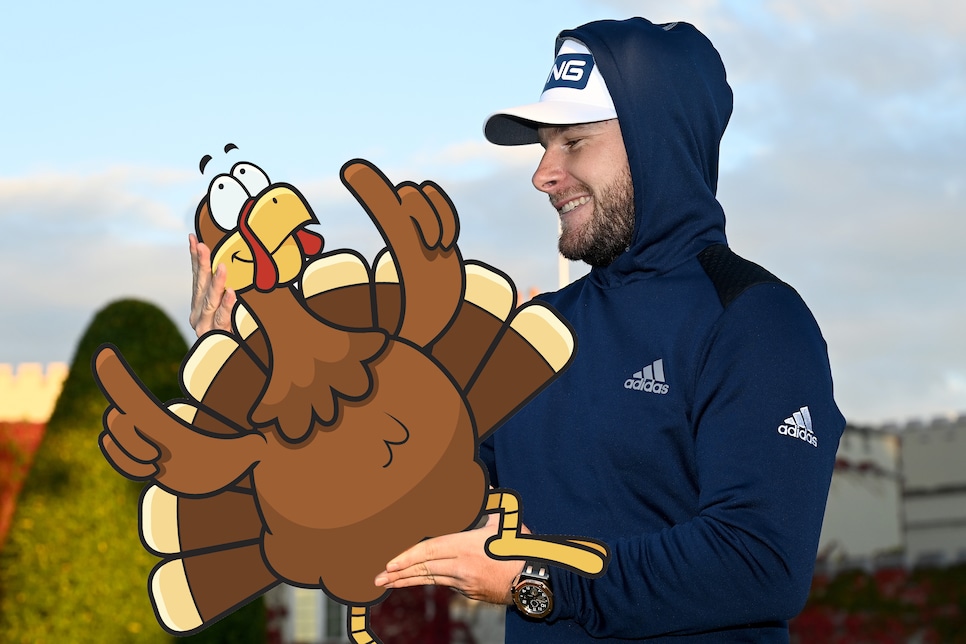 The 2020 golf season will be remembered most for Dustin, Bryson and hoodies dominating headlines. The latter getting the most attention thanks to Tyrrell Hatton (above) winning the European Tour's flagship event, the BMW PGA Championship, while wearing the comfy garment. But shortly after that victory, England's Wearside Golf Club doubled down on its no hoodie policy.
And people wonder why golf gets a bad rap. While Wearside gets the brunt of our scolding on this topic, if you think it's a big deal that someone is wearing a hoodie on a golf course in 2020, then you're a turkey, too.
An actual turkey making it into this piece! You love to see it! Only, we're giving the turkey award to the man and not this beautiful bird, who was just trying to defend his home turf:
This was a really weird year, huh?