News
Bryson DeChambeau's latest conversation with a rules officials has to do with … fire ants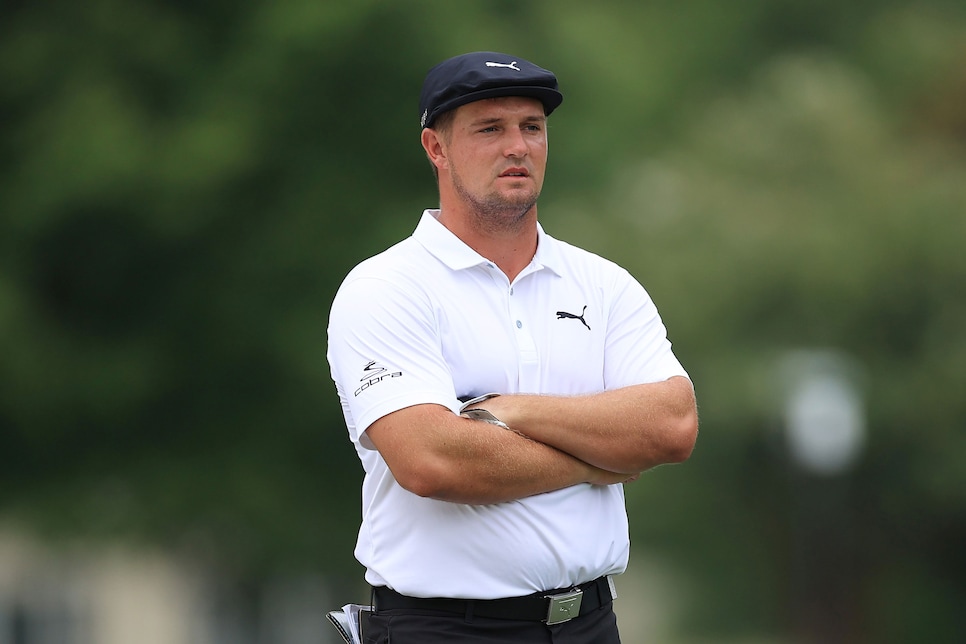 If Bryson DeChambeau wasn't already familiar with the members of the PGA Tour rules staff, he's getting more so by the week.
During Thursday's opening round of the WGC-FedEx St. Jude Invitational, the 26-year-old five-time PGA Tour winner found himself involved with a rules situation for a second straight start after his tee shot on the par-4 seventh hole—his 16th of the day—at TPC Southwind landed in some pine straw left of the fairway. That's when things got interesting.
DeChambeau called for an official to ask about getting relief because he said there were fire ants and an animal hole near his ball. Under the Rules of Golf, a player may take relief from interference from a dangerous animal. A player is also permitted to take a drop from an animal hole.
"It looks like an ant hole, or ant area," DeChambeau said to rules official Ken Tackett, the conversation captured by TV cameras.
Tackett coincidentally was the official who stepped in two weeks ago at the Memorial Tournament when DeChambeau asked for a second opinion about a rules situation involving whether his ball was out of bounds on his way to making a 10 on a hole during the second round at Muirfield Village.
Tackett disagreed at Memorial with DeChambeau's assessment that it was in bounds then, and wasn't buying his argument this time in Memphis, either. Tackett said he didn't see any fire ants, before DeChambeau pointed to the ground trying to identify one.
"I mean, it's your call," DeChambeau said.
Tackett's response: "I don't see any fire ants in the sense that it would be a dangerous situation."
DeChambeau persisted, inquiring about the definition of what would constitute an animal hole and asking if there was one.
"Is it an animal hole?" DeChambeau asked. To which Tackett responded, "I don't see it as that."
Tackett then told DeChambeau he needed to play and noted that the ants or alleged animal hole didn't interfere with his stance.
DeChambeau pitched out before coming up short of the green with his third and going on to make a double-bogey 6. He finished with a three-under 67. After the round, he explained the conversation.
"Yeah, that was weird," he said. "There was discolored dirt and I saw a couple red ants there and I was thinking, hmm, anthill, may get something or what not. I asked [the rules official] and he was like, 'Well, it's got to be, you know, kind of endangering you.' So there was just discussion there and he didn't think it was necessary for a drop."
DeChambeau continued: "I'm always going to respect the officials and go, OK, no issue, that's fine. Didn't help that I had a really, really bad lie, too—I had two twigs lodged in between my ball. Is what it is."
Said Golf Channel's Nick Faldo as the situation unfolded on air: "There's a lot going on for a quiet Thursday afternoon isn't there?"