News
Anatomy of a 10: How Bryson DeChambeau made a quintuple bogey at Memorial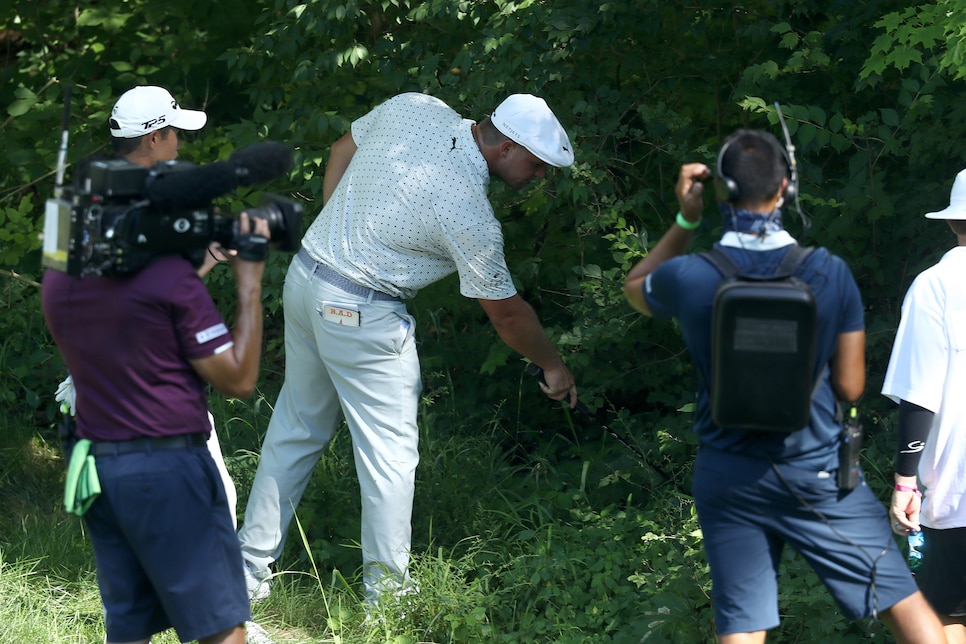 Bryson DeChambeau looks for his tee ball from on the 15th hole during the second round of The Memorial Tournament.
JS
DUBLIN, Ohio — Bryson DeChambeau has been the best player on the PGA Tour since the restart from the coronavirus hiatus. He's made the game look easy, smashing 400-yard drives and beating golf courses into submission.
On Friday at Muirfield Village, the golf courses got a little revenge.
DeChambeau was already having a wild round, with five birdies and five bogeys on his card through 14 holes, while sitting comfortably inside the cut line at one over for the tournament. He then stepped to the par-5 15th tee and, simply put, everything unraveled.
Here's how it went down, shot by shot.
Tee shot 279 yards left into a water hazard.
Penalty stroke.
Attempting to reach the green, he hit a fairway wood out of bounds, on the wrong side of a boundary fence down the right side of the hole.
Penalty stroke.
Attempting to reach the green again, he hit a fairway wood out of bounds in the same vicinity as the previous shot.
Penalty stroke.
Attempting to reach the green a third time, he hit a fairway wood well right near the previously noted fence. It bounced off the cart path multiple times and settled just short of a water hazard.
Pitch onto green, leaving him 29 feet from the hole.
Lag putt to three feet.
In the hole.
The drama was all the more compelling because, before DeChambeau hit his eighth shot he asked for a ruling when he discovered that his first OB shot left his ball directly under the fence. He believed it might be in play, and when the first rules official told him it was out, he asked for a second ruling. The second official arrived, and DeChambeau said he wanted to "hop the fence and hit it from the other side." The official delivered the same bad news.
Total time to play the hole: 24 minutes.
DeChambeau ended up shooting four-over 76 and missed the cut at five over. It will be his first time not playing the weekend in a PGA Tour event since last year's Open Championship.