Last days as reigning champ
British Open 2021: Shane Lowry is looking forward to (finally) defending his Portrush title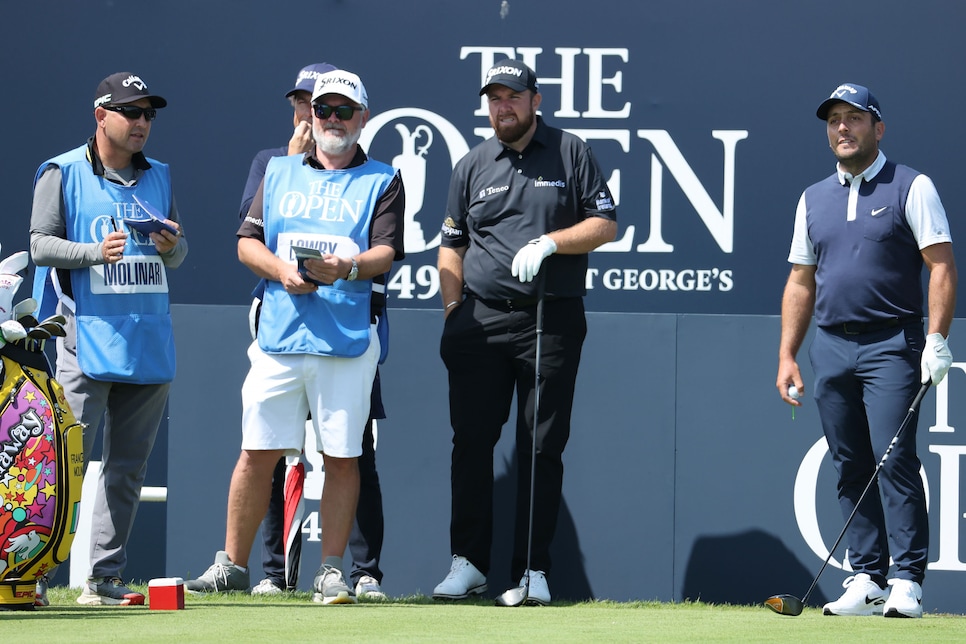 Shane Lowry plays a practice round on Monday with Francesco Molinari in preparation for the 149th Open at Royal St. George's.
Warren Little/R&A
SANDWICH, England — He's no Dick Burton, who reigned as Open champion for seven years because of a little inter-continental skirmish that became known as the Second World War. But Shane Lowry will surely—and hopefully—forever be known to pub quizzers everywhere as the only man who had to wait 24 months to defend the claret jug. It is something the genial Irishman has, like the rest of humanity, had to come to terms with since the cancellation of golf's oldest major last year. And, like just about everyone else, he's had just about enough of it.
Still, upon arrival at Royal St. George's, Lowry wasn't quite done with Royal Portrush 2019. One last time, on his return to Open duty, Lowry sat down to look back before moving forward.
"I've defended tournaments before, but I've never come and defended a tournament of this magnitude," he said. "Everything that happens for me this week is kind of new. But at the end of the day, it's another golf tournament, it's another major. Obviously, there's going to be high pressure at certain stages. You want to go out there and do as best you can. But there's a lot of things I've got to play for other than defending the trophy. After being announced on the first tee as defending champion, I'll be happy to get the tee shot away. And if you've seen the rough down the first hole, I'll be happy if it's on the fairway. All in all, I'm kind of going into this week with an open mind."
When it comes to what might be called the Open's "gap year," Lowry didn't deny that the cancellation makes a successful defense of his title a lot more likely than it would have been 12 months ago. At that time, his form was less than stellar, his World Ranking 14 places lower than it had been in the immediate wake of Portrush. In what would have been the run-up to his arrival at St. George's, Lowry missed three cuts in four starts. This time, he has pitched up on the back of three top-10s—including a T-4 at the PGA Championship in May—in his last six tournaments. Things are looking up rather than down, even if he arrives as only the 44th best golfer on the planet.
That last number is misleading though. Lowry is surely one of the world's top 10 when it comes to links golf. The variety of shot-making he produced at Portrush, combined with the pitching and chipping for which he is rightly lauded, lingers still in the memory of those who witnessed it.
"Without making excuses too much, I look back on the 2020 season as a bit of a write-off," he said. "I think playing in front of fans does it for me. Not playing in front of fans doesn't do it for me. That's just the way it is. So I struggled last year coming out of lockdown. I was playing great. I've never played as much golf in my life. But I just was stale when I got out there. I just couldn't get it going. Having people out on the course spurs me on a bit. We're in the entertainment business, and when I'm stuck behind a tree, or have a tough up-and-down, I'm trying to show off a little bit."
As for his general mood coming in, Lowry was quick to make it clear he has no real clue as to how things are going to go. On the eve of last month's U.S. Open at Torrey Pines, he was more than confident of contending for the title in an event he led after 54 holes at Oakmont in 2016. Then he went out and finished T-65.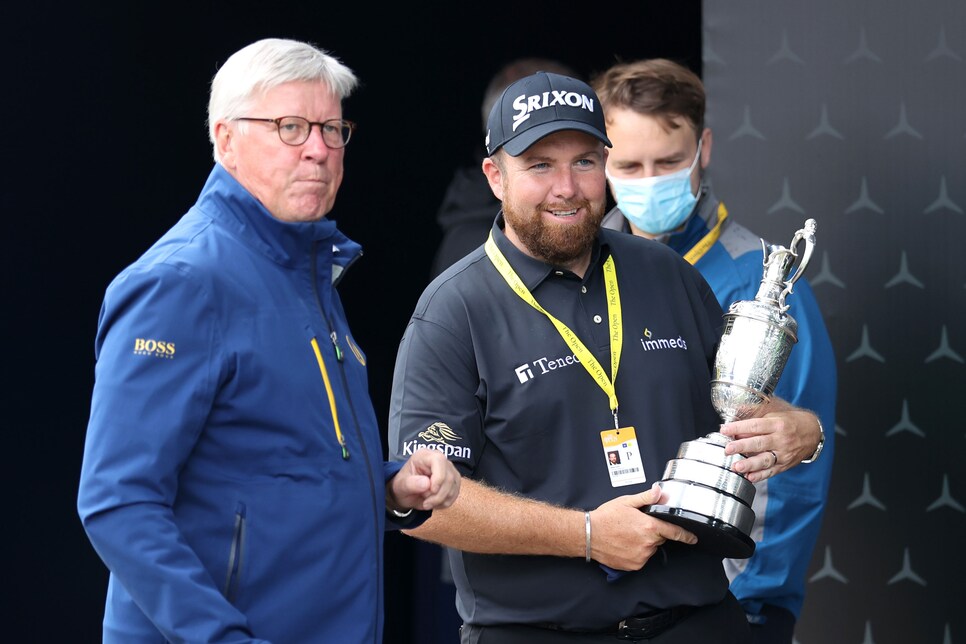 Shane Lowry returned the claret jug on Monday to R&A CEO Martin Slumbers after holding on to it an extra year due to the cancellation of the 2020 Open.
R&A - Handout
This time he's feeling good enough about his prospects, which is a long way from the confident soul that bounced onto the first tee in San Diego last month. In truth, Lowry's mind is full of just about everything, positive and negative. Which, perversely, he sees as no bad thing. Irish logic at its best.
"It's funny how, when you're not feeling your best in your head, it kind of focuses you a little bit better when you get on the course," he said. "Maybe there's something to having that little bit of anxiety. It focuses you in on your shots if you don't feel 100 percent about your game. I don't know if there's anything in it, but at Torrey Pines I genuinely felt like I was going to have a chance to win the tournament come the weekend. That obviously doesn't work for me."
He left on a positive though. Living in a bubble this week with wife Wendy, coach Neil Manchip and caddie Brian "Bo" Martin, Lowry is more than happy with arrangements.
"I don't think I'll be doing anything different than I normally do," he said with a shrug. "I come to the course. I play. I go home and we have dinner in the house. That's it. If this was a 'normal' Open, and I was defending, I might have a couple more things to do. So the bubble is probably working in my favor a little bit as regards my performance.
"I'd like to put up a good defense of my trophy. I'd give anything to have a chance to win come the weekend. I'm out there planning for that over the next few days. We'll see how it goes."