SANDWICH, England — The best iron player on Earth couldn't find the center of the face. Collin Morikawa's first foray into links golf wasn't going quite to plan, the firm Scottish fairways rudely inserting a new variable into an already-solved equation. The club wasn't cutting through the turf the way he liked at The Renaissance Golf Club last week, producing a bevy of mis-hits and a T-71 finish at the Scottish Open. Think of Nolan Ryan losing his fastball, or Joey Chestnut's intestines deciding three hot dogs was enough.
And it actually wasn't the first time it had happened.
"He struggled with this when he played the RBC [Heritage] last year, when it was later in the season, when the overseed was dying," his coach, Rick Sessinghaus, said earlier this week. "He didn't like how the club went through the turf and began to subconsciously change swing plane, which lead to more swipey cuts. The other element is flighting irons to deal with the wind while getting the club to feel how he wants it. [He] needed to experiment."
Perhaps he'd shift ball position? A swing tweak?
How about a revamped bag o'tools? In a week when another top-10 player blamed his equipment for his shortcomings, Morikawa's gear switch at the Open Championship has provided a massive boost, one that could well propel the World No. 4 to a second major victory. He threatened to run away with this Open, his first appearance in the game's oldest tournament (the product of a catapult to stardom that coincided with a global pandemic), with a six-under 64 at Royal St. George's that brought to mind a certain injured golfer with a faunal name, and we don't throw around that comparison lightly.
And he did so with new sticks in the bag. Morikawa abandoned TaylorMade blade models (P730) he'd used to become the PGA Tour's runaway leader in strokes gained/approach—coming into this week, his lead over No. 2 in that stat, Paul Casey, was larger than Casey's lead over No. 55 Jason Kokrak—and instead put in a more forgiving set, opting for a 7MC model that provides a bit more forgiveness for his 7-iron through 9-iron.
"It's only three clubs, but those are three crucial clubs that are some of my favorite clubs," Morikawa said. "My 8-iron is my favorite club in the bag, and when I wasn't able to hit it last week, well I knew I had to try something different.
"I couldn't find the center of the face. I was hitting these iron shots last week that I just normally don't and my swing felt good, but it was a huge learning opportunity. Last week I wanted to win, but I came out of it learning a lot more, and thankfully it helped for this week."
Indeed, it did. He began the day at three under after managing a 67 late Thursday afternoon, after the wind had decided to show its face. That put Morikawa in ideal position to push the tempo on a benign Friday morning, when the greens would be fresh and the breeze manageable. He wasted no time, birdieing the first and flighting a beauty directly at the flag the par-4 fifth to add another. He caught Day 1 leader Louis Oosthuizen with a 30ish footer at the eighth hole, the byproduct of yet another 11th-hour tweak that's paying massive dividends.
Morikawa switched to a "saw" putting grip before the Genesis Invitational in February and has stuck with it despite some hard-to-watch displays on the greens this year. He's committed to it long-term, for he feels it produces tighter start lines on the slippery greens you typically find on the PGA Tour. But it didn't quite translate over here, where the putting surfaces are typically a bit hairier, and he grew frustrated after leaving putt after putt short last week in Scotland. At Royal St. George's, he's putting with a conventional grip from long distances while keeping the claw for the shorties.
"From outside 25, 30 feet I just couldn't get that hit. I couldn't get that tempo that you see, like, a Brandt Snedeker put on his putts. That is something you need out here because the greens slower than what we're used to playing. Just switching to conventional, I didn't have to change anything mentally. I just kind of went at it like I normally felt, and kind of matched the speeds. That's something that without my caddie, J.J., I wouldn't have figured out on my own.
"Trust me, the saw grip was not working from outside 30 feet. I would have left everything 10 feet short. I had to change."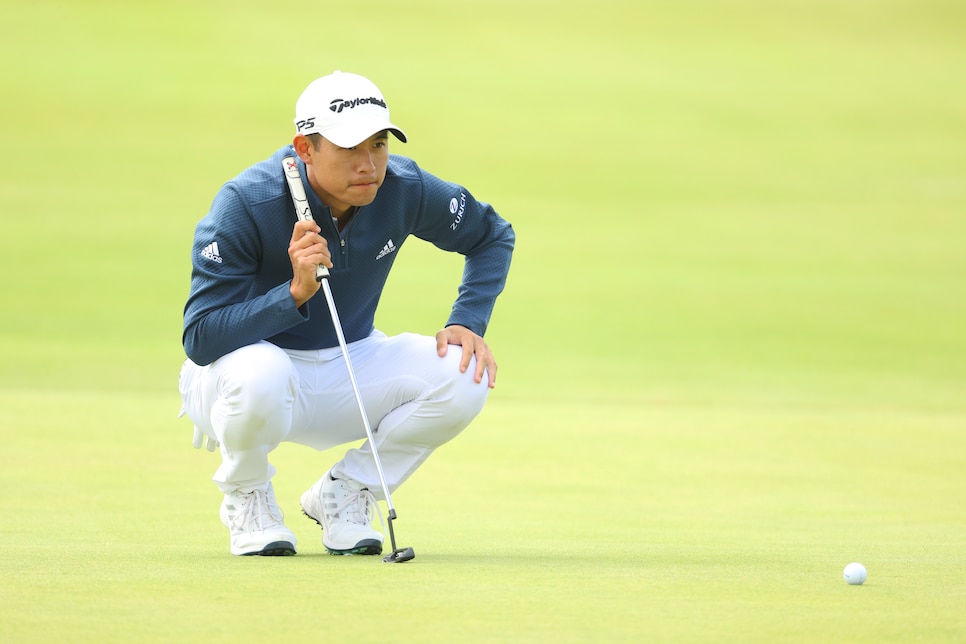 A new putting grip has renewed Morikawa's confidence on the greens.
Andrew Redington
There were quite a few shorties on his last 10 holes, when he looked keen to threaten Branden Grace's all-time major scoring record of 62. The approach on nine danced around the pin before running out of energy in kick-in range. After pushing his drive into a signature links pot bunker on 13, he took his medicine and proceeded to knock the third within six feet.
"I told myself earlier in the week that if I were in one of these bunkers, don't get stupid, just hit it out, play smart, and hopefully make par that way," Morikawa said.
He is not, however, a golfer without faults. This could well have been a 62 had he not fired off two putts he'll want back: a pulled par effort from eight feet at 15 and another at 18, when a birdie effort to tie the Royal St. George's course record caught the left lip.
Such is the unavoidable reality when you hit as many quality approaches as Morikawa does—if converting every opportunity is your thing, this isn't the sport for you. Morikawa will not dwell on what might have been, probably because he had no idea what could have been.
"I did not know 63 was the low out here. I just kind of came out and played golf. For me, hopefully we can just create memories. And hopefully Sunday comes along and we can talk again."