News
British Open 2018 live blog: Tiger Woods opens with an even-par 71 at Carnoustie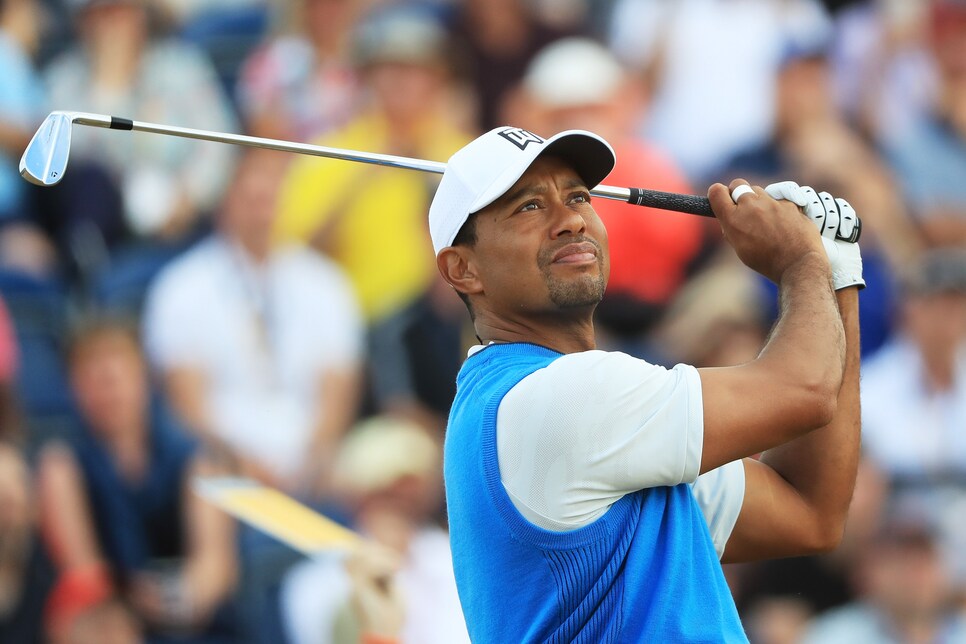 The wait is over, and the race to see who will be named the "Champion Golfer of the Year" finally begins in earnest. Welcome to the 147th Open Championship. Exactly what we're in store for over the next four days at Carnoustie Golf Links—much less Thursday's next 14 hours—is as unclear as any major championship we've seen in quite a while. Even as several of the 156-player field put their heads to pillows last night, there was uncertainty for some as to how they might go about tackling the baked-out links course come Thursday. Do you take an aggressive approach and use drivers off the tee, knowing they might go 400 yards (and maybe 500!)? Or do you follow a more conservative plan with irons off the tee knowing distance isn't an issue? We're likely to see all sorts of strategies employed as the lead group of Martin Kaymer, Sandy Lyle and Andy Sullivan kick things off this morning at 6:35 a.m. local time, with the final threesome teeing off at 4:25 p.m. So settle in and keep it here for all the latest scores, news and highlights.
All times local to Carnoustie.
8:43 p.m.: An interesting end-of-the-day revelation from Tiger Woods: He tells reporters after his even-par 71 that his neck has been bothering him "for a while." Not necessarily that it was a "bad pillow," which had been previously reported on the Golf Channel. More to come on his injury in the coming days.
Either way, good on the KT tape that Tiger used at Carnoustie on Thursday. It was QUITE a nice day for them, as evidenced by this stat from ESPN's Darren Rovell.
8:24 p.m.: Tiger navigates the difficult three-hole closing stretch at Carnoustie in even-par. He heads to Friday at even-par, currently T-33.
8:13 p.m.: Make that just one driver off the tee today for Tiger Woods. Tiger went iron off the tee at the 18th, and though he mis-hit the shot, it avoided the burn (pretty luckily), and he has 162 in. Middle of the green -- he'll have a cross-county putt to a front pin location for birdie.
8:05 p.m.: It's after 8 o'clock and we still have sunlight. Gosh, love Scotland!
Tiger's birdie try at the 17th came up way short, leaving him with a 5-footer to salvage his par. But Tiger holed the second putt to escape the difficult 17th hole with a par. He heads to the even-more difficult 18th, hoping to get in the clubhouse at even-par—which, after three bogeys on the inward nine, would be a desirable finish after his first round.
7:58 p.m.: What an impressive turnaround from back-to-back U.S. Open champion Brooks Koepka. After an outward nine of 41, which included an opening birdie, Koepka had five birdies on the back to shoot a 31. Nice 10-shot improvement to card a respectable 1-over 72. He's firmly in the tournament.
7:50 p.m.: Clutch par save at the par-3 16th for Tiger Woods. He keeps it at even par heading into the difficult par-4 17th.
7:44 p.m.: Hitting it in a bunker off the tee proved to be costly once again for Tiger, who has now made three bogeys in six holes to drop to even par. At 16, his tee shot took an awkward kick and rolled up into the rough right of the green, where he'll need some short-game magic to stay at level par. If he can get to the clubhouse at even, it'll feel disappointing with how he started his round, but it's also not the worst spot to be in heading into Friday.
Koepka went on to bogey the par-3 16th, but he just got that back with a birdie at No. 17. That gives him six birdies, two double bogeys and three bogeys on the round, which has him one over overall. Crazy day.
7:21 p.m.: Brooks Koepka's wild round continues as he's now made four birdies in the last six holes to climb back to one over par. Making up the ground to get back to even par on Carnoustie's back nine would be a minor miracle. Meanwhile, Tiger just found another bunker off the tee at the 15th. Trouble.
7:18 p.m.: Woods leaves himself with another nervy par putt after leaving his birdie putt short, and this time he converts to stay at one under with four holes to go.
7:11 p.m.: In just his second career Open start (MC in 2012), Chez Reavie posts a two-under 69 with just one bogey. After a red-hot start to the season, Reavie has cooled off quite a bit, including missing his last three cuts, but he came up with a great round at the right time on Thursday.
Remember we said it was going to be a big two-hole stretch for Tiger? Looks like it's going to be one that looms large at the end of this round. Following his three-putt bogey at 13, he stuck with the iron off the tee at the short par 5, then put his second in a green side bunker, where it plugged. Instead of having an eagle putt like the rest of the field has seemingly had on Thursday, he's now going to have to scramble for par after blasting the bunker shot out and just over the green.
6:54 p.m.: A poor birdie putt from Tiger at 13 left him a testy one for par, which he also missed. Second bogey of the day drops him to one under, but a big opportunity to get one (or two) back at the short par-5 14th.
6:45 p.m.: Justin Thomas and Zach Johnson are the latest to join the two-under 69 group in the clubhouse. It's looking like that's going to be a great spot to be in heading into Friday. Looking at you, Tiger.
Speaking of, he just found the green at No. 13 and will have an uphill, lengthy look at birdie.
6:36 p.m.: No offense to Brendan Steele, but it's fair to say no one expected much from him this week. He's missed the cut in all three of his Open Championship appearances and never finished inside the top 10 at a major. Steele's off to a good start at Carnoustie though, firing a three-under 68, putting him in a tie for fifth with Brandon Stone and Ryan Moore, who are also in the clubhouse.
At the 12th, Tiger stares down his approach but it hits in front of the green and takes a huge bounce, rolling off the back. He expertly played his chip though, saving par to remain at two under. Big two-hole stretch coming up for the 14-time major champion, starting with the par-3 13th and then the short par-5 14th, which is playing as the easiest hole so far and has yielded a bunch of eagles.
6:30 p.m.: The roller coaster round of the day belongs to Brooks Koepka, who we last saw chopping it up in a bunker at the par-3 eighth. After carding a front-nine 41, the U.S. Open champ has come storming back with birdies on three of his last four holes, including one that just caught the edge of the cup at the 12th and prompted Koepka to channel his inner Spieth and tell his caddie to "go get that," jokingly, of course. Hey, clearly it works.
6:20 p.m.: Just as the early-round energy appeared to be fading away, Tiger holes a long birdie putt at the 11th to get back to two under.
6:05 p.m.: After a disappointing weekend at Shinnecock, Dustin Johnson follows it up with an even more disappointing opening round at Carnoustie. He just tripled the 18th to finish with a five-over 76.
Tiger's par putt misses, and he drops his first shot of the day to fall to one under.
6 p.m.: Haven't heard much from Jason Day, but he is lurking at even par, and he also just pulled out a 7-iron at the 252-yard par-3 16th and ended up just right of the green. It's firm, fast and downwind, but that is still pure insanity.
Back at the 10th, Tiger plays a great third shot into the green, leaving himself about 12 feet for an all-world par save if he holes it.
5:56 p.m.: Tiger's drive at the 10th ends up against the lip of a fairway bunker, and he'll be forced to play out sideways. Not great, but at least not as bad as Sergio Garcia's situation at No. 10 moments ago:
Incredibly, Garcia did get this one back in play, and was able to save a bogey to drop to three over.
5:50 p.m.: Dustin Johnson finally re-emerges on the broadcast, only to woefully miss a birdie putt at No. 17. The world No. 1 is two over as he heads to the 18th tee.
Back at nine, Tiger pours in the par putt and turns in two-under 34. Can you say ... clean card?
After a mammoth drive at 18, Rory McIlroy plays a wedge into the green right of the pin to about 15 feet. His birdie putt hits the lip of the cup and he settles for par and a two-under 69. Good start for the Northern Irishman.
5:45 p.m.: Decent bunker shot for Woods at the ninth, but he'll face his biggest test of the day on the greens, a 10-footer to save par.
5:39 p.m.: Since dropping a shot at the 12th, Justin Thomas has made three straight pars to stay at three under with three to play. It's CLOSING STRETCH time! We'll try and stop saying that at some point.
Shockingly, Francesco Molinari is back on top of a leader board. The Italian just moved to three under as he continues to build his case for being the hottest player in the world.
At No. 9, Tiger trickles his approach into another bunker. Going to need some more short-game wizardry to save another par.
5:33 p.m.: At the par-3 eighth, Tiger finds the front of the green and rolls his birdie putt to tap-in range. Another par to remain at two under, cruising along. Same goes for Rory at the 16th, and now he looks to close it out strong.
5:22 p.m.: Another good putt from Tiger that comes up inches short. Feels like he could be going lower, but most would have signed for Woods to be two under through seven holes considering he doesn't have a great history of fast starts.
5:17 p.m.: Tiger goes with the stinger 2-iron at No. 7 and stripes it down the fairway. His next landed safely on the green, where he'll have a long look at birdie.
Ryan Moore ended up doing what only a few guys have been able to do on Thursday -- finish off a good round. The five-time tour winner is in with a three-under 68, tying him with Brandon Stone, whose lucky break at 18 is looking better and better by the minute. Justin Thomas is also at three under, but he still has five holes to play.
Rory McIlroy was on his way to a bogey at the par-3 16th after a not-so-great chip, but he trickled in a par putt from deep to stay at two under.
5:10 p.m.: Brooks Koepka just made a mess of the par-3 eighth hole, and it's hard to blame him. Here's where his tee shot ended up, and here's all he could do with it:
It got worse from there, as the back-to-back U.S. Open winner left another one in the bunker, eventually making a double bogey. He's played his last four holes in five over and fallen to four over on the day. Not out of it by any means, but digging himself quite a hole.
5:03 p.m.: Tiger plays a fine bunker shot to five feet but lips out the birdie putt. At least he didn't drop a shot, but that one would have been a nice steal.
4:56 p.m.: Tiger pulls out the driver for the first time today and smokes a high fade down the middle of the fairway, but leaves his approach in a green side bunker. According to NBC's Gary Koch, he's in an OK spot inside the bunker though. We'll see.
At the short par-4 14th, Rory two-putts for birdie to get to two under. Giving himself a good chance to match that opening 68 he shot here in 2007. Speaking of 2007, that year's champion, Padraig Harrington, holes a birdie at the eighth to get to one under. Don't be surprised if he's hanging around through the weekend.
4:44 p.m.: Showing his links experience, Tiger goes with the putter from well off the green at No. 5 and comes one revolution away from holing it. Tap-in par keeps him at two under.
Ryan Moore, who got into the field when 1999 Open winner Paul Lawire WD'd due to injury, drains a lengthy putt at the 17th to save par and stay at three under. Moore has never finished in the top 10 at the Open, but he did play at Carnoustie in 2007, finishing T-42.
4:34 p.m.: At the fifth, Woods finds another fairway and then plays a 6-iron from 191 right of the green, with his ball coming to rest in a collection area. He was not thrilled with the result. First time we'll see that short game that's looked so good this year.
At the 11th, Justin Thomas rolls in a birdie to jump into a tie for second at four under. A few holes ahead, Ryan Moore makes his sixth birdie of the day, putting him at three under. Some late moves being made by the afternoon wave.
4:25 p.m.: Boom. Another birdie for Tiger and he moves to two under. Up at 13, McIlroy's tee shot settles about 12 feet from the hole. It's all happening now.
4:22 p.m.: Tiger throws a dart into the par-4 fourth after nearly overcooking his drive into a hazard down the left side. Big break, and now he gets a good look at birdie.
4:19 p.m.: Just like that McIlroy moves into red figures with a bomb of a putt at No. 12. Ok, Rory, ok.
4:12 p.m.: Two-putt par for Tiger at No. 3 to stay at one under. Brooks Koepka, Jason Day and Tommy Fleetwood are among the group with Woods at one under and still on the course. Rickie Fowler, Matt Kuchar, Webb Simpson and Thomas Pieters have all posted their one-under 70s. Not a bad crew right there.
Rory McIlroy and Dustin Johnson are plugging along, with Rory at even through 11 and Johnson one over through 11. Not bad places to be considering no one is lighting the place up like some thought would happen with the benign conditions.
4:07 p.m.: Woods hits another fairway and another green at the third, and, in case you were wondering, everyone's been very calm watching his start so far:
3:54 p.m.: After finding the fairway with a 3-wood, Tiger puts his approach to about 25 feet at No. 2 and just misses the birdie on the high side. One under through two.
Meanwhile, up at 18, Zander Lombard makes his par and posts a four-under 67. Got to love the Open, where a guy literally not even the staunchest of golf fans had ever heard of until this morning is one off the lead.
Quietly, Justin Thomas just made the turn in three under par. With all the storylines and marquee names coming into the week, it's easy to forget this guy was just world No. 1 a month or so ago.
3:36 p.m.: Tiger converts on the birdie at No. 1. Let's just call it a week and hand him the jug now.
3:33 p.m.: How about Tony Finau? A rare birdie at the last gives him a four-under 67, which is good enough for T-2 with Erik van Rooyen, one off Kevin Kisner's lead. The guy has been living on the top of the leader board in the majors this year.
Also at four under is our boy Zander Lombard, still with one hole to play. If you had him in your low guys named Z/Xander pool, cash those tickets. Xander Schauffele is four back after posting an even-par 71.
3:30 p.m.: Tiger flips a wedge just right of the green and gets it to kick left about eight feet under the pin. Neck looks fine !
As for the bigger names, the biggest name of all has made is way to the first tee, introducing himself to a couple of the walking scorers by saying "Hi, I'm Tiger." Gee, ya don't say? Woods goes with iron off the tee at his first hole and stripes it, but some dust comes up from the ground and gets in his eyes. Between this and a bad pillow, the guy can't catch a break:
2:55 p.m.: Zach Johnson, the 2015 Open champ, holes a bunker shot for eagle on the par-5 6th hole to get to three under. We heard all week how Carnoustie's dry conditions would bring shorter hitters into the mix and so far, we're seeing that.
2:48 p.m.: Spieth bogeys the 18th hole, which isn't the worst outcome considering how bad his tee shot was. A one-over-par 72 at Carnoustie is never that bad, either, but in Spieth's case it must feel a lot worse. The three-time major champ had it to three under through 14 holes before going four over on his last four holes. Meanwhile, playing partner Justin Rose makes a curling birdie putt from the fringe to match Spieth at one over. That means if you bet on Spieth in this "match" -- as one of us did -- you pushed despite Spieth having a five-shot lead over Rose with four to play. Ouch.
2:43 p.m.: After hitting his tee shot out of bounds on No. 6, Dustin Johnson re-loads, cranks a 412-yard drive, knocks his next shot to 15 feet and makes the putt for one of the most impressive pars you'll ever see. Guess that's why he's the World No. 1. He remains at even par.
2:33 p.m.: Dustin Johnson tries to play a cut down Hogan's Alley on the par-4 6th hole and. . . woah, that's gone. OB for DJ. Meanwhile, on No. 18, Jordan Spieth takes the Jean van de Velde line off the tee and finds the Barry Burn. So much for him getting his claret jug title defense off to a good start.
2:28 p.m.: Kiradech Aphibarnrat holes out from 152 yards on his third shot on No. 17 for an unlikely birdie to get to three over. "The Rat has put on a show!" Golf Channel's Mike Tirico exclaims. It's the first birdie of the day on the difficult par 4. Hey, have you heard that Carnoustie's closing stretch is DIFFICULT?!
2:21 p.m.: We are exactly one hour away from Tiger Woods' first-round tee time, but the 14-time major champ is already causing a stir on social media when cameras picked up something on his neck. . .
OK, so that just looks like some KT tape. No biggie. . . Phew. . . Right . . . ?
So . . . he's OK? I think? (Gulp) I hope?
2:13 p.m.: A valiant effort from Spieth leaves him with a 15-footer for par, but he can't convert. The defending champ is back where he started the day at even par.
2:07 p.m.: What's the last thing you want to do after making a double bogey? Play the 16th at Carnoustie. The 248-yard brute is a par 3.5 and Spieth sends his 4-iron way right off the tee. Near the lead 15 minutes ago, it's going to take some serious magic to stay in red figures.
1:59 p.m.: After watching playing partner Justin Rose make a mess of the 14th hole, Jordan Spieth has his own disaster on No. 15. After a pulled tee shot, Spieth finds a pot bunker with his approach. Forced to play out sideways, Spieth finds the rough and fails to get up and down. The resulting double bogey is his first blemish of the tournament, but it drops him back down to one under.
1:44 p.m.: Rory McIlroy rolls in a 10-footer for birdie on the par-4 3rd hole to get off to a nice start. McIlroy enters the tournament as one of the favorites (as always), and with good memories from finishing as the low amateur the last time the Open was at Carnoustie. Well, good memories of his play, at least. Not of his hair. . .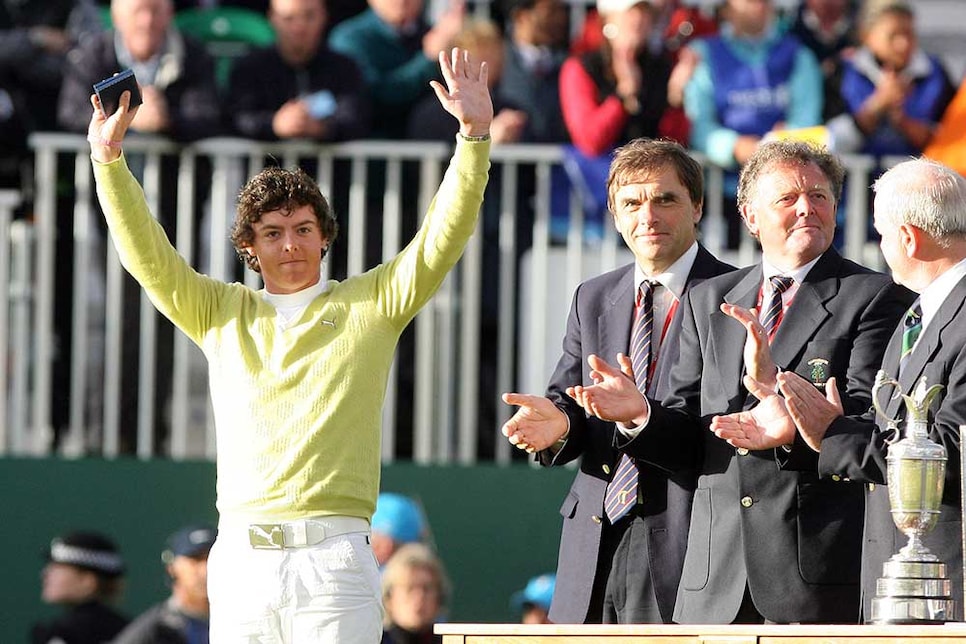 1:42 p.m.: Justin Rose, who had the second-best odds of anyone in the field, hits a speed bump in an unlikely place. The par-5 14th is Carnoustie's easiest hole, but Rose dumps his approach into a pot bunker, needs two shots to get out, and winds up with a surprising double bogey to drop to two over. Meanwhile, playing partner Jordan Spieth gets around two wayward shots to make par to stay at three under.
1:33 p.m.: Here's a look at that fortunate break Brandon Stone got, a ridiculous bounce off a grandstand and just off the green on 18:
Somewhere, Jean van de Velde shakes his head.
1:24 p.m.: Remember we said how Brandon Stone is riding this wave right now? More evidence of that just came at the 18th, where the young South African pulled his approach miles to the left and hit caromed off a grand stand out of bounds and back into play, just off the green about 15 feet from the hole. He two-putted for par and a three-under 68. Better to be lucky AND really good.
1:14 p.m.: For the second time today, Jordan Spieth misses a par-3 green in regulation, this time ending up in a extremely tough spot in a green side bunker. No problem for this guy though, as he splashes one out perfectly to a few feet and he makes the five footer for par. In the zone.
Don't look now, but 42-year-old Pat Perez is quietly cruising along at three under through 15 holes. We've seen some good rounds get ruined on these final three holes today, so it'll be interesting to see how Perez closes it out.
Back at No. 1, world No. 1 Dustin Johnson is off and running, two-putting for par to open his round. Rory McIlroy also just got his round underway, also making par at the first.
1:03 p.m.: If you thought Zander Lombard was going to go away quietly, you thought wrong. The young South African has just made another birdie at the eighth, putting him at four under on his round, one back of Kevin Kisner. Lombard, 23, is currently ranked 444th in the world, and prior to a T-6 at the Irish Open, which earned him a spot at Carnoustie, he had missed 13 of his previous 15 cuts. He also just missed the cut last week at the Scottish Open. Golf is a strange, strange game.
12:49 p.m.: At the par-4 11th, Jordan Spieth drains his third birdie of the day to move into a tie for third at three under. Don't let this guy get hot ...
12:37 p.m.: Did we not say the South Africans were dominating? Zander Lombard has just moved to three under through six holes. Gary Player is dancing in the streets as we speak, or he's about 500 crunches and 1,000 push-ups deep already. One or the other.
But they're all chasing Kevin Kisner, who made another great par save at the 18th to finish off an impressive five-under 66 that included just 22 putts. Wow.
12:31 p.m.: It's a South African takeover at the top of the leader board, with Erik Van Rooyen leading in the clubhouse at four under and now Brandon Stone moving to four under with a birdie at he 14th. You could argue no player on the planet is hotter than Stone following his Scottish Open win and near-final round 59. Riding the wave right now.
12:25 p.m.: Carnoustie's 18th strikes again, this time chomping up Patrick Cantlay, who makes double bogey to finish with a one-under 70. Ouch.
12:18 p.m.: Just when it looked like Kevin Kisner may drop a shot, he holes another long putt, this one for par to stay at five under. He's had just 21 putts (!) through 17 holes. Now he waits on the 18th tee as Patrick Cantlay's group hits their approaches. Cantlay's tee shot looked like it was heading way right for the burn, but he got a great bounce and it landed safely in the right rough.
Back at nine, Jordan Spieth makes another par and turns in two-under 34. He's among an an interesting group at two under that's still on the course, including Jon Rahm, Matt Kuchar, Pat Perez, Tony Finau and Sung Kang, whose presence at Carnoustie this week is just a tad controversial. Oh, and how could we forget the man rounding out that group at two under .... Zander Lombard? No, we've never heard of him either, but the 23-year-old South African is two under through five holes and a few more birdies will lead to a lot of googling of his name from golf fans. This is actually his second Open Championship appearance, the first coming in 2016 when he tied for 66th. He qualified for this week thanks to a quiet T-6 at the Irish Open.
12 p.m.: Jordan Spieth caught a bit of a bad break at the par-3 eighth off the tee, as his ball rolled behind a green side bunker left of the green leaving him no direct line to the hole. Naturally, he played a ridiculous putt that nearly went into the bunker but climbed up on the green to within four feet and he saves par. Huge save to stay at two under, which has him three back of Kevin Kisner, who just made a nice par save himself at the par-3 16th from well left of the green. Just 20 putts on the day so far for Kiz.
11:42 a.m.: Make that three in a row for Kevin Kisner, who is now the solo leader at five under. Kisner has been one of the better players on tour over the last few years, but this start comes as a bit of a surprise when looking at his Open Championship record, which consists of a missed cut, a solo 76th and a T-54. Putting, one of his strong suits, has been key on Thursday, as he's had just 19 putts through 15 holes.
Meanwhile, in the group directly ahead of Kisner, Patrick Cantlay is at three under, and he's needed 25 putts to get there through 15 holes. Goes to show just how much differently you can arrive at a similar score this week at Carnoustie.
Danny Willett is joined by fellow countryman Matthew Southgate in the clubhouse at two under. Also at two under? Thomas Pieters, who once ranked as high as 23rd in the world not long ago and had fallen as far as 82nd just two weeks ago. A T-6 at the Scottish Open got him back into the top 70, and may be what he needed to right the ship after posting just one top 10 worldwide between last week and last year's WGC-Bridgestone Invitational.
11:35 a.m.: At the par-5 fifth, Jordan Spieth was unable to take advantage of a great drive, and ended up needing to make a 15 footer to save par, which he did to stay at two under. His playing partner Justin Rose played a sporty bunker shot from a green side pot bunker to three feet, but lipped out the putt and looked upset with someone who flashed a few photos in his backstroke.
11:31 a.m.: Back-to-back birdies at 13 and 14 have vaulted Kevin Kisner into a tie for the lead at four under. Danny Willett has gone in the opposite direction, finishing bogey-bogey for a two-under 69. Not the way you want to close, but he has to be pleased to be back in the fold at a major.
11:26 a.m.: The closing stretch at Carnoustie is flexing its muscle on the leaders, as Erik Van Rooyen has to settle for his only bogey of the day at the 18th and Danny Willett makes bogey at the 17th. Van Rooyen's 67 puts him in the clubhouse with the solo lead for now, while Willett has run into a bit more trouble at 18, but still has a decent look at par to post a three-under 68.
11:05 a.m.: Jordan Spieth's quest to become the first back-to-back Open winner since Padraig Harrington is off to a flying start, as he rolls in another birdie at the par-4 fourth. And to think he just missed a makable one at the third. Might as well just hand the guy the trophy now (kidding ... sort of).
Up ahead at the par-5 14th, Kevin Chappell holes an 80-plus footer for eagle to move to three under par, two back of Erik Van Rooyen, who just found a fairway bunker off the 18th tee. Chappell is now tied with Brandon Stone, who just turned in three-under 33, and Chesson Hadley, who needs a par at the ninth to match Stone's front nine. Impressive starts from Hadley and Stone, a duo with just nine major championship starts between them.
The start of the day though, belongs to Tony Finau, who has gone birdie-birdie to open his round. Another good week from Finau will add to a nice major championship season already, with a T-10 at Augusta and a solo fifth at the U.S. Open.
11:03 a.m.: Rahm two-putts with ease to move to one under, joining a group that includes playing partner Rickie Fowler, who rolled in a double breaker from 40-plus feet for birdie at No. 2.
10:46 a.m.: After a birdie at 2, Jordan Spieth caught a big break at the par-4 third off the tee, landing his ball in the right rough and getting it to bounce hard left and into the fairway. From there he hit his approach to inside 10 feet, but, like we've seen quite a bit this year, did not convert. He remains at one under, and after clearing the green with Rose and Aphibarnrat, Jon Rahm just drove it on the dance floor behind them. Quite the gamble with the burn right in front, but it pays off.
10:40 a.m.: Moments after Willett tied for the lead, South Africa's Erik Van Rooyen buried a long one for another birdie at the 15th to take back the solo lead at five under. This shouldn't come as too much of a surprise, as Van Rooyen tied for fourth at the Irish Open two weeks ago, even briefly holding the lead late on the back nine. He now heads to the tough finishing stretch at Carnoustie, where he'll look to hold on tight to this strong opening round.
Back at the par-5 sixth, Gary Woodland two-putts for birdie to get to three under. Amazingly, despite all his length off the tee, Woodland has never finished top 10 in his 26 major starts. His best result, a T-12, did come in the 2016 Open Championship, though he was 19 shots back of Henrik Stenson. He's also never missed the cut at the Open in six tries, the only major he's done that in. Maybe this is the one Woodland finally makes some noise in.
As they make their way into the back nine, Patrick Cantlay and Kevin Kisner are among a large group at two under par. Last week's Scottish Open winner, Brandon Stone, is also at two under.
10:30 a.m.: No major can resurrect a player's career quite like the Open Championship. And while it's still just Thursday morning, this theory is ringing true, as 2016 Masters winner Danny Willett drains another birdie putt to tie for the lead at four under. As if the field didn't have enough storylines and top players in good form, a former major champ throws himself in the mix as well. Would be cool to see him hang around all week, because the guy has been through quite a rough stretch since that breakthrough victory.
Meanwhile, Justin Rose, Jordan Spieth and Kiradech Aphibarnrat are off, and if you had Aphibarnrat making the first birdie of the threesome, you win. He's at one under through two holes after making par at the second, and Spieth just tied him with a birdie at No. 2. Rose goes par par. Right behind them, the trio of Jon Rahm, Rickie Fowler and Chris Wood all make par at the first.
10:19 a.m.: We officially have our first weird story to watch for the rest of the day, and no, it doesn't involve Phil Mickelson. Jhonattan Vegas, who is set to tee off at 10:31 a.m. local, had some major travel issues on his way to Carnoustie, specifically with his visa. Last Thursday he tweeted it was expired, and five days later tweeted that "everything seems to be against him" to make it to the Open, as he was still having issues with his visa in addition to flight delays getting out of New York. He again tweeted that he was going to "do everything to get to my tee time," and he came through on that promise. According to Golf Channel's Todd Lewis, Vegas arrived by helicopter in Glasgow this morning with some time to spare, but his clubs never made it. His manufacturers were able to put a set together, and Vegas was seen on the broadcast warming up on the range. Talk about a wild morning, and something a player likely would only go through for the Open. Oh, it gets better too. Vegas has never even seen the course! Good luck, bud.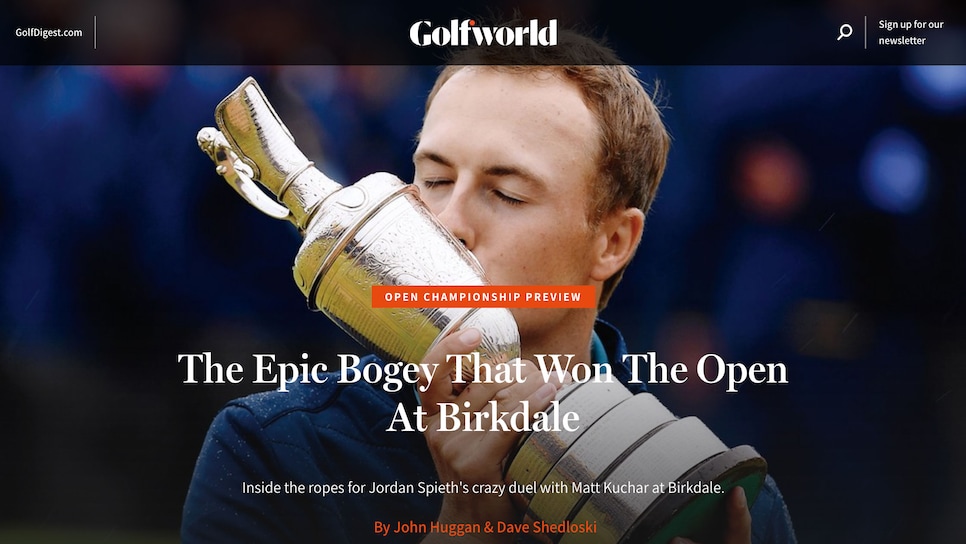 9:51 a.m.: Just how long are the first two rounds at an Open Championship? We're still 5½ hours away from Tiger Woods' 3:21 p.m. tee time.
9:43 a.m.: There is but one major champion in the top 10 so far (it's early). Remember Danny Willett? The 2016 Masters champion sits at three under par through 11 holes. Of course, the Englishman has hardly played like a major winner since that victory, but in recent months has show signs of life. A T-8 finish in Italy in June was followed by a T-6 at the Irish Open and T-19 at the Scottish Open. It's enough to have had some caddies whisper about him being a sleeper pick in the betting parlors this week. So far, that seems like a good tip.
9:39 a.m.: The pairing of Darren Clarke, Bernhard Langer and Retief Goosen are off down the first fairway. The reason we note this? This is the only threesome of the day that has three major champions in it.
9:29 a.m.: With a birdie on the par-4 11th hole, Mr. Van Rooyen has gone to four under … which means it's time to look up exactly who Mr. Van Rooyen is. A couple little nuggets: 28, from South African but played college golf in Minnesota. Turned pro in 2013. Playing his first Open Championship. In 15 starts on the European Tour this season, the rookie has four top-10s, including a T-4 at the Irish Open two weeks ago.
9:11 a.m.: We've mentioned it's early, right? Still, if the conditions remain like they are, there's a good chance the number of players who are under par after Day 1 will exceed the 24 who did it in 2007 at Carnoustie and there's no question there will be more than the zero that broke par on Thursday in 1999.
8:59 a.m.: With four holes under his belt, Mickelson looks a little better with his putter, rolling in a six-footer to record his first birdie of the championship. At one under, he's just too off the lead.
8:43 a.m.: Given the brown-out at Carnoustie, expect to hear some outrageous numbers for how far drives are running over the next four days. For instance, Martin Kaymer just knocked his drive 374 yards down the 10th hole, a 471-yard par 4. His previous long drive this season? 347 yards at Riviera. And for the year on the PGA Tour he's been averaging 289 yards off the tee.
8:31 a.m.: OK, just how calm are conditions right now at Carnoustie? For the first time a player has made something worse than a bogey. Thomas Pieters rattles home a putt on the third hole for a double-bogey 6.
8:20 a.m.: If you had Erik Van Rooyen to be the first player to three under par in the Open, congrats! The South African just collected his third birdie and has taken the lead through six holes (Yes, we know it's early. Very early.)
8:13 a.m.: An auspicious first putt for Mickelson. After hitting his approach to 18 feet, he leaves the birdie putt three feet short.
8:04 a.m.: We have our first marquee American player teeing off as Phil Mickelson knocks an iron down the first hole, his ball just running off the first fairway to the left. Lefty has had a quiet few days this week at Carnoustie. Well, sort of. He was not among the players who came in for a formal press conference, but he was mentioned during the R&A's presser when Martin Slumbers hinted that he might have given a harsher penalty than the USGA did for hitting a moving ball at the U.S. Open. Oh, and then there was this "coincidental" moment during a practice round.
7:59 a.m.: With a birdie on the par-5 sixth hole, Sandy Lyle is one under par and one off the lead. This is Lyle's 43rd start in the Open, the second most of any player ever to compete in the championship (behind Gary Player's 46 starts). It's also 15 more than the next closest man in the field (Ernie Els). Having turned 60 in February, however, it will be the last time that Lyle's victory at Royal St. George in 1985 will give him an exemption into the championship.
7:29 a.m.: With no wind to speak of in the early going, there are birdies to be had. After making a 3 on the opening hole, Andy Sullivan rolls in another bitrid on the par-4 fourth to get to two under. Meanwhile only three of the 15 players who have teed off thus far are over par.
7:13 a.m.: In this day and age where you keep reading about how major championship courses are being stretched, it's interesting to note that Carnoustie, the longest course on the Open rota, is playing 19 yards shorter than it did the last time it hosted the Open, listing at 7,402 yards this week compared to 7,421 in 2007. The reason? In part it's because the R&A has built a grandstand surrounding the first tee and that has eaten up 10 yards off the first hole.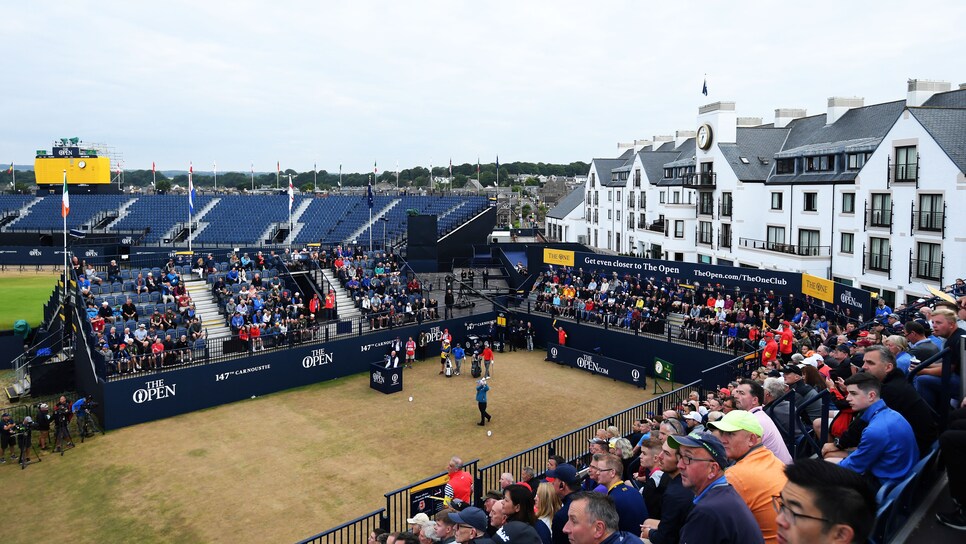 6:57 a.m.: Here's how you know that this Open might just be a little different than what we're used to: the trio of Danny Willett, Emiliano Grillo and Luke List tee off all wearing short sleeves.
6:36 a.m.: You could say they start play at dawn's early light in the Open Championship, but the sun has actually been up for a couple of hours now in Scotland. The sun is out—a recurring theme this week at Carnoustie—and a healthy group of fans greets the first threesome as things get underway.
Sandy Lyle, 1985 Open winner, had the honors: