News
British Open 2018: Sung Kang defends his actions at Quicken Loans after being accused of cheating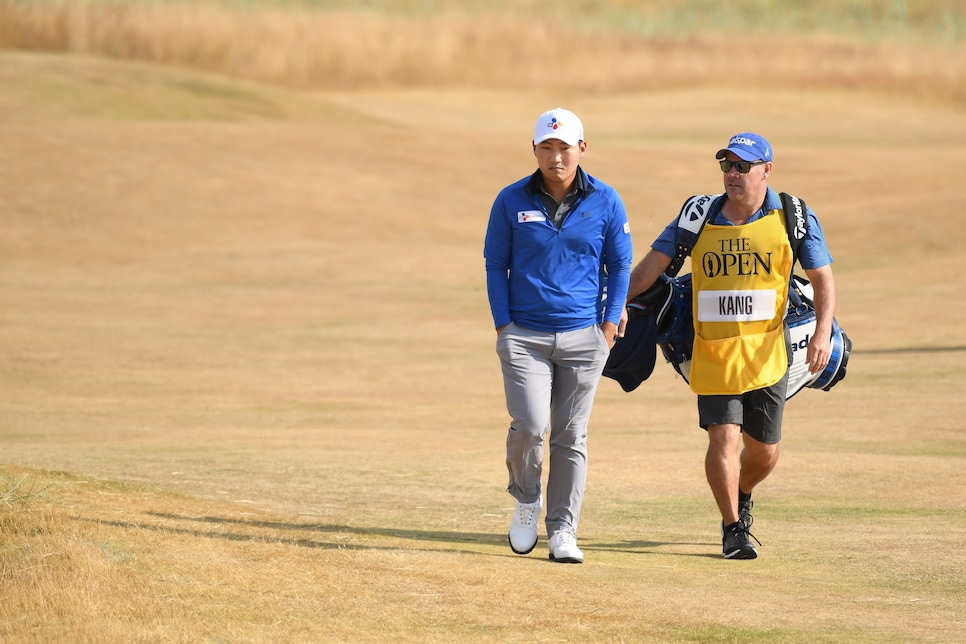 CARNOUSTIE, Scotland — Sung Kang was a content man as he walked off Carnoustie Golf Links on Thursday. The 31-year-old from South Korea had just shot a two-under 69 that left him positioned nicely on the leader board at the 147th Open Championship.
"Being out here, it's a major," Kang told the media waiting to talk to him afterward. "I'm really trying to have fun and enjoy, enjoy the golf course."
The 31-year-old maintained that same contented demeanor even as the subject moved away from the day's round to one he played 18 days earlier at the Quicken Loans National.
That Sunday at TPC Potomac at Avenel Farms outside Washington, D.C., Kang was involved in a rules situation on the 10th hole regarding where his ball had crossed the line of a hazard. Kang eventually received a drop that his playing partner, Joel Dahmen, disputed both in real time—the twosome had to let a group play through behind them—and then afterward on social media. On Sunday night, Dahmen wrote on his Twitter account that "Kang cheated. He took a bad drop. I argued until I was blue. I lost."
Kang went on to shoot a 64 that day and came in tied for third place, a finished that earned him an exemption into the Open.
On Thursday, Kang defended his actions back at the Quicken Loans. "I followed the rule by the rules official, so I think I did the right thing," he said.
Kang said he was unaware of the furor Dahmen started until roughly noon the following Monday, when he received an email from the PGA Tour. He said he was surprised because nothing more was made of it after the round.
Kang made a statement that day standing by the ruling and saying he would have no additional comment.
Both Kang and Dahmen were in the field two weeks later at the John Deere Classic, and Kang said that the two crossed paths ahead of their first round on Thursday. Kang said they both wanted to talk more but the timing didn't work because they were each getting ready to play, and they never were able to have a follow up discussion.
Repeatedly, Kang hinted that he wanted to say more about the incident, but continued to stop himself.
"I really want to say a lot of things about it, the truth about what happened, but I have no comment," Kang said.
Asked why he was stopping himself, Kang said: "Because no matter what I say, some people are going to trust it, some people are not going to trust it. And then I'm going to be thinking about it more and more. So I'm just focusing on my golf game."
Kang did suggest, however, that he would have preferred for Dahmen to come to him rather than air his grievances in public.
"I did not want to say anything bad about Joel," Kang said. "Because there can be difference of opinions. But the way he just said it on Twitter was not right. There can be different opinions. And also, it was made a decision by the rules official. So nothing was wrong."
If Kang was a guilty man, he didn't necessarily show any signs of it. Asked if he might approach rules situations differently in the future, Kang answered swiftly and pointedly.
"No. Why? I did the right thing."