News
British Open 2018: Brandon Stone's approach at Carnoustie's 18th goes from out of bounds to just off the green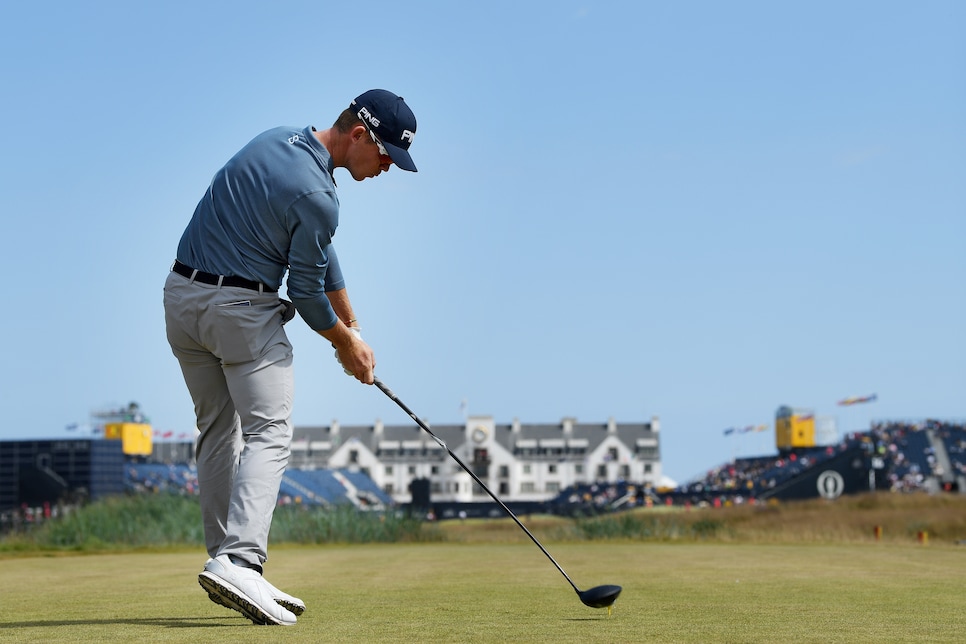 Over the last seven days, you could argue no player on the planet has been hotter than Brandon Stone. At the Scottish Open, the 25-year-old from South Africa played his final 54 holes in 20 under, including flirting with a final-round 59 en route to his third European Tour title. On Thursday at Carnoustie he continued to ride the wave, arriving at the 18th tee at three under and needing only par to position himself two back of leader Kevin Kisner.
Finally, he appeared to flinch, as many have at the difficult par four in the opening round. Off the tee, his drive hit a volunteer and kicked into the left rough. A good break, but it left him a challenging shot into the green, one that he pulled miles to the left. As it sailed out of bounds, it appeared disaster was imminent for Stone, until he caught one of the luckier breaks you'll see this week. Jean van de Velde, if you're watching, we feel for you:
It almost looked like someone threw it out of the grandstand, that's how perfectly it bounced out and into makable range. What a break, and one Stone nearly took advantage of, just missing the birdie putt. Still, a par there was practically stealing, because he's likely making double or even triple bogey had that ball gone out of bounds. Stone, who turned in a three-under 68 and sits just two back, knows how fortunate he was.
"I knew it was going OB," Stone told Golf Channel's Jimmy Roberts. "When you get breaks like that you know you're going to be having good weeks. As you can see from my reaction, I wasn't too thrilled."
Even though he has seemingly failed to miss a shot in the last week, he was still a little greedy.
"I was disappointed it didn't get on the green to be honest, it had some nice spin toward the flag," he said. "I thought I had to hole it, you can't waste luck like that on the golf course, but, settled for a 68 though."
As the saying goes, better to be lucky than good. Well, actually, in Stone's case right now, it's better to be lucky and good.