News
British Open 2018: A baked-out Carnoustie makes an unpredictable tournament even more unpredictable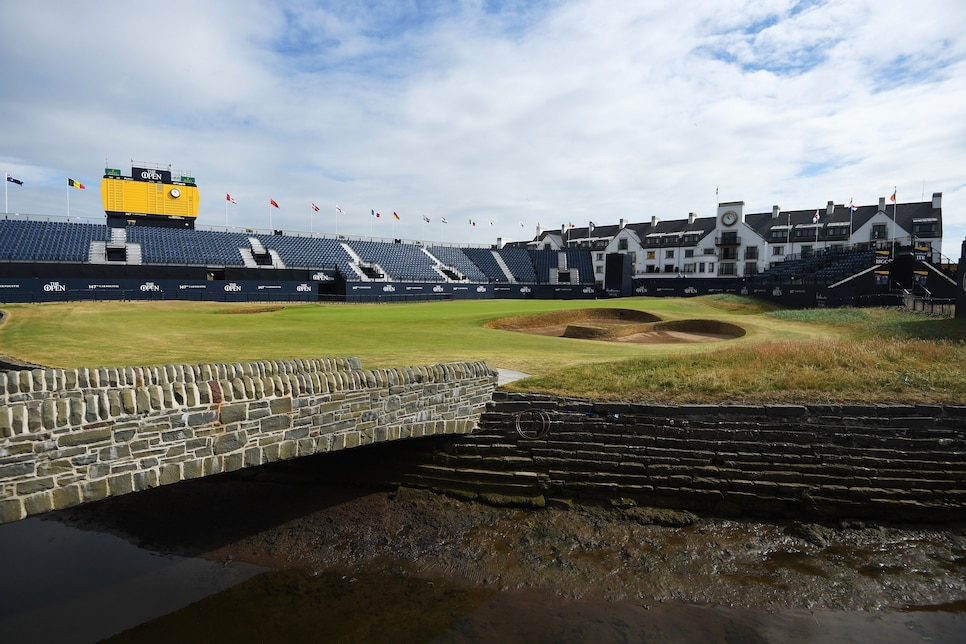 Photo By: Warren Little/R&A
CARNOUSTIE, Scotland — There was something missing from Carnoustie Golf Links when players arrived this week: color. As R&A officials made the hour's drive from St. Andrews ahead of the 147th Open Championship, it was as if they kept forgetting to unpack anything but beige from their crayon box, scorched fairways and wispy rough as far as your sunglasses can see.
Mind you, it's more Mother Nature's doing than anything the folks at the Home of Golf concocted. Even so, locals have spent the past few days apologizing for the unusual dry spell over the previous month and the unique wrinkle it has created heading into the championship: a links course playing not simply firm and fast but crisp and arid.
Just how baked-out is Carnoustie? Even USGA officials would be trying to slow things down, if it weren't that this was a links course and you don't slow these things down at a links course. You embrace them. So why then isn't there a discussion of any potential "line" being crossed with the course set-up, a la Shinnecock Hills? While everything is parched from tee-to-green, the putting surfaces remain soft and receptive. Apparently, those things can be slowed down. (And probably should be.)
All this is preamble to fact that for the first time since 2006 at Hoylake, where Tiger Woods famously lifted the claret jug without lifting a driver, players preparing to compete in golf's oldest championship are facing a different kind of challenge. For the last few days, under continued sunny skies, they have been left to determine how they will color in the rest of the scene and play what's traditionally considered the toughest test on the Open rota.
Because of this, the mood ahead of Thursday's opening round has been a bit more frenetic than in recent years, or at recent majors. Practice rounds ahead of golf's big four events have become drab affairs. Many of the top golfers scout the course days ahead, and only walk a few holes during tournament week to double-check their initial calculations. This time around, there is real work being done, golfers and caddies cramming before play officially begins in what many believe is the most unpredictable Open in years.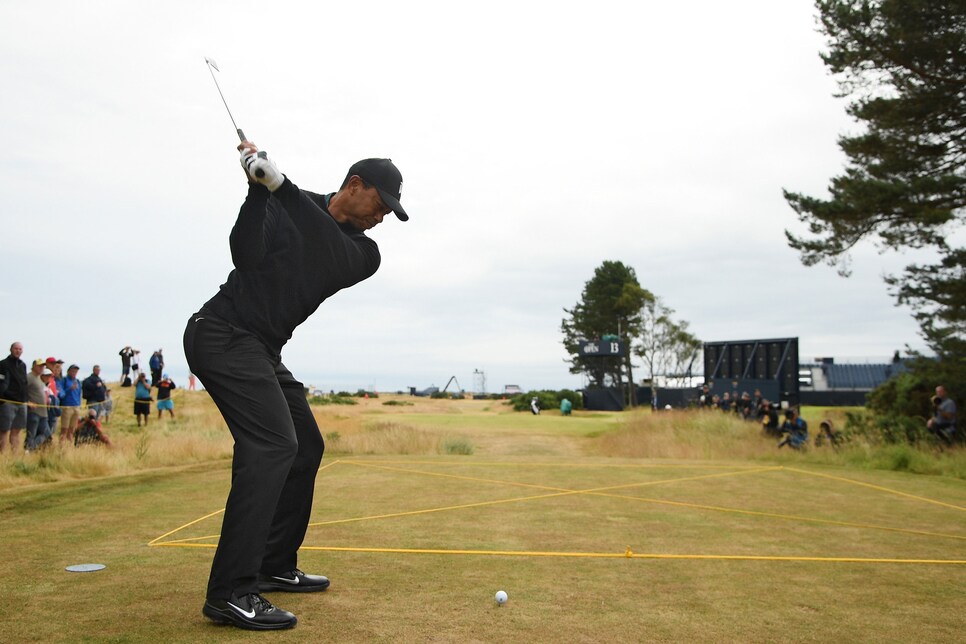 So what are they actually doing? Tiger Woods alluded to his practice rounds amounting to "trying to get a feel for the speed of this golf course." How far does your driver go (or can it go)? For that matter, what about your 5-iron?
Justin Thomas said one of his on the 18th hole rolled 305 yards, compared to his ordinary distance of 230. "If you get it downwind and you hit kind of that flat, little flat draw and it gets running," Thomas said, "it will go pretty much until it runs into something."
The default reaction is that players will ratchet back their aggression off the tee, least they see their ball barrel through the fairways into parts unknown. But that presents its own problems. Even if you use an iron rather than a metal wood, as Thomas noted, the ball will roll forever, bringing into play all the mess outside the fairways that you're trying to avoid.
Damned if you do, damned if you don't.
For long hitters such as Dustin Johnson, Brooks Koepka and Rory McIlroy, the swing key might be to let it rip regardless. If you're feeling good about the way you're hitting the longest club in your bag, why not go for broke so long as you're not bringing previously "unreachable" bunkers into play?
"If I can hit driver and take the bunkers out of play, absolutely going to do that," Johnson said. "You know, this week, the bunkers, if you hit it in, it's a penalty shot. … If I can carry all the bunkers and keep it out of them, I'm going to hit a driver."
Weather will certainly dictate how golfers play when things begin in earnest. The forecasts, however, call for relatively mild conditions: Occasional rain but nothing in the order of Open monsoons, and wind in the 15 mile-per-hour range. Of course, the course could take a soaking and it still wouldn't get soft. If anything, it will slow down the greens more.
Come the tournament proper, then, spectators outside the ropes—and those at home on their couches back in the U.S.—are likely to see anything and everything. Which is pretty cool. Variety is something sometimes lacking in modern golf. That shouldn't be the case this week.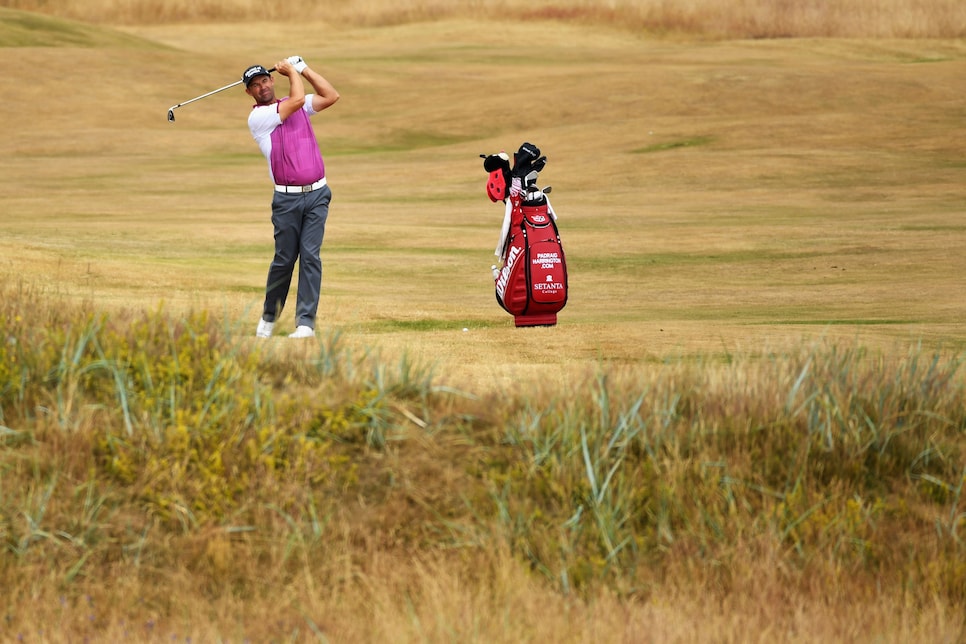 "I think that's the beauty of [the Open]," said Justin Rose, who fancies himself among the favorites this week. "It's going to favor a patient [player] for sure because, you know, even if you play this golf course aggressively, you're going to have ups and downs during the week. You're going to have bad lies. You're going to have shots that do end up in bunkers. You're going to have breaks and bounces that go against you. So I think accepting that is probably the biggest, wide sweeping statement that the player who wins is going to have to be patient with all of that for sure."
Rose admitted on Tuesday that he had still not yet finalized the game plan he'll take with him to the first tee on Thursday. It isn't unusual, he claimed, needing this much time to figure things out during a major week, but the importance of having a Plan A and Plan B in place was even more of a premium given the magnitude of the event.
The trick will be to stick to said game plans, something that's easy to say on Wednesday but harder to put practice when you finally are putting up scores that count.
"I think where you really can get in trouble is just pressing out here," Thomas said. "You know, I could see, for instance, like myself, I'm probably going to hit a lot of irons out here. If I get two, three over par early, front nine, whatever it may be, potentially trying to change my game plan and start hitting drivers, and then you start hitting them into bunkers, gorse bushes, whatever it may be. And you start making more bogeys and double bogeys, and next thing you know, you turn a one- or two over into five or six over."
Indeed, the anxiousness of playing a major championship is the variable that, no matter the course conditions, will have its traditional impact on this week's outcome.
So who does mega-firmer and mega-faster mega-favor? A bomber? A plodder? A man with three Open victories to his credit says perhaps neither, necessarily.
"I mean, feel has a lot to do with playing the Open," Woods said, "and I think the guys traditionally over the years who have done well have been wonderful feel players and also wonderful lag putters because a lot of times it is difficult to get the ball close and have a numerous amount of putts from about 40, 50 feet."
Despite so much uncertainty over what's the best way to play the course in its present state, there is likely one thing you can still count on from Carnoustie: The final hole is going to impact the championship. History makes this abundantly clear. Whether Johnny Miller in 1975 (bogey on the last), Jean van de Velde in 1999 (triple on the last) or Padraig Harrington in 2007 (double on the last, but still a playoff winner), no lead is safe at Carnoustie. No matter what color the course they're playing.