Back for more
U.S. Open 2023: Sam Bennett is showing his Masters breakout was no fluke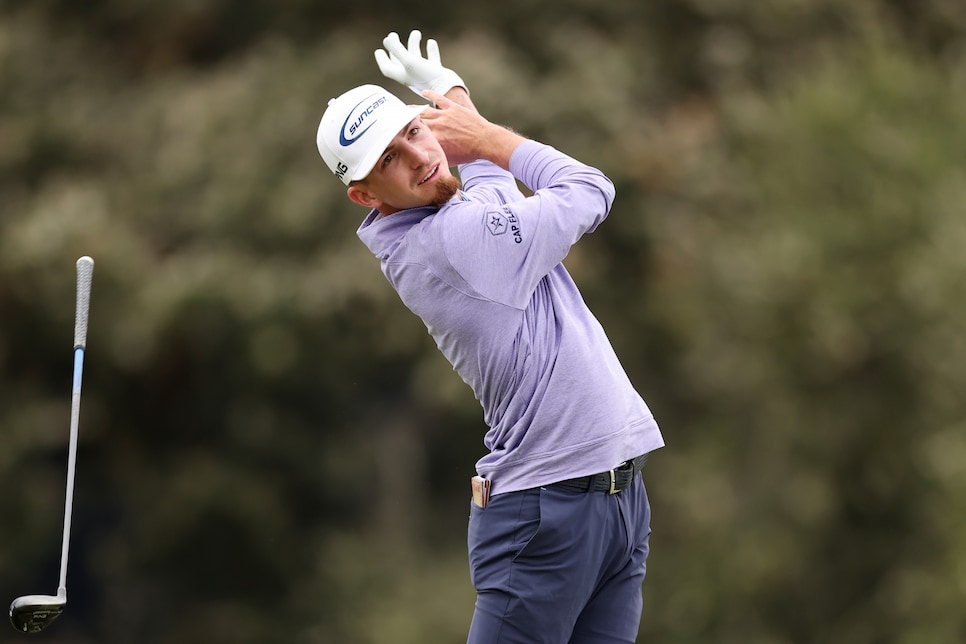 Sam Bennett releases his club on his tee shot at No. 12.
Ezra Shaw
LOS ANGELES — In head-to-head meetings with reigning major champions, Sam Bennett is one step from a fairly impressive slam of sorts. He also is showing that he seems disinclined to take baby steps in his very young professional career.
A second-round 68 Friday at Los Angeles Country Club has the 2022 U.S. Amateur champion firmly in the mix in the 123rd U.S. Open. If you're surprised by that, well, he is not. This is the young man who opened the Masters with a pair of 68s, bettering defending champion Scottie Scheffler by seven strokes and trailing only eventual winner Jon Rahm and soon-to-be PGA champion Brooks Koepka entering the third round. Bennett's eight-under 136 total at Augusta National was one stroke shy of the amateur record Ken set in 1956, and he tied for 16th.
Despite late stumbles in each of his first two rounds at the North Course at LACC, Bennett completed 36 holes at five-under 135, which at the time he signed his card was good for eighth place, four behind then-clubhouse leader Wyndham Clark.
As the U.S. Amateur winner, Bennett was paired the first two rounds with reigning Open Championship winner Cam Smith and defending U.S. Open winner Matt Fitzpatrick. Smith is a stroke behind the 23-year-old Texan at 136, and Fitzpatrick is six in arrears at 141.
Bennett sports a wry grin and a prominent tuft of red hair on his chin bushy enough to have its own identity. But it's easy to smile when you're executing the kind of self-validating golf that Bennett has produced this year.
"Yeah, amateur golf has prepared me well," Bennett said, almost shrugging off the notion that his performance should be some kind of anomaly.
Presumably, amateur golf prepares plenty of hotshot youngsters for the next step, but the All-American from Texas A&M appears to be rising on an accelerated trajectory.
Though Bennett struggled to a final-round 84 at the Memorial Tournament in his pro debut, he did still cash a check on a test that was more of a U.S. Open setup than the current championship layout. He followed with a T-20 finish at last week's RBC Canadian Open.
Shouldn't this be harder?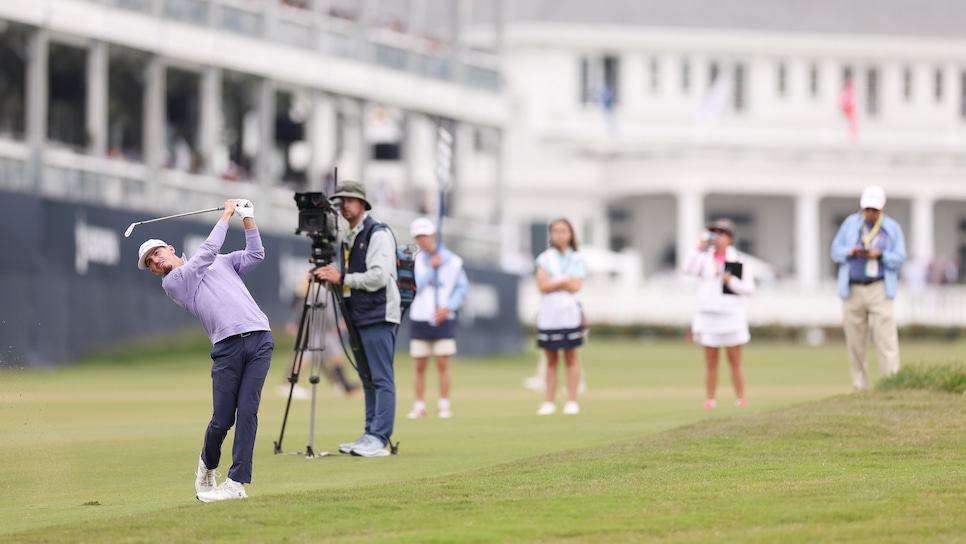 Sam Bennett plays a second shot on the first hole during the second round of the 123rd U.S. Open.
Richard Heathcote
Apparently, the harder the better is his philosophy. Bennett refuses to be intimidated by the difficulty of the course or the competition in front of him. He proved that last year while still an amateur by finishing 49th in last year's championship at The Country Club in Brookline, Mass., after earning a spot via qualifying. His amateur win two months later came at another tough layout, Ridgewood Country Club in New Jersey.
"I don't know. It's just golf," Bennett said. "Yeah, there's people out here and the courses are tough, but you do the same thing to try to always try to focus on. Just tee it in play, which I tend to drive it well. I mean, it's tough. It's getting tough out there … but I just love the challenge.
"Yesterday was good," he continued. "Today, same thing. Drove the ball in play and then hit a lot of quality iron shots and got a lot of looks. Made some good saves from par. I mean, I'm leaving a few out there on the greens, but yeah, I'm just ball-striking this course to death."
"He's good. He's really good," Smith said. "I think he's a great ball-striker. He seems to hit a lot of fairways and a lot of greens. Doesn't get out of position too many times, which is great for a U.S. Open golf."
Bennett, who hit 12 of 13 fairways and 14 greens in regulation Friday, reached as low as six under for the championship until his lone bogey of the day at the par-4 seventh, his 16th hole of the day. He nearly joined T.C. Chen and Andy Dillard for the lowest 36-hole score, relative to par, for a player making his U.S. Open debut as a pro. Each posted six under in 1985 and '92, respectively. Chen ended up second to Andy North at Oakland Hills. Bennett hopes to do him one better.
"My goal? I don't know," he said, grinning again. "I didn't really have a goal. I mean, to win. I put myself in a situation, I find myself in a good spot going into the weekend, then I'm really excited to tee it up tomorrow."
He was asked if he had any regrets waiting to turn pro, but that would have cost him his invitation to the Masters. Besides, he really wasn't ready. He wanted to remain at Texas A&M a fifth year to play a final season with his Aggies teammates. And then he mentioned something else.
"I wanted to mature a little bit," he reasoned rather maturely. "I got to play the Masters, and the tour events I played in college was a big help for now when I get out here professionally, I was experienced and I kind of didn't get a slow start. I felt comfortable. I still do."
The highlight of the day came at the short par-4 sixth when he layed up instead of trying to drive the green, and then spun a wedge from 59 yards that stopped three feet behind the hole. Almost as soon as he stroked the birdie putt, he took a step forward and nonchalantly let his hand follow the ball in. Call it leaning in instead of walking it in. It was a mark of real confidence.
We'll be hearing more from Bennett very soon. He has agreed to do the walk-and-talk with NBC Sports during Saturday's third-round telecast while playing the sixth hole. Bet he handles it just fine.
MORE FROM GOLF DIGEST @ THE U.S. OPEN