U.S. Open 2023
U.S. Open 2023: A YouTube session reminded Rory McIlroy that he has more weapons than his driver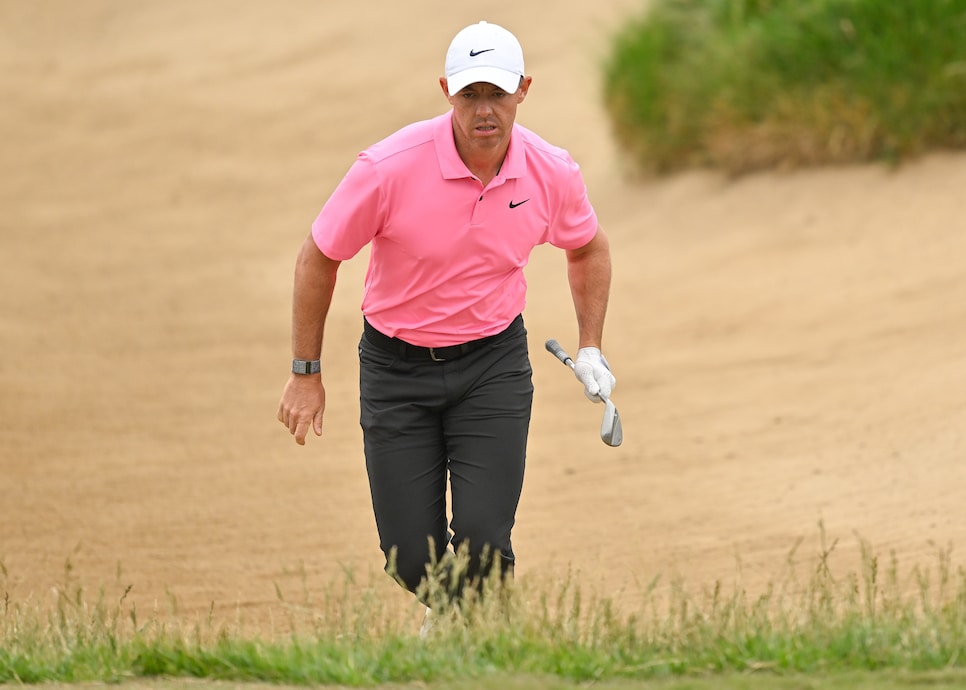 Rory McIlroy runs out of the bunker on the 14th hole during the second round of the 123rd U.S. Open.
Ben Jared
LOS ANGELES — Among the many ways to look at yet another weekend in contention at a major championship for Rory McIlroy, a couple stand out this time round. In the 36 holes the Northern Irishman has played over the Los Angeles Country Club layout in this 123rd U.S. Open, his fortunes have varied wildly. So far, McIlroy has "shot" 60, made up of playing LACC's 1-9 holes, and 72 on the way home to the distinctive white clubhouse.
Still, whatever way you calculate his 65-67 route to the halfway mark, McIlroy is eight under par and almost certain to be well placed on the leaderboard come the weekend. He certainly seemed happy enough with his end result at the close of a second round began slowly, stalled, then burst into life on his inward half, the front-nine on the 7,234-yard layout. And it certainly finished with something of a flourish. Four birdies in the last five holes culminated in a near hole-in-one on the par-3 ninth, where the four-time major champion's tee shot almost pitched in the cup and subsided no more than a yard away. The ensuing deuce was no more than a formality.
"At least for me, there's quite a scoring discrepancy from the front nine to the back nine," McIlroy acknowledged during his first chat with the printed press this week. "The front nine gives you some scoring opportunities and some wedges in your hand, a couple of par 5s and the [drivable] sixth hole. The back nine is just a lot tougher. Those last three holes—16, 17, 18—are playing tough, even if it is pretty benign conditions out there. It feels like the sort of golf course where you try to make your score on the front and then try to hang on on the back."
Hanging on, of course, is not something McIlroy will be aiming for over the next two days. As he will know more than anyone, his recent form over the closing 36 holes in any of the four most important events on his calendar has been far from stellar. Getting into position to add a fifth Grand Slam title to a collection that has stalled for almost nine years has been relatively easy. Finishing off the job, not so much.
Still, as you'd expect after shooting 30 for nine holes for the second day in succession, McIlroy was making positive noises. Not for the first time, he has built the momentum that he hopes will lead to victory.
"I feel like I'm hitting the ball well. I've hit it well off the tee," he said. "I felt like coming into this week that was going to be a key for me if I could put the ball in play. You can play from there and create some scoring opportunities. That's really my game plan over the next couple days. Put the ball in play off the tee, and I think I'll be just fine from there."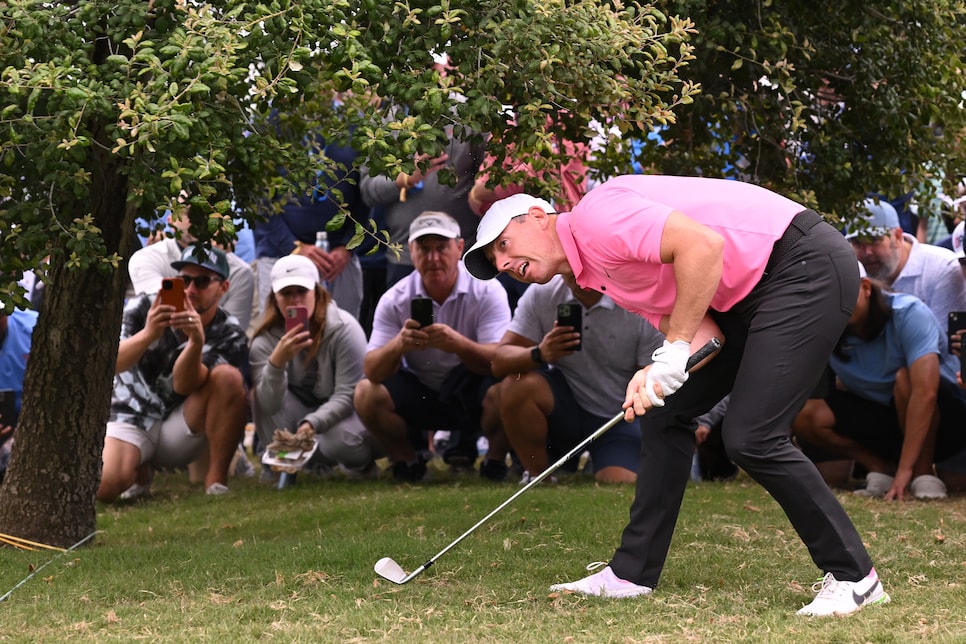 Rory McIlroy plays a second shot on the 13th hole during the second round of the 123rd U.S. Open.
Ross Kinnaird
There was also an indication that McIlroy is in no mood for questions he deems silly or unnecessary. When one scribe attempted to point out that he has yet to finish first in a tournament where the winning score is in single-digits, the Belfast man was quick to (semi) correct the unfortunate questioner.
"If I had shot single-digits under (in the 2011 U.S. Open) at Congressional I still would have won," he pointed out. "And if I would have shot single digits under [in the 2014 PGA Championship] at Kiawah, I would have won. So I think it's a flawed statistic."
Moving right along, McIlroy displayed more patience when the subject at hand was, well, patience. It is, he conceded, a factor that has left him down more than once over the 16 years of his professional life and as recently as the last month on the PGA Tour.
"I've gone through ebbs and flows with that [patience] throughout my career," he said. "I went on to YouTube a few weeks ago and was looking back [to his Open Championship victory] at Hoylake. I couldn't believe how many irons and 3-woods I was hitting off the tee. It set something off in my mind: I know how to do this. I know how to play smart. I don't have to hit driver all the time. Yes, it's a big weapon, it's a big advantage. But I keep saying I've got more weapons in my arsenal now than I did back then, so I may as well use them and play to them.
"So yes, I've been through periods over the last few years where I haven't been patient enough and I've taken on too much," he continued. "Trying to stay patient at Memorial was tough at the weekend, Canada, too, last week, although that was a little different. But I think I've had some tests recently where you have to display patience, and hopefully those experiences will help me this weekend."
There was time for some comment on just how the LACC course is playing. Some feel it is too easy for the world's best players, others think it is a great course that will bring out the best in the best.
"I'm surprised," McIlroy said. "I didn't see the scores being as low as they are. The overcast conditions yesterday combined with that little bit of rain in the morning meant the course just never got firm at all. Now it's a little brighter, sunnier, a little bit of breeze. It's got the potential to get a little firmer and faster over the next couple days, which will make the scores go up a little bit.
"We'll see what it's like at the end of the week. It's still early. I wouldn't be surprised on Saturday/Sunday to see it bite back, which is what a U.S. Open is all about. It should be tough. It should be just as much of a mental grind out there as a physical one."
In conclusion, McIlroy left with a declaration of intent that might just spook those around him on the leaderboard, especially if his front-nine play so far spreads into the closing nine holes.
"I started thinking about winning this thing when I came here on Monday," he declared. "I've already done that. No one wants me to win another major more than I do. The desire is there. I've come close over the past nine years, and I keep coming back. I've shown a lot of resilience in my career. Whether I get rewarded or I get punched in the gut, I'll always keep coming back."
Fighting talk indeed for the battles that surely lie ahead.
MORE FROM GOLF DIGEST @ THE U.S. OPEN