Instruction
'I'm not numbers-based': What golfers can learn from Sam Bennett's safe and simple game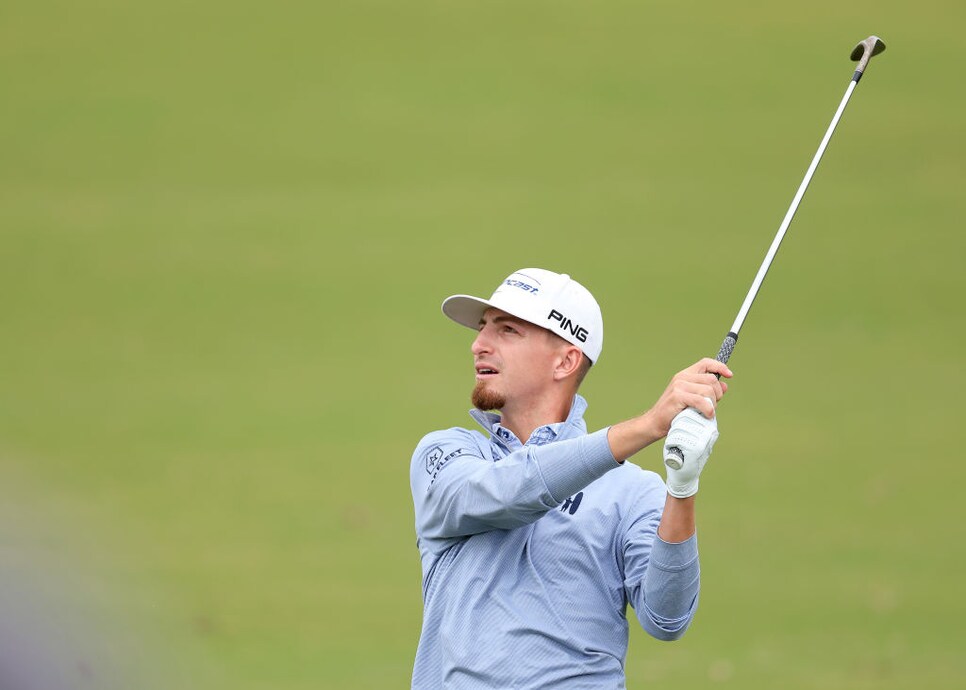 LOS ANGELES — Sam Bennett doesn't have the kind of modern game that would wow golf's analytics crowd.
Not that he would notice.
In an era of bomb and gouge, Sam Bennett hits it short and straight: His 290 yard average during his first round ranked him 108th in Driving Distance — some 54 yards behind Rory McIlroy's Thursday 344 yard average. Yet he missed just two fairways all day, four greens, and just like at the Masters, is inside the top 10 after his first round.
Bennett's game is a throwback, which is perhaps a product of his approach. He's never had a coach. Doesn't watch his swing on video. Can't quote you exact numbers about his game. That's in large part because he might be the one man in the field who doesn't use a launch monitor. When a company rep approached him earlier in the week asking if he'd like one, he politely declined.
"I'm swinging the best when I'm not thinking of nothing," Bennett said following his opening round 67. "I just see a shot and hit it."
Bennett hits the shots he wants most of the time. Despite his relative lack of distance, he ranked eighth in SG: Tee-to-Green, and inside the top 15 of putts per green in regulation.
While Bennett's game remains delightfully offline, it's laced with the kind of intuitive genius that great players of previous generations found by digging it out of the dirt, as the great Johnny Miller spoke of earlier during U.S. Open week.
"Growing up we only played by eyesight," Miller said. "You used to get on the par-3s with different caddies and one of them would say it's 161 and another guy would say 165 and the other guy 168 because everybody walked differently."
But just because Bennett isn't "numbers based" or one for swing thought, doesn't mean he's leaving things to chance.
Bennett pays close attention to the ball flight, and understands the cause and effect of why the ball does what it does. He places an alignment stick on the ground near the ball when he practices to get a feel of the target line, and how his club is moving in relation to it.
To that end, Bennett knows how to manipulate the clubface when he wants to hit different shots. He'll practice
The only numbers he does pay attention to are his wedge numbers – "they're ok," Bennett says. He never goes too deep, but when he wants to hit his wedge 67 yards, he'll know how to get there.
Bennett also thinks a lot about course management. He calls this "getting around the course." Where's the best place to miss? Where's the worst place? He knows how to hit different shots, and which side of the hole to be on.
And if there's one thing Bennett cares a lot about, it's routine. That's what allows him to think about "nothing," and keep things simple. If he does that, he has faith the rest will fall into place, even on bigger, unfamiliar stages.
"I'm just comfortable," he says of this week. "Even though there's people out there, the hole is still the same size."