U.S. Open
U.S. Open 2023: Max Homa has a warning for Collin Morikawa: 'He can't hide from me'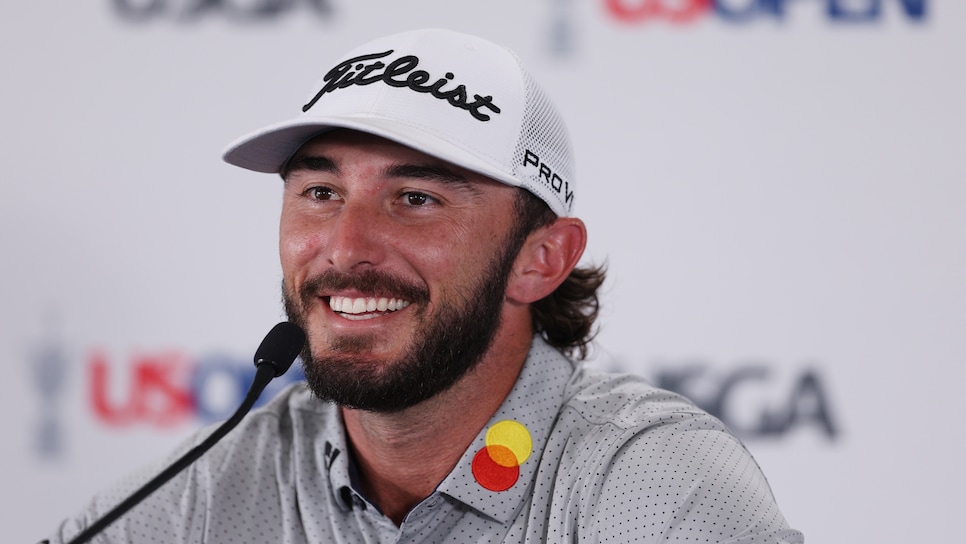 Max Homa speaks during a press conference prior to the 123rd U.S. Open.
Richard Heathcote
LOS ANGELES — As University of California-Berkeley alums and Southern California natives, Max Homa and Collin Morikawa would naturally figure to pair up for a U.S. Open practice round at Los Angeles Country Club this week.
They even had success on the North Course in common, with Homa captured the 2013 Pac-12 championship here, and Morikawa contributing to the Americans' victory in the 2017 Walker Cup.
That was their plan, but then it got quashed when Morikawa realized he had a media commitment at the same time they were scheduled to play.
UItimately, it gave Homa a reason to apply the needle to Morikawa, because when the groupings were announced on Monday for the first two rounds, the two Cal Bears were paired with Texan and World No. 1 Scottie Scheffler.
"I told [Morikawa] he can't really hide from me I'll find you at some point," Morikawa said. "So I am glad I get to go walk around with him for 36 holes. It's always cool playing with Scottie. Obviously just a tremendous golfer, really nice dude. It's a very fun pairing."
For those who follow the majors closely, all of them fully control the groupings, and there are always a number in each event that can be given a label, whether they're from the same region or country, or maybe they're the reputed hot heads.
So what would you call this Homa-Morikawa-Scheffler trio?
"I'm going to keep this joke that I used last year, but I know the U.S. Open does themes," Homa said with a grin. "So it's nice they put the three good looking guys together yet again."
Truthfully, that line may have worked better a year ago, when Homa was paired at The Country Club with Adam Scott and Jordan Spieth.
Just like last year, Homa is the only player in the group who hasn't won a major. Morikawa has already captured PGA Championship and Open Championship titles, and Scheffler won the 2022 Masters. Homa is 0-for-15 in the big four, without sniffing contention.
"U.S. Opens are always exciting and big," Homa said, "but getting to play with those two guys who have had such great success in majors and so young and just make golf look so easy, it's fun to get to go walk around with them."
The threesome tees off at 8:13 PT on Thursday and 1:43 p.m. on Friday.
MORE FROM GOLF DIGEST @ THE U.S. OPEN