The hole story
U.S. Open 2023: LACC's vaunted par 3s will have one play 80 yards and another 280. But which is the harder hole?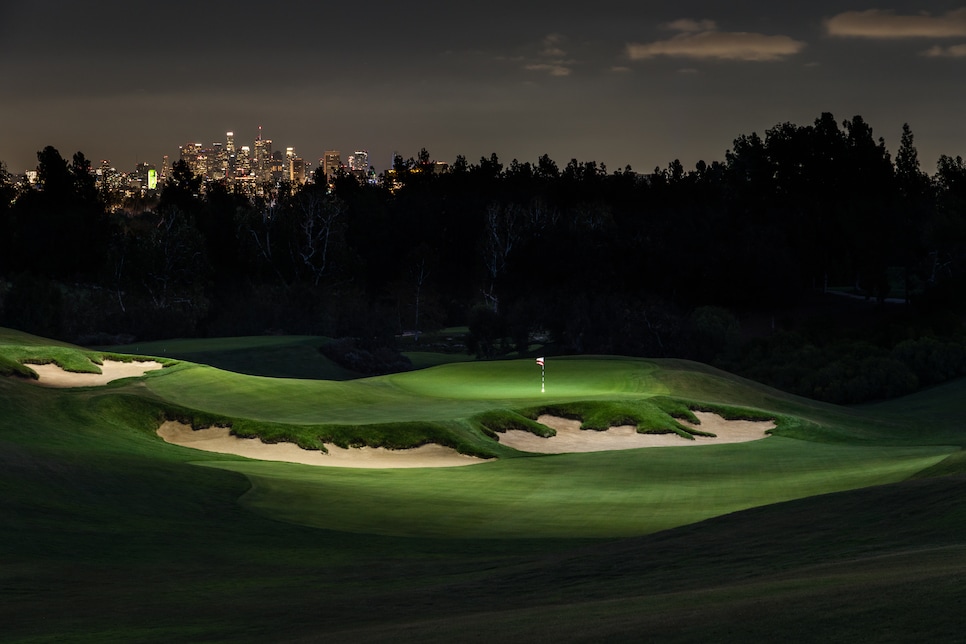 The dowhill par-3 11th is considered Los Angeles Country Club's signature hole.
Brian Oar
LOS ANGELES — The golfers in the field of the 123rd U.S. Open are saying it's a scenario they can't recall in their professional careers.
In at least one round this week at Los Angeles Country Club, they will arrive at a couple of par 3s, Nos. 7 and 11, that will force them to pull a wood from the bag and hammer their ball to a flagstick that is but a sliver, more than 280 yards in the distance. Then, at the par-3 15th, they'll be required to select nothing more than a lob or sand wedge from 80 yards—and still take something off of it—to shoot for a landing spot not much deeper than your dining-room table.
New Zealander Ryan Fox, who admitted that he didn't know LACC possessed five par 3s until his practice round on Monday, thought about the uniqueness of par-3 yardage between the holes being separated by 200 yards, and his face lit up.
"That's cool!" said Fox, who was the DP World Tour's 2022 Player of the Year. "It's great to have that much variety. Five par 3s makes it interesting. It tests everybody's game, and it looks like we're going to have a nice spread of clubs.
"How many times," Fox added, "do we play a par 3 that is 220 yards and you just kind of hit a 4-iron up on the green somewhere and try to make par."
The variety of the par 3s at LACC is what makes the quintet so compelling, and potentially the deciders of the championship.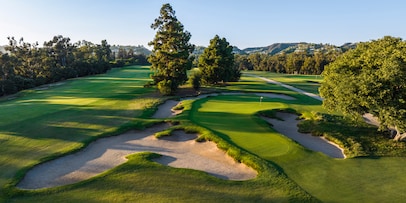 It's on the edge of Tinsel Town, but the architecture of the North Course at Los Angeles Country Club has been solid gold ever since its 2010 restoration by architect Gil Hanse, his associate Jim Wagner and their colleague Geoff Shackelford. It matters not that Hanse's team didn't replicate the bunkering style of original architect George C. Thomas, but rather the more visually exciting style of Thomas' associate, William P. Bell. The first nine plays rustically up and down a shallow canyon with holes switching back and forth across a dry barranca, and the second nine loops across a more spacious upland section with one par 3 (the 11th) that can stretch to nearly 300 yards and another (the 15th) that often plays just 90 yards. The hole strategies reinstituted by Hanse will play sensationally when LACC's North course hosts the 2023 U.S. Open.
View Course
The fourth (listed by the USGA at 228 yards) and ninth (171) are relatively normal short holes, though far from mundane. The elevated tee at No. 4 makes it a mid-iron shot, and architect Gil Hanse restored the green-surrounding barranca that will create troublesome lies if found. The ninth calls for a slightly uphill short-iron shot into a prevailing afternoon wind.
The most intrigue comes on the other par 3s. The longest yardages listed for the seventh and 11th are 284 yards and 294 yards, respectively—though they won't be played at those distances every round. But let's pause here and think about that: Those distances require a driver and short iron for regular golfers, and, as a refresher, the longest par 3 in this year's PGA Championship at Oak Hill played 245.
At LACC's seventh, there is actually a "fairway" area to the right that allows it to be set up as a short par 4, though that won't happen in the U.S. Open. The 11th, with the downtown L.A. skyline as its backdrop, is arguably LACC's signature hole—so picturesque that golf artist Lee Wybranski featured it in his poster for the 2017 Walker Cup.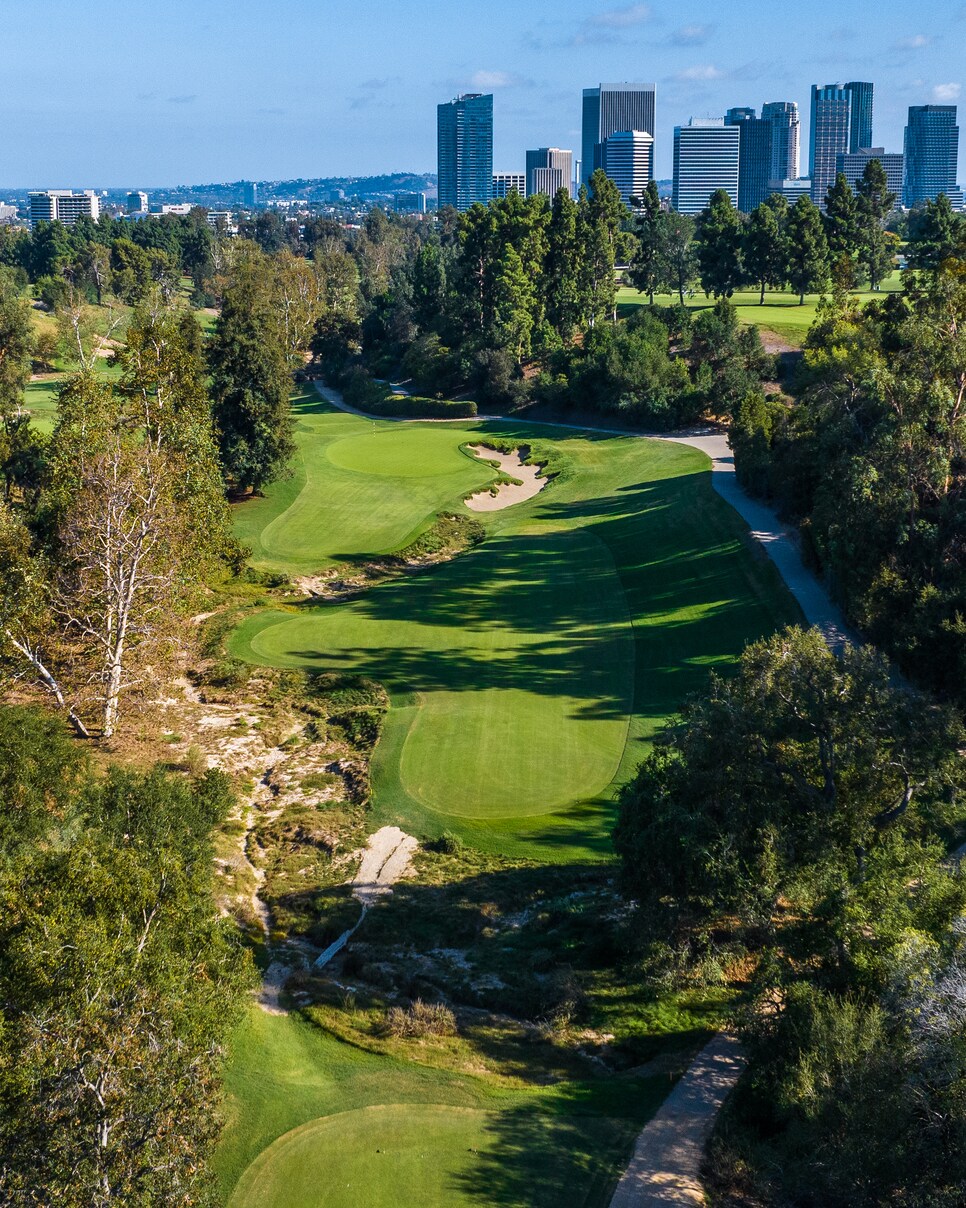 At 290 yards and with a "fairway" on the left side, LACC's seventh hole can be played as a par 4, though it won't be for the U.S. Open.
The two long holes feature very different penalties for a miss. The seventh is fringed by sand and barranca, while the 11th is fronted by massive bunkers, while too-long shots will bound down steep banks.
At both holes, there are generous run-up areas, and the 11th is made particularly interesting by a bank on the left that players may aim at for a better chance to kick their all softly onto the green.
When either of the tees are farthest back, even the biggest hitters in the game will need to pull woods.
"I definitely haven't pulled a headcover off a club for a par 3 in a while," Fox said. "The only time I remember playing woods into par 3s is when we had awful conditions and you get 220 yards into a gale wind and some rain. I haven played too many times on a nice day like today, where you stand up, and there's not an iron in my bag that's going to bet me there."
In his practice round on Monday, Fox said he tried both a cut 3-wood and a draw 7-wood to reach the green and both stayed stopped near the front of the green.
"The skill involved," Fox said, "is going to be trying to get the distance right. "You're not going to punch or hit a three-quarter 3-wood. It's trying to adjust the shape to get the yardage out of it."
PGA Tour veteran Charley Hoffman, who has played a handful of rounds over the past week after he emerged from a Final Qualifying playoff to reach LACC, isn't as enamored of the long par 3s.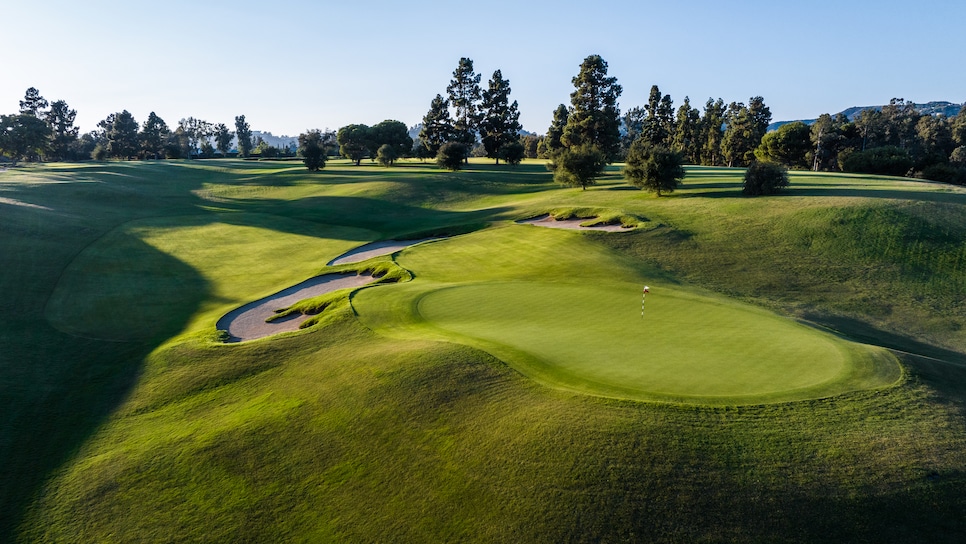 The view from the back of the par-3 11th, where any misses long will carry down steep dropoffs.
"Are they hard? That answer would be yes," Hoffman said. "But I think the best set of par 3s are holes where you can shape a shot, and take risk, and pull off a shot to have a birdie putt. At 270-280 yards, we're all trying to hit the front of the green and two-putt. No one is shooting at the pin.
"The scoring average is going to be higher from 290, but I would say it takes imagination away. No one is saying those holes are hard. There's room to run it up. They're all fair, But I wouldn't say there's skill involved in hitting a 3-wood and another guy is hitting 5-wood. We're all hitting to the same spot."
The potential for excitement at the 15th—especially considering that it comes late in the round­—has the players buzzing. As illustrated by the photo accompanying this story, the green is shaped like a boomerang aggressively protected by bunkers, requiring a precise shot from any yardage. But it's the hole placement for the 90-yard shot, in the lower tongue that isn't much deeper than 10 yards, that truly makes the little shot a thrill.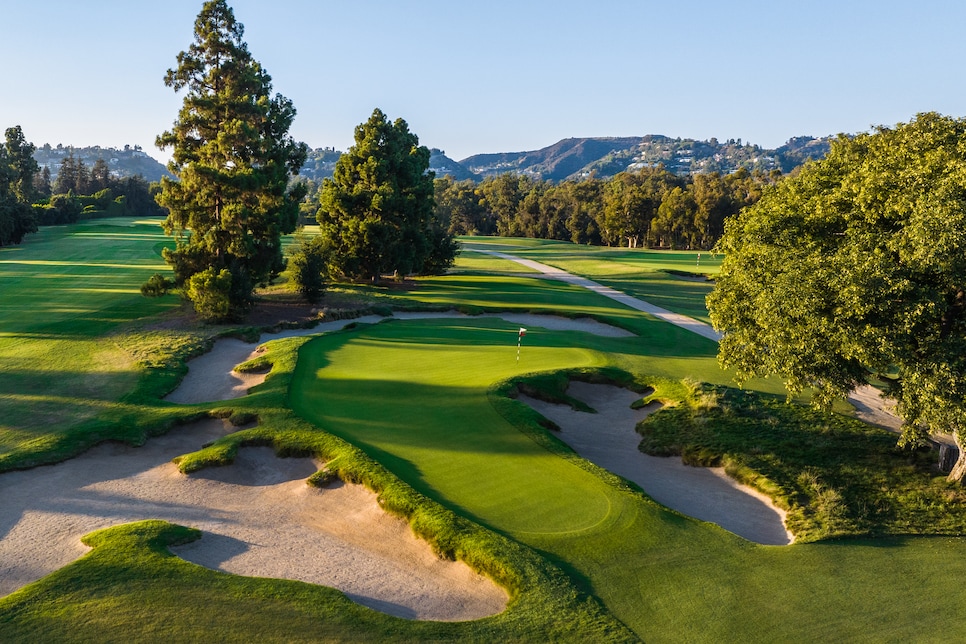 When the par-3 15th is played at 80 yards, the flag will be placed low in the tongue on the right.
During practice Monday, Shane Lowry and Viktor Hovland played together, and with the pin just a few paces left of what it will be in competition for the 80-yard shot, Lowry smoothed a wedge to 10 feet, while Hovland put his shot in the back bunker and could have made bogey when his sand blast got no closer than 12 feet.
"I typically love short par 3s," Australia's Cam Smith said. "I think a lot of the greatest courses that we play around the world all have a short par 4 and a short par 3, and they can end up being kind of the trickiest, as well."
Wyndham Clark would heartily agree. He thought for a moment about other great par 3s in pro golf and came up with the 12th at Augusta National and 17th at TPC Sawgrass—though both are considerably longer than 90 yards.
"Those two come to mind," Clark said, "because your shot can be right online with the flag, right where you want to hit it, but you don't know whether to tell it to go or sit.
"It's awesome hole," he said of LACC's 15th. "If you hit the right yardage, you're going to have a short birdie putt or maybe even make a hole-in-one. But if you're off, it's an easy, easy bogey."
Both the golfers and the fans can't ask for more than that.
MORE FROM GOLF DIGEST @ THE U.S. OPEN