Legend
U.S. Open 2023: Johnny Miller talks about the 'choke factor,' his concern for gambling in the game, and his stunning 63 in '73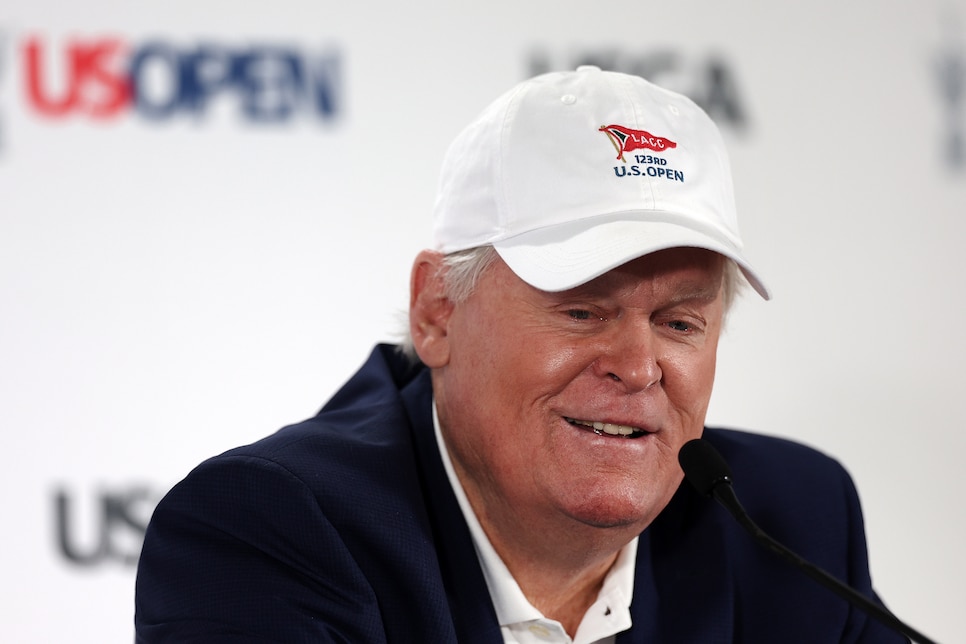 Johnny Miller says he felt a lot of pressure in being an outspoken announcer in golf.
Harry How
LOS ANGELES — On Wednesday at the U.S. Open, Johnny Miller was back behind the microphone. Four years after calling an end to his revered television commentary career with NBC, the California native and World Golf Hall of Fame player held a press conference at Los Angeles Country Club ahead of the 123rd U.S. Open.
The idea was to celebrate the 50-year anniversary of his spectacular victory at the 1973 edition at Oakmont Country Club that was highlighted by a final-round 63. But reporters, clearly missing the sound of his voice and the weight of his opinions, canvassed many other topics.
Miller, now 76, needed help walking up the steps to the podium. But once he sat down with the mic, he was as sharp as ever. The two-time major winner held nothing back. The first question was whether he missed commentary, and he didn't exactly say yes.
"I sort of do, but it was pressure," Miller said. "The way I announced … it's not like I just lollygagged around and said how wonderful everything is. I honored the game of golf, because I knew its growth needed to have a little more pizzaz with the announcing."
Miller does not miss the pushback against broadcasting professional golf exactly how he saw it. He held no punches when bluntly calling out a choke. Phil Mickelson was among the many players who were displeased with Miller's one-liners, when he summed up Lefty's play at the 2010 Ryder Cup: "If he couldn't chip, he'd be selling cars in San Diego." Miller also described rank-and-file players with exceptional color, like Australia's Craig Parry having a swing that would make "Ben Hogan puke," or Tiger Woods' challenger at the 2008 U.S. Open, Rocco Mediate, as "looking more like the guy who cleans Tiger's swimming pool."
"I thought the greatness of golf is the choke factor," Miller said at LACC. "I don't care if you're playing for a milkshake or $5 Nassau. [It's about] whether you can make that putt to win, and to ignore that is missing the greatest part of golf, no doubt. Nobody wanted to talk about it. But I talked about it even when I was playing. I knew it affected my putting. I would have won the Masters a couple times if I could have handled the pressure of putting. I had three seconds [at Augusta]."
It's hard to underestimate how much golf's landscape has changed since Miller hung up the mic at the 2019 WM Phoenix Open. In the past week alone, golf was rocked by news the PGA Tour entered into a framework deal with Saudi Arabia's Public Investment Fund after a long, public feud with the LIV Golf league it finances. Miller said he'd enjoy calling golf in today's climate, but singled out the rise in betting in golf as one development he'd call out.
"The whole atmosphere is changing; I'm not thrilled about the gambling part now," he said. "That's an understatement. In a way golf used to be a little more pure. I [wouldn't] miss that part of it."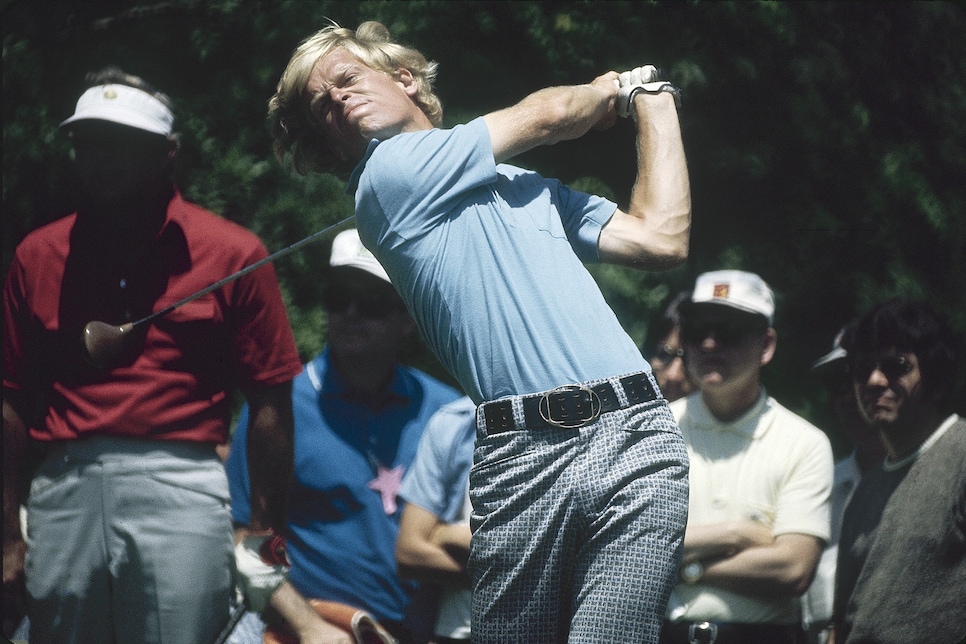 Johnny Miller hits a shot during the second round of the 1973 U.S. Open.
James Drake
It's funny to think an entire generation of golf fans know Miller only as a television analyst. But Miller won 25 PGA Tour events, including the 1976 Open Championship and, more prominently, his final-round 63 to win the 1973 U.S. Open. "It was like somebody was helping me up there [divine intervention]," Miller said. "It was not a normal round.'
Miller was just as satisfied at beating Arnold Palmer at Oakmont in his backyard. The top-five finishers that year also included runner-up John Schlee, as well as Tom Weiskopf, Jack Nicklaus and Lee Trevino.
"I played with [Palmer] on Thursday and Friday; that was not easy to do," Miller recalled. "It's not like the [gallery] stuck around to watch my putt after Arnie made a 15-foot birdie putt and I had a 10-footer. The whole gallery was gone [to the next tee]. His gallery was nuts."
More recently, Miller has flashbacks of a woman in the gallery who supported him all week at Oakmont–until he fell out of contention in the third round. He recalled her saying, "You're going to win the U.S. Open; I'm never wrong."
"She was there on Tuesday, Wednesday, Thursday, Friday," Miller said. "On Saturday I shot 76; I never saw her again after that."
Miller's 63 was the first in major championship history. He conceded that with the advancements in technology, and more depth in professional golf, the first 61 is likely not far away. Branden Grace earned the first (and only) 62 at the majors during the third round of the 2017 Open Championship at Royal Birkdale.
In trademark candor, however, Miller wondered: "There will be guys that will shoot 61 … but can they do it on Sunday to win?"
MORE FROM GOLF DIGEST @ THE U.S. OPEN