News
U.S. Open 2020: Phil Mickelson deserved better in his return to Winged Foot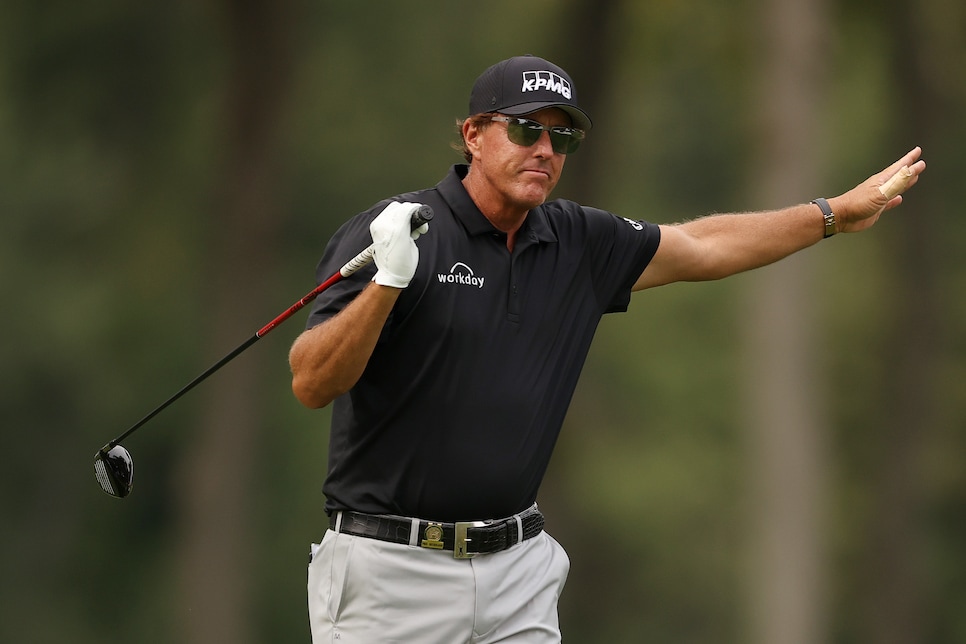 MAMARONECK, N.Y. — It wasn't a primal scream. Not animated either. Best way to describe the sound that came from Phil Mickelson—"Aghhhhhhhh"—is exasperation. His second shot at Winged Foot's par-4 14th had failed to clear a fairway bunker, burrowing into the rough. He looked down at the sand, only for a moment, then yelled to his playing mates to go ahead if ready. They weren't, so Mickelson hit his third, which also found the beach. His round was already falling fast; this would complete the crash.
It was a fate not unexpected, even by the man himself. That does little to soften the collision. Mickelson turned in a nine-over 79 Thursday, the second-worst score of Round 1.
"Yeah. I don't know what to say," Mickelson said. "It's a disappointing day."
Hope is what hurts the most. Hope is how Mickelson began Round 1. He posted back-to-back birdies off the back of "How did he do THAT?!?" approaches from Winged Foot's suffocating rough. He's built a career off those escapes, and after 30 years you'd think we'd be numb to their magic. But Mickelson has always kept us spellbound, and for the briefest of moments, at the site of his most infamous stumble, one was free to envision if magic was afoot at the Foot.
Only, this is the U.S. Open. Save the enchantment and wonder when they hand out the green jacket or claret jug. The lone sentiment the USGA's signature event allows is its historical Father's Day finish, and in case you haven't noticed, it ain't June. This is the major that's less of a golf tournament and more of a heavyweight prize fight, one that rewards patience over audacity and runs off the subtle hum of ever-present danger.
Danger that came to fruition at the third for Mickelson, beginning a stretch of three straight bogeys. He also bogeyed the eighth and after a blocked 3-wood approach ("I am so sick of this," Mickelson muttered), failed to birdie the par-5 ninth, making the turn at two over. The 10th offered no respite, a bogey coming from a greenside bunker on the par 3. Forget making a run; Mickelson had to turn his attention to the cut line.
Before we go any further … this is not a condemnation of his round or his play or his effort. Mickelson is 50! Yes, "Father Time is undefeated," but Mickelson has waged a valiant battle, better than any golfer in the modern era. He was not expected to compete, especially coming off a performance at the Safeway Open where he hit just 12 fairways through four days, fairways conjure up the Grand Canyon compared to the small runaways at Winged Foot. Mickelson even said as much to the New York Post, calling anything that happened this week a "bonus." When Phil Mickelson, golf's greatest showman, is expressing humility, it's time to lock up the smokehouse.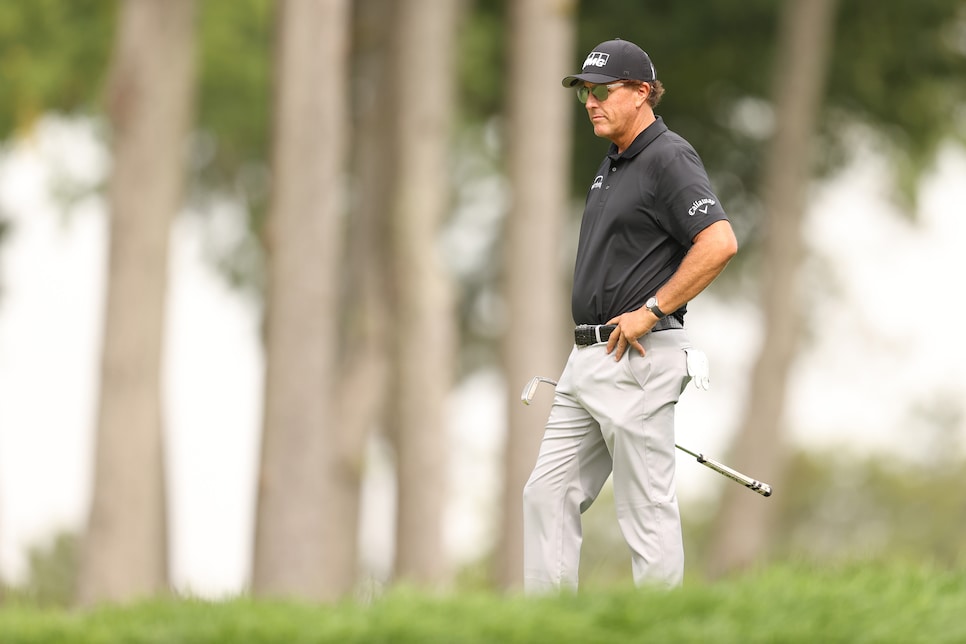 Still, there Mickelson was on Thursday morning, four hours before his tee time, testing out drivers on the practice range. Tinkering with the big stick before the U.S. Open is not, uh, ideal, but that's not the work of someone attempting to take a victory lap. Mickelson is many things these days, but you best believe he is still a competitor.
Except those dreams that still lingered at the 11th eventually faded altogether, beginning at the 13th. Mickelson left his tee shot at the par 3 well short, and his 15-footer for par didn't drop. At the aforementioned 14th it took him four shots to reach the green and two putts to find the cup. He made a mess around the 15th green for another bogey to move him to seven over. Walking to the 16th tee, he looked very much like a man wishing a rain storm would pass through.
"I drove it poorly and I putted poorly," Mickelson said. "The course couldn't be set up any better. It's a spectacular golf course, great design, awesome setup, and I thought it was a good opportunity to score low today. I just played terrible."
The final damage: nine bogeys and one double over his last 16 holes. Chalk it up to the aforementioned tee woes, which isn't wrong—Mickelson hit just two fairways on the afternoon. He also lost 5.14 strokes on the green, worst in the field. Meaning Mickelson will need a career performance on Friday to see Saturday.
Should that not come to pass ... well, if he does not qualify for next year's championship in his hometown of San Diego, the USGA would (likely) grant an extension. But Mickelson said he would turn down a spot this year if he had not made it on his own merit, so there is a chance this is his last U.S. Open. If that's the case, how he's going out isn't right. And not just the score. Even at 50, Mickelson is the people's champ. This is the people's championship. That they are not here to bid him farewell is a damn shame.
Maybe that's why Mickelson headed to the driving range Thursday evening. There will be time to speak, either on Friday or in the future. What he has left at this tournament is fleeting.