News
Phil Mickelson remains golf's greatest showman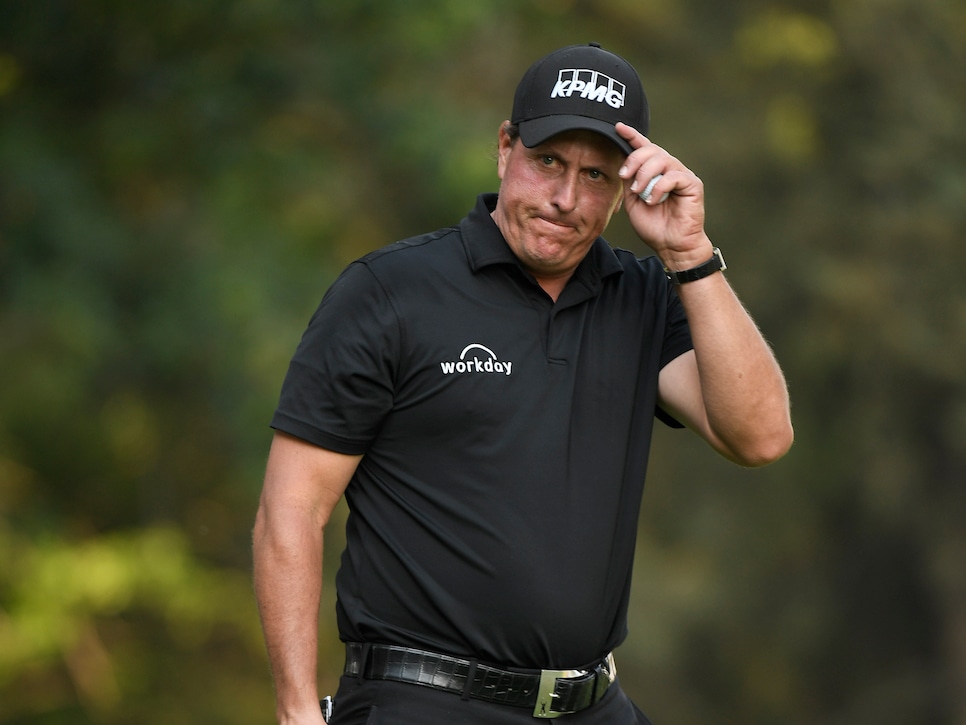 Photo By: Stan Badz/PGA Tour
The Barnum & Bailey Circus closed last year. But the greatest show on Earth remains alive and well.
Phil Mickelson edged out Justin Thomas in sudden death at the WGC-Mexico Championship on Sunday, earning his first win in more than four-and-a-half years. That he won, however, is secondary. Victory or not, Mickelson's display was theater of the highest degree.
Despite the Club de Golf Chapultepec demanding accuracy off the tee, Mickelson explored parts of Mexico that Coronado failed to discover. He hit fans, routinely short-sided himself and bogeyed one of the course's easiest holes … you know, the general Mickelson repertoire. And yet his irons and wedges were magical, always managing to save him from tree limbs, patchy rough and galleries. Like Julius Erving with dunking, Mickelson has transformed scrambling from an act to an art form.
Better yet, his putting, historically uneven but solid thus far in 2018, continued to be stellar. He was in total control on the greens, dropping his share of bombs, yes, but more importantly taking care of the testy ones from six feet and in. If you're wondering how one ranked 131st in strokes gained/off-the-tee has been one of this season's most consistent players, look no further than his flat stick.
Of course, the mention of his play fails to encapsulate Mickelson's performance, in every sense of the word. On Saturday, Mickelson inadvertently blew off 36-hole leader Shubhankar Sharma thinking he was a reporter. Cameras caught him telling fans he signs autographs after rounds ... in fluent Spanish. Before play on Sunday, he asked Tyrrell Hatton, far from a stranger to golf's biggest stages, how he pronounces his name. And during the final round, he aided Sharma on a ruling involving a drop, and gave more thumbs-up than a mother liking her children's Facebook posts.
It was a stage for Mickelson's goofiness, daring, vulnerability, talent, hubris and engagement. If one was forced to explain the Phil Mickelson Experience to the uninitiated, this weekend would serve as a proper "Best Of" montage.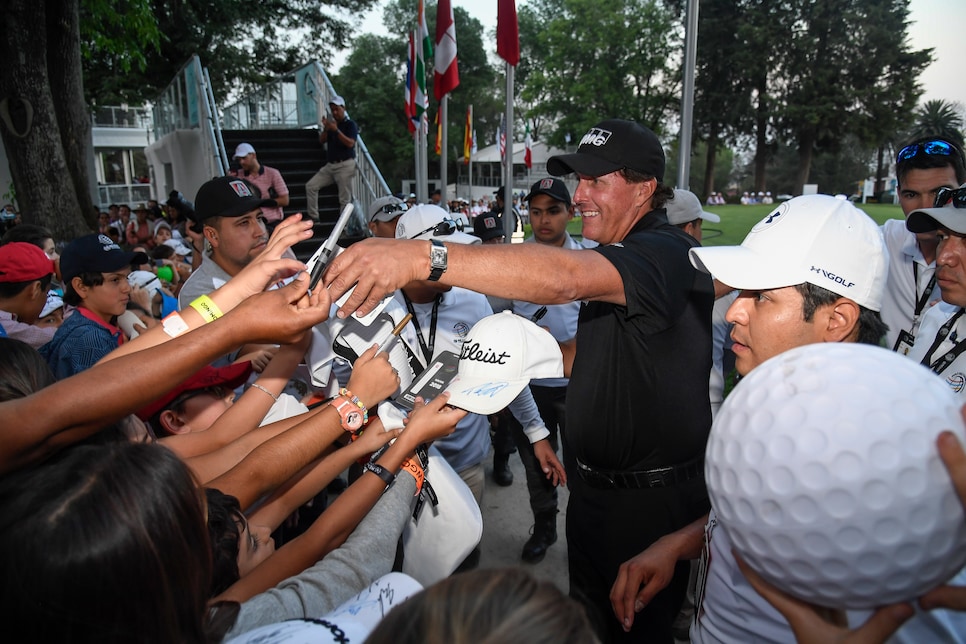 The problem is that part of that experience often involves falling just short. Perhaps it's an unfair sentiment; after all, the man has five majors and 43 PGA Tour wins to his credit. But—save for a future miracle at Shinnecock Hills, Pebble Beach or Winged Foot—his U.S. Open shortcomings are a central theme to his narrative, to say nothing of playing in the shadow of Tiger Woods. That he's never led the PGA Tour money list or earned Player of the Year honors is remarkable. It's a complicated tapestry, and a backdrop that adds to his aura.
Runner-up appeared to be Mickelson's fate yet again on Sunday after Thomas dunked his approach on the 72nd hole for eagle, capping a marvelous weekend that saw the reigning PGA Championship winner post a 62 and 64. But Mickelson answered with vigor in consecutive birdies on the 15th and 16th holes, the latter thanks to a drained 20-footer, to gain entry into overtime with Thomas. On the first hole of sudden death—the par-3 17th— Mickelson lipped out a 20-footer for birdie, and it appeared fans would be treated to another playoff marathon. But following a so-so chip, Thomas failed to convert a six-footer, giving Mickelson his long-awaited W.
"It's been a tough go the past four years, not playing my best, but to have the belief that I was going to get there and do it and eventually breakthrough is incredible," Mickelson said. "I believe more is to come, and feel I'm starting to play my best golf."
A concept inconceivable as late as last fall. There was a palpable sense at Liberty National that the proceedings could be Mickelson's last for Team USA. He hadn't played particularly well in 2017; following a flat performance at Quail Hollow, some speculated if off-the-course affairs—such as the parting with friend and long-time caddie Jim (Bones) Mackay and his involvement in an insider-trading case—had taken their toll on Mickelson's vitality. Moreover, last we checked, golf's top ranks have become inundated, and dominated by, youth. Turning 48 this June, Mickelson was nearing that purgatory where golfers aren't old enough for the PGA Tour Champions circuit and disappear from weekend leader boards.
But the calendar turned, and here's a rejuvenated Mickelson with a win and four additional top-six finishes in the early campaign. He added a newfound physicality in the offseason, and putting his brother on the bag full time has paid dividends. Efforts, Mickelson said, invested into making the American squad in Paris. Spring and summer will bring their share of surprises and nominations, but damned if Mickelson hasn't already cobbled together a viable case to make his 12th consecutive Ryder Cup team.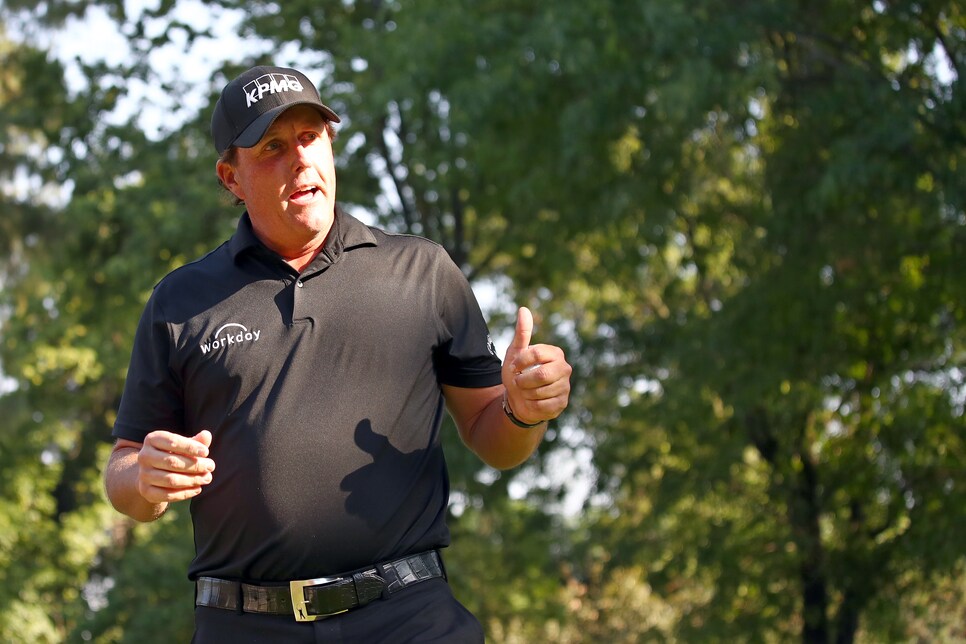 Of course, that's on the horizon, along with Augusta National in April and Shinnecock Hills in June, the site of one of his U.S. Open silver medals. Sunday was about Mickelson climbing back to the top, overcoming the bombers and young guns with a creativity and mettle rarely seen from today's stars.
"I enjoy the challenge, to have something like this today makes it all worthwhile," Mickelson said.
It's fitting that Mickelson won on Oscars night, where 2,000 miles away in Los Angeles a film inspired by the creation of the Barnum & Bailey Circus was up for Best Original Song. Its title? "This is Me." A tune tailored for golf's greatest showman.