News
U.S. Open be damned, Phil Mickelson's leaving a winning legacy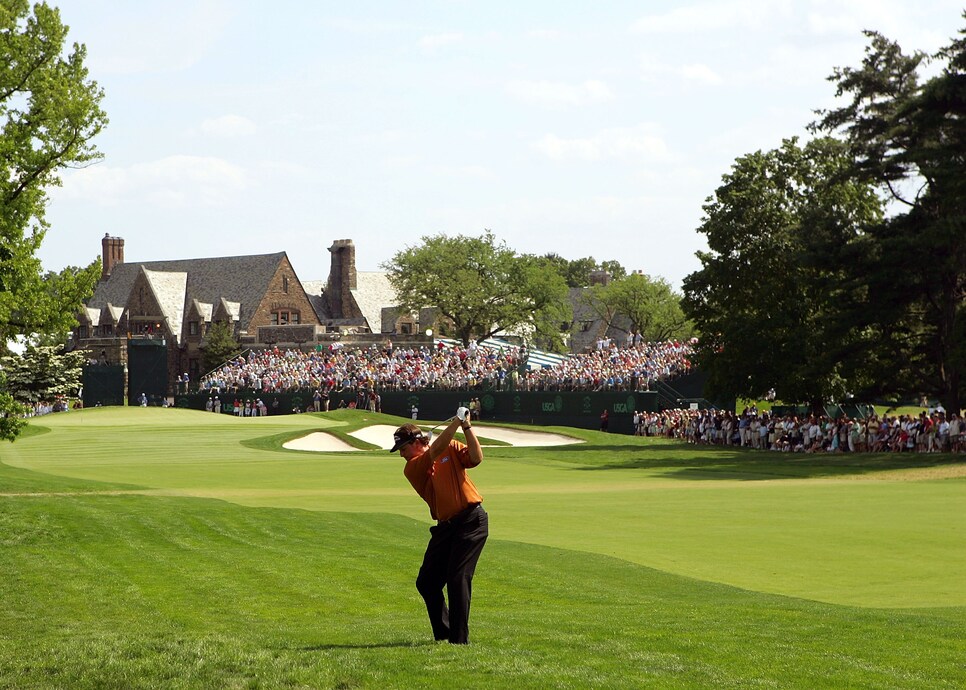 Phil Mickelson—or more aptly, the discussion around him—has become a week-long rite at the U.S. Open. There are the "Is this the YEAR?" pieces, followed by the gamers on his play, finished by the what-if ramblings and muses on his legacy. This season carries a route change, as Mickelson will (likely) forego the Open in favor of his daughter's high-school graduation. Given his age and recent performances in the tournament, many around the game view this as the logical period, rather than an ellipsis or comma, to Mickelson's Open endeavors. The voices and perspectives vary, although the conversation remains the same: the tournament is an unassailable scarlet letter on Mickelson's career.
This is partially true; this event is—and should be—a vital facet of Phil's story. But it's far from an indignity.
Make no mistake, Mickelson desperately wants the national championship. "There is nothing that would mean more to me than to cap off my career with a win here at the U.S. Open," Mickelson said at Oakmont last year. "I don't want to be disingenuous and downplay it. It would mean the world to me."
A theoretical win would elevate Mickelson's standing to the highest plane, becoming just the sixth player to win the career Grand Slam in the Masters era. It's also not a finished pursuit: Mickelson continues to display a rarely-seen formidability for one nearing 50, with favorites like Shinnecock Hills, Pebble Beach and Winged Foot serving as tournament hosts in the near future. A win is unlikely, but the last page of the script has hardly been penned.
Nevertheless, the catcalls remain, some insinuating anything less than a win is a permanent stain on Mickelson's record. Not only is this a shame, it's a short-sighted take.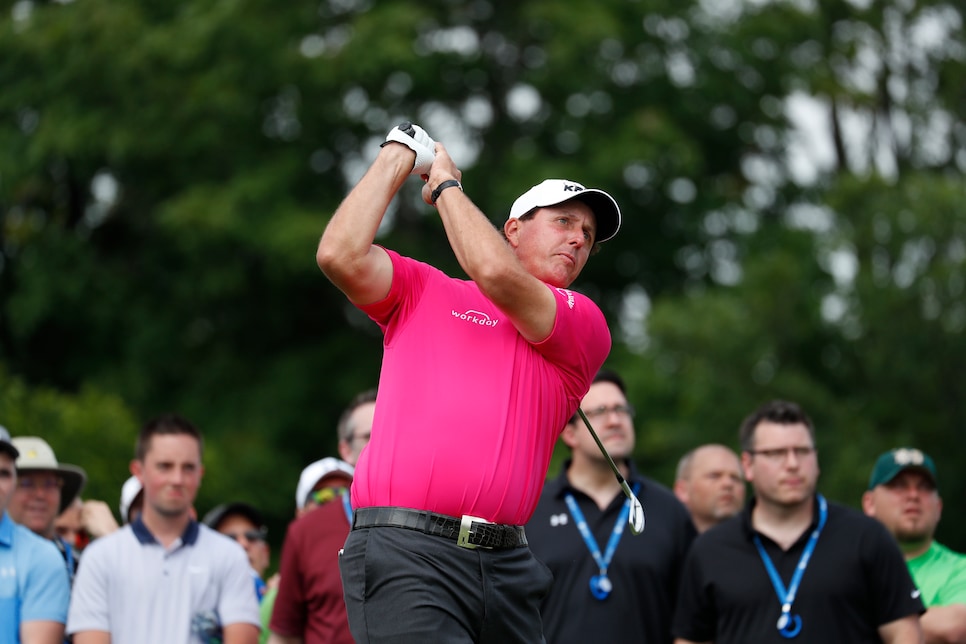 When it comes to athletes, legacies face a tougher test today than the proverbial tomorrow. Twitter and talking heads condemn a shortcoming with hyperbole, but they have the attention span of a 6-year-old. History tends to be a fairer, kinder arbitrator; whatever feels like a big, red "INCOMPLETE" on the report card softens over time, the body of work elevating over whatever we thought was of dire consequence.
And what a body of work Mickelson has submitted. Five majors, a Players Championship, ninth all-time in PGA Tour wins, the most American Ryder Cup and Presidents Cup appearances with 11 each. It's not a resume noted for what's absent.
Some will counter these incompletes are never erased. Just ask Charles Barkley or members of the early 1990s Buffalo Bills teams. Yet to believe these shortcomings encapsulate their entire being is only for the ignorant. Or worse, sports-talk-radio hosts.
It's also worth noting the juxtaposition between Mickelson and the Barkleys and Bills of the world is not an apples-to-apples comparison. Those entities are without rings, whereas Mickelson has reached the pinnacle of the sport, and five times at that.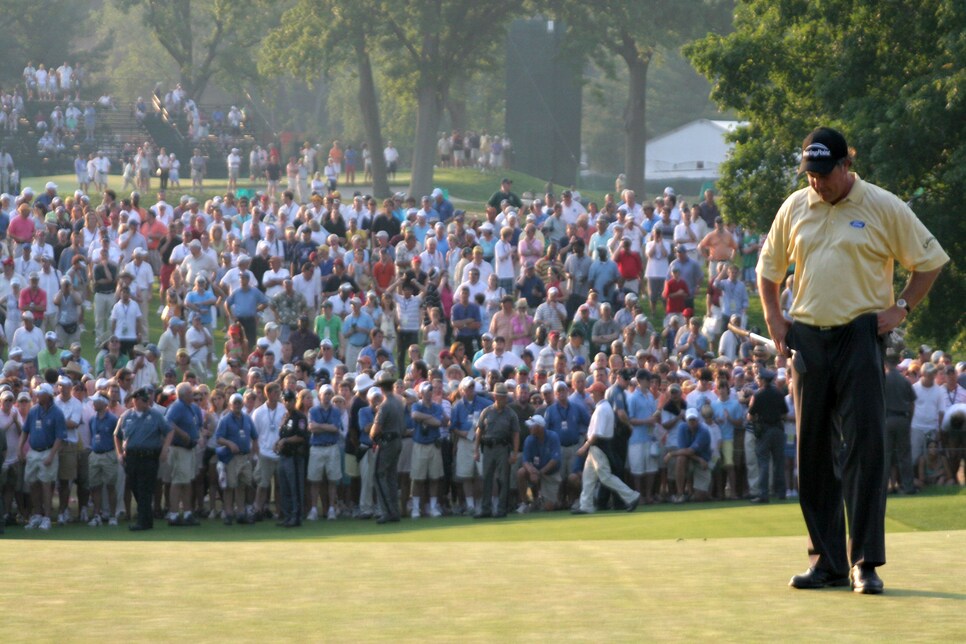 But for the sake of variety, let's tackle Mickelson's U.S. Open history. Ten top-10s, highlighted by six runner-ups. Not that all are viewed as "highlights."
His collapse at Winged Foot in 2006 will be remembered as one that got away, and rightfully so. Needing a par to win and bogey to tie, Mickelson's adventures on the 18th hole were the thing of Greek tragedy. It was less a choke, more of a demonstration of miscalculation and vanity.
His experience at Merion in 2013 could be painted in similar light. Entering the final round with a one-shot lead, Mickelson had three-putt doubles on the third and fifth holes, and though he briefly regained the lead with an eagle on the 10th, three bogeys on the final six holes left him two shots behind Justin Rose. Though not as dramatic as Winged Foot, it was just as painful to digest, witnessing an inevitability that all but Mickelson could foresee.
Yet, Phil's far from the only great to let a major slip through his hands. And though there are shadows over these two finishes, Mickelson's four additional seconds are praiseworthy. He battled Payne Stewart to the bitter end at Pinehurst in 1999. At the championship's two Bethpage outings in 2002 and 2009, he mounted final-round charges while the rest of the field was tamed. If anything can be extrapolated from 2004, it's that Mickelson was one of the few players that didn't wilt under Shinnecock Hills' cruel Sunday conditions.
Perhaps it's us that need to reframe Mickelson's Open past. Rather than looking at his six runner-ups as losses, marinate on what those finishes mean. Out of the 930 fellow competitors in said tournaments, Mickelson beat or tied 924. In what other arena of life does that constitute a shortcoming? It's an oeuvre worthy of respect, not scorn.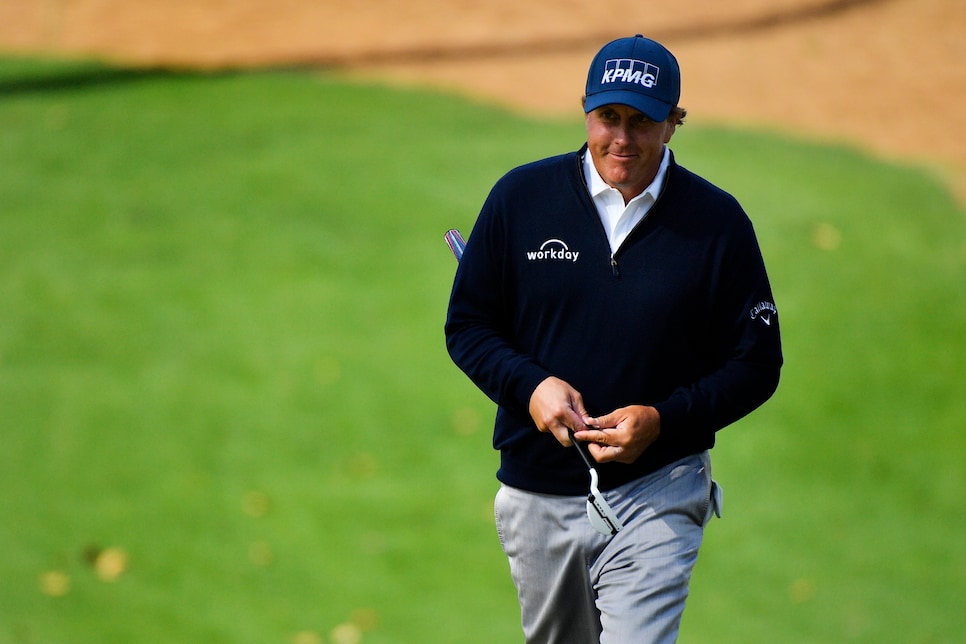 Granted, Mickelson's reached an echelon where he's judged solely by wins. However, the oh-so-closes should not be ignored, a sentiment sometimes seen when contrasting Tiger Woods and Jack Nicklaus. Woods may be four majors behind Jack, but when you account for second-place finishes—six for Tiger, 19 for Jack—the Golden Bear's dominance blazes through.
Of course, to many cynics, second is the first loser. Which is sad, because Phil Mickelson's U.S. Open record is not a blemish. A trophy glistens through history, but a silver medal shines, too.