Open Champonship 2021
British Open 2021: Strong start is a good omen for past champion Stewart Cink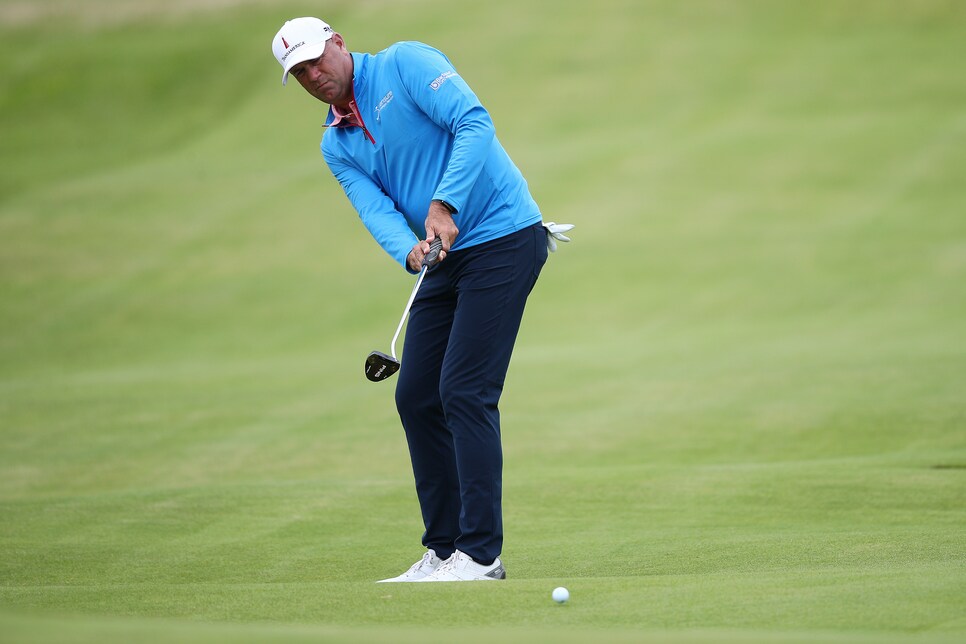 Stewart Cink putts from off the green on the 18th hole in first round of 149th Open.
Christopher Lee
Not realizing what he was asking of the 2009 Open champion, a reporter quizzed Stewart Cink Thursday on the importance of getting off to a good start in golf's oldest major, which is sort of like asking how important is it that the engine turns over before the Indianapolis 500.
Cink began the 149th Open with a bogey-free four-under 66 at Royal St. George's in Sandwich, England, which is kind of a big deal in the history of Cink at the Open. He tied his career-low opening round, which happened to come at Turnberry in 2009, the year he went on to win the claret jug with a playoff victory over sentimental favorite Tom Watson.
So, yeah, a good start is kind of important, and Cink, decent fellow that he is, provided a measure and sincere response.
"Well, I hesitate to use the old adage about winning the tournament on Thursday, but it's kind of true," he said, the old adage being that you can't win on Thursday but you can sure lose it. "You want to be in it. You want to get a good feel for the course, few surprises on the first round, and just do the best you can."
Cink's best has been darn good of late. He added his seventh and eighth career PGA Tour wins, respectively, at the Safeway Open in September and the RBC Heritage in April, a resurgence at age 48 that few saw coming. The 6-foot-4 Georgia resident has retooled his swing, gaining more distance by changing some fundamentals but not his mechanics, and using his large frame more efficiently.
It's been working splendidly.
On Thursday, he hit eight of 14 fairways, but several misses were in the first cut or the lighter rough areas. That created opportunities because he was able to find 14 greens in regulation. It was largely a stress-free day.
"I executed pretty well, and I've got a good, solid executing plan for the rest of the week, and so I think that between Reagan [his son and caddie] and I we are doing a pretty good job," said Cink, who is playing in his 22nd Open. "Mostly this whole year been doing a pretty good job piecing the shots together and figuring out the strategy on each shot and not making a lot of errors in that department.
"I know I've been around these Opens enough that there will be a lot of challenges, be a lot of travails out there over the week," he added. "Today I mostly avoided them."
One of the few players to have competed in the previous two Opens at St. George's, Cink finished T-34 in 2003 and T-30 in the 2011 championship, shooting nine-over 289 in each with four of his eight rounds 75 or higher. His only previous sub-par score at Sandwich was a final-round 68 in the '03 edition won by fellow American Ben Curtis in one of the most shocking upset victories in the annals of golf.
Cink knows about upset wins. A lot of folks were upset that he spoiled the narrative of 59-year-old Watson winning the championship for a sixth time. Click on his bio on theopen.com, and you will read this summation of his Open career:
"Will always be remembered as the man who prevented 59-year-old Tom Watson becoming the oldest-ever winner of a major title at The Open at Turnberry in 2009."
Twelve years later and one of golf's finest gentleman remains a villain.
Of course, Cink sees it differently, and he invoked a memory from that year in assessing his chances the remaining three days.
"I feel like I've got a lot of experience, and I like the way my game has been the last 10 or 12 months," he said. "I'm having a great time, so I'm not too stressed out about the results. I'm hoping to get in the mix and give this thing a run like I did in 2009 and try to draw on some of those memories. Yeah, I definitely have the confidence to do that."
A good start helps. And he would know.
MORE BRITISH OPEN 2021 STORIES FROM GOLF DIGEST: