A happy week
British Open 2021: Hilarious Nick Poppleton didn't make the cut, but made a lasting impression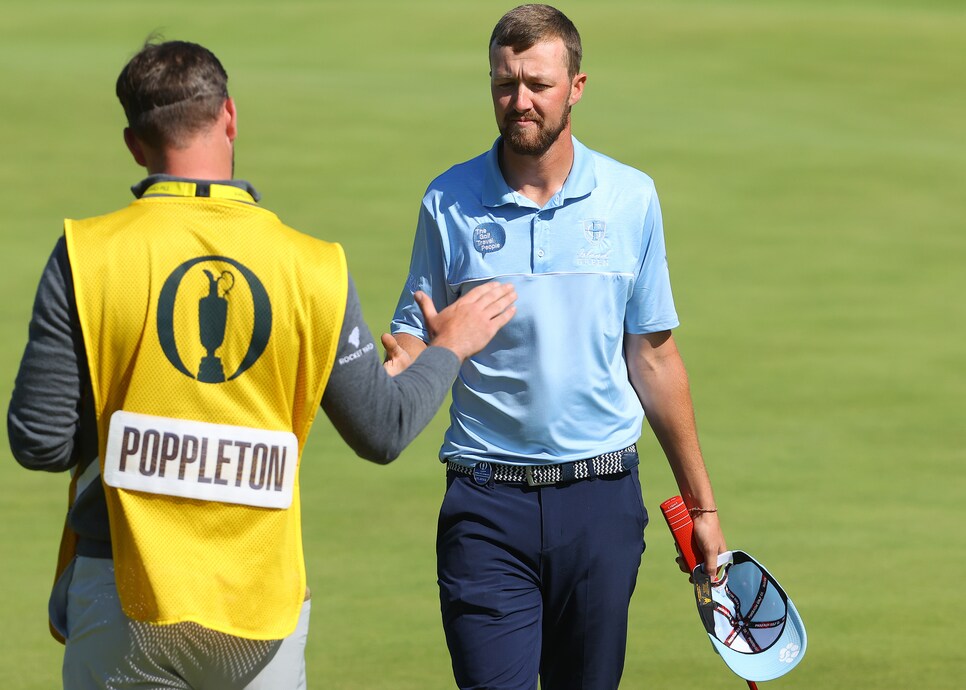 Nick Poppleton on the 18th green during the second round of the 149th Open.
Andrew Redington
SANDWICH, England—For Nick Poppleton, lorry driver, odd-job man, EuroPro Tour player and favorite practice-round partner of Bryson and Phil, the 149th Open Championship is over. The 27-year-old Englishman, whose 2021 tournament starts before this week included the IFX Championship, The Jessie May World Snooker Golf Championship, The Cumberwell Park Championship, The Eagle Orchid Scottish Masters and The GLAL Orchid Worcestershire Masters, bowed out of Royal St. George's after adding a second round 73 to his opening 75.
No matter. The man who has endeared himself to all-comers during his few days in sunny Kent was still all smiles, having played his last five holes in one under par.
"It's been awesome," he said. "It's been great to see up close some individuals you only ever see on the television. I'm really happy and can't wait for another taste of it. The pity was I had my 'C' game. My week hasn't been that great golf-game-wise. But it was a typical first experience. I was just trying to find my feet. But it was great to come out here and see just how good these guys are. And how far I am away from them."
Game-wise, Poppleton was clear about where his shortcomings lie. Perhaps predictably, driving and short game, the scoring ends of the bag, are where he needs to work harder. Which won't be a problem. Part of Poppleton's charm this week have been the torrid tales he has told of what he and his wife, Amber, a radiologist in their local hospital, have been through during the pandemic. The emphasis there, of course, was on Amber and the high-stress environment in which she works.
"I can't believe her workload," said Poppleton. "And there's a shortage of radiographers. So she had to pick up a lot of slack. It has been so tough for her. Many times, she would be sitting there saying she just didn't want to go into work the next day. She just didn't want to be in that horrendous environment. She and everyone she works with could never quite get on top of what they were trying to do. It's been a nightmare really. I feel so much for anyone who is in that industry. What she does makes my life look easy."
Not that easy though. Golf at the professional level is both hard and demanding. Staying with his former boss, swing coach Pete Cowen—"I used to pull pints at his driving range," said Poppleton—he was put through a short-game drill. Chipping and pitching to a variety of pins, the idea is to add up the total distance the shots finish from each.
"My four balls ended up a total of eight-feet from four holes," said Poppleton. "I was pretty pleased with that until Pete told me Rory had done the same drill to seven flags and totaled 14 feet. That is unbelievable, a real eye-opener, especially when all you hear is that Rory doesn't have the best shot game in the world. I'd take it."
Other memories will live long with this engaging character. One makes him laugh, the other provokes warm feelings of camaraderie.
"I have a 'most embarrassing' memory of the week," he revealed. "I was playing the 18th in a practice round. Laura Davies was doing an interview down the right side. I was hitting my second shot with the wind coming off the right. So my caddie told me to start my shot on the Japanese flag that is flying behind the green. Fair enough.
"But here's where I went wrong. The flag I thought was the Japanese flag was actually the South Korean flag. The real Japanese flag was left of that. My caddie was asking me what I was doing. I told him and he started to laugh. 'That's Korea," he said. I clearly need to work on my flags as much as my golf."
Highlight of the week—surprise, surprise—was that practice round in the company of Messrs. DeChambeau and Mickelson. Both left lasting and positive impressions on the Poppleton psyche.
"They were lovely," he insisted. "They say 'never meet your heroes,' but they were so nice to me. They are the nicest humans you would ever want to meet, those two blokes. I can't believe the media paint Bryson as some sort of 'bad boy.' He's a lovely bloke. And he does shout 'fore.' In the round we played, he hit his drive over the right bunker on the 18th. That's 330-yards, which is mental. But he nearly burst my eardrum shouting 'fore.' It was so loud. He's either getting the hang of it, or he has always been doing it and no one has noticed."
And with that Poppleton was gone. Hopefully to return. Next week he will play on a sponsor's invitation to the Cazoo Open at Celtic Manor. It's a European Tour event, two divisions higher than the EuroPro Tour he has currently inhabits. Things are definitely looking up.
MORE BRITISH OPEN 2021 STORIES FROM GOLF DIGEST: