The leader
British Open 2021: Leader Louis Oosthuizen is predictably serene for his upcoming weekend test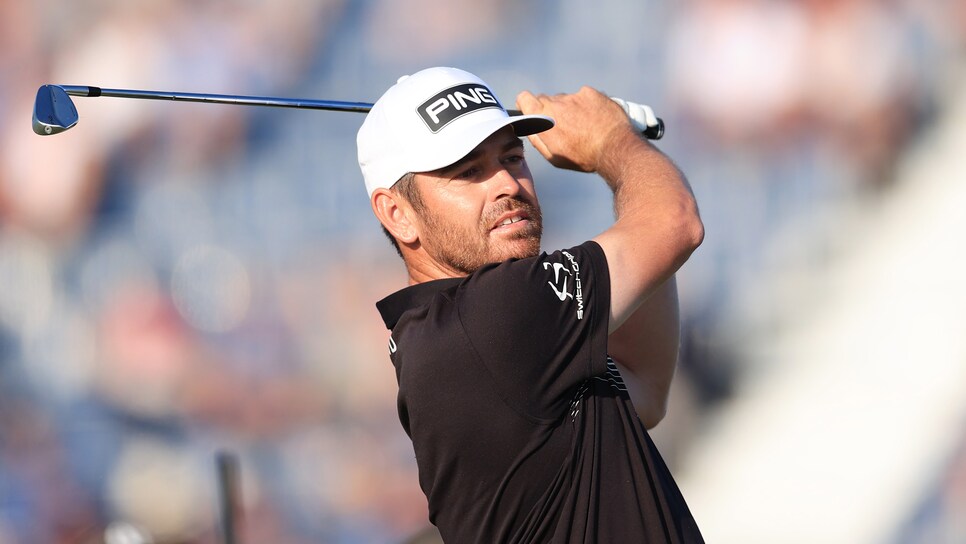 Louis Oosthuizen tees off on the 16th hole during the second round of the 149th Open.
David Cannon/R&A
SANDWICH, England — To the surprise of no one who has watched and enjoyed the almost peerlessly pure and rhythmic action with which he swings golf clubs, Louis Oosthuizen appeared remarkably unperturbed by the fact that he will carry a two-shot lead into the third round of the 149th Open Championship. The 38-year-old South African doesn't really do excitement, on or off the course. His emotional range, outwardly at least, starts at stoic, moves smoothly through "not-quite so stoic," before concluding at "almost not-quite so stoic."
"It's always nice to know you can compete in majors," he said. "I just need to see if I can go one better and pull it through on the weekend. My game is good, but it's a really good leader board. I will have to play good golf if I want to come out first."
All of which only confirmed that, sitting calmly in the media center, Oosthuizen was his usual serene self. Which made sense. There certainly hasn't been much that would provoke much feeling of disappointment over the course of Oosthuizen's opening 36-holes at Royal St. George's. Only once has he completed a hole in more than four shots. And only once has he dropped a shot to par amidst the flurry of 11 birdies and one eagle that have carried him halfway to what would be a second Open title.
He did it in good company too. Watching closely alongside was the suitably impressed pair of U.S. Open champion Jon Rahm and the defending champion this week, Shane Lowry.
Yes, Oosthuizen added a beautifully constructed 65 to his opening 64. Yes, his stunning aggregate of 129 ties the all-time record at the Open Championship. Yes, he has no one in front of him. And yes, his now 15-strong streak of made cuts in majors is longer than anyone else's. But, amidst it all, there was a late feeling of regret. That two-stroke edge could and should have been more. Twelve under with three holes to play, the 2010 "champion golfer of the year" stumbled slightly en route to the clubhouse.
A poor tee shot at the short 16th found sand and led to a first bogey of the week.
"I made a horrible mistake there," Oosthuizen said. "I wasn't ready to hit that shot. I wanted to know one more thing in my head. It was a mental mistake."
Minutes later, only a 10-footer for par on the penultimate green saved the man from Mossel Bay from a similar fate after he missed the putting surface from no more than 75-yards.
"I had such a good number and just got too aggressive," he said. "It wasn't a time to go at that pin. The right play there would have been to play 10-15 feet right of the flag, hopefully make the put and gain another shot on the field. I had a lot of hard work to do to save par. That was a big putt to get me over those two holes."
And a 15-foot-long chance for one last birdie on the 18th looked more like a lag than an attempt to hole out.
That his once three-shot edge over former PGA champion Collin Morikawa was reduced by a third will not, however, be Oosthuizen's biggest frustration. No, it will be that he gave other contenders a boost and renewed hope going forward. Fifteen men—five of them major champions—are six shots or closer to the lead. Throw in Oosthuizen's lengthy propensity for coming close in majors but not actually winning—he has been second in the last two—and we still have a real game on our hands, folks.
MORE BRITISH OPEN 2021 STORIES FROM GOLF DIGEST: