Open Champonship 2021
The Open 2021: Brooks Koepka shoots a final-round 65 and it means almost nothing to him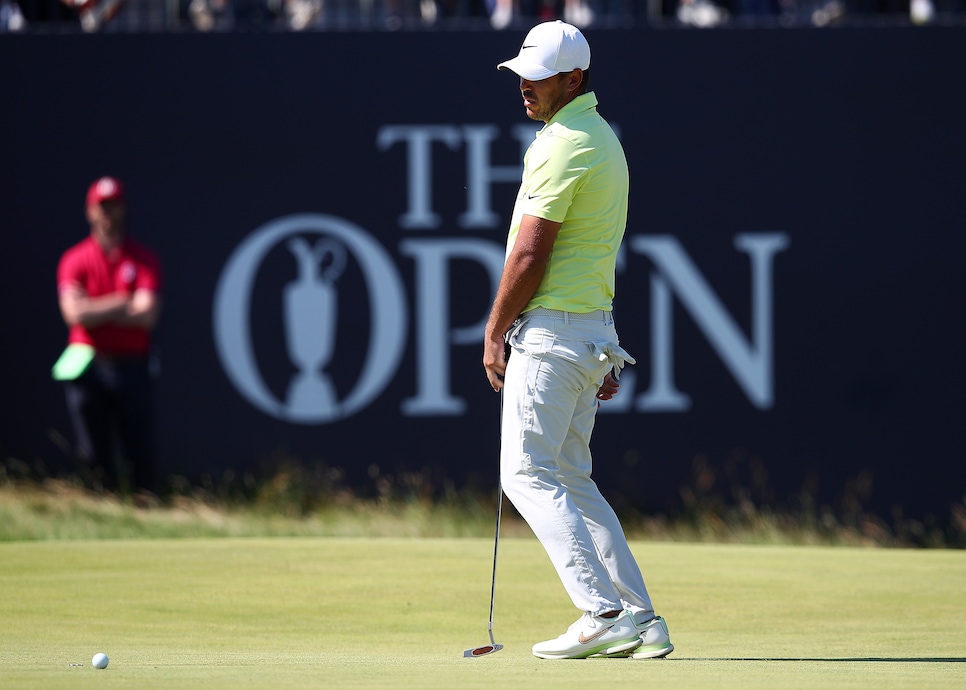 Brooks Koepka reacts after his putt misses on the 18th hole.
Christopher Lee
SANDWICH, England — It almost certainly won't be enough. Brooks Koepka knows this better than anyone, for he has a major-championship instruction manual that he refuses to share with his peers. He walked off the 18th on Sunday at Royal St. George's rather perturbed after missing an eight-footer for birdie, which would have gotten him within two of the stalling leaders; for squandering umpteen opportunities on the back nine to turn a great round into an all-timer; above all, for a third-round 72 that will cost him major No. 5.
Koepka's five-under 65 to close The Open and eight-under total should result in a 12th finish of T-7 or better in his last 16 major starts. And while both Louis Oosthuizen and Collin Morikawa were stuck in neutral as he signed his card, they'd have to shift into reverse, step on the gas and bring people with them in order for Koepka to get his claws on the Claret Jug. He will leave southeastern England without the trophy, which has been the outcome for eight consecutive majors now, dating back to the 2019 PGA Championship. Eight failures in a row.
"Definitely a missed opportunity," Koepka said. "Didn't play good enough Saturday. Doesn't really matter what I finished today. I didn't have a chance to win. That's disappointing. Would've like to have the one on 18, birdie the par 5, 14 on the back, and, you know, 10 lipped out. But played solid today. Can't complain. Just wish I could have yesterday back."
These are his standards, not ours. He'll tell you, much to the chagrin of the folks in Ponte Vedra Beach, that there are exactly four weeks he truly cares about. "I don't know, it's a different feeling," he said in his pre-tournament press conference. "It's just more focused, more locked in on what I need to do, no distractions. I don't know, I just simplify everything, and it becomes a lot easier."
Included in that Q&A was a declarative statement: "I'll be close to the final group come Sunday." It wasn't the banal I hope to be up near the lead come Sunday that we hear from golfers. This was an expectation, not a wish. There was nothing out of the ordinary after he opened with 69-66, putting him six back but firmly within range should he summon a low one on moving day. Three bogeys in his first five holes on Saturday created a gulf too wide to overcome and earned him a tee time 155 minutes before the final pairing.
"Probably just the iron play," he said of his Saturday struggles. "I was pulling shots with my irons just making poor swings. We talked about it. A little bit of it was just maybe a little bit of alignment. It's always something simple with me. It's never really like swing mechanics or anything like that. It's always setup. So I got lined up a little right and usually when I do that, believe it or not, I tend to pull it knowing that the target is left. And just missed some shots where you can't miss them, just some poor swings."
There were hardly any poor swings during Sunday's brilliant ball-striking. Koepka parred his first five holes before going 2-3 at No. 6 and 7, never a bad duo considering 7 is a par 5. A birdie at nine saw him turn in 31, and he surely plans of posting something double-digits under and make the lads stare at KOEPKA on the leaderboard all afternoon.
That would require at least two more birdies, not a huge ask given he still had the reachable par-5 14th to play. But he failed to take advantage of that and could not hole a mid-range putt coming home, finishing with six straight pars when pars would not suffice.
MORE BRITISH OPEN 2021 STORIES FROM GOLF DIGEST: