Open Anticipation
British Open 2021: A parade of WDs, Jon Rahm's back-to-back major chances and three other storylines for Royal St. George's
SANDWICH, England — Twenty-four months after Shane Lowry's ecstatic stroll down the 18th at Royal Portrush, the world's oldest major returns this week on the southeastern shore of England. After last year's Open was canceled amid the COVID-19 pandemic, the world's best have congregated in a "bubble" and are set to compete in the year's final men's major at Royal St George's.
As is always the case at golf's marquee events, there are no shortage of tantalizing storylines leading up to Thursday morning's first tee shot. Here are five to keep an eye on as you relish the return of the Open.
The latest videos from Golf Digest
It's commonplace for big-name players to miss time in other sports. Any fantasy football owner knows this all too well. Or take this year's NBA playoffs, when there seemed to be as many stars in street clothes as there were on the hardwood.
But in golf? In "normal" years, the majors serve as a quad-annual get-together of almost every relevant player in the sport. Granted, there is typically an injury or two, but fans can count on seeing a who's who of the game's best at least four times per year. At the PGA Championship, just two months ago, a full 99 of the top 100 players in the world rankings teed it up at Kiawah. If you get an invitation to the party, you RSVP yes. Duh.
This year at the Open has taken any semblance of normalcy and chucked it into the English Channel. And while the PGA Tour inches ever closer to a pre-COVID life, the European Tour has adopted and retained much stricter regulations regarding the virus. That's carried over to this week, and it starts with getting over here. Per R&A protocols dictated by the U.K. government, any player who is considered a "close contact" of someone who has tested positive, which includes being on the same flight, is not permitted to play. (Contrast this with, for example, the Jon Rahm situation at the Memorial, where he was allowed to continue playing despite being a close contact so long as he tested negative every day). Once here, players are to remain in a strict "bubble" that prohibits them from eating at restaurants, socializing with non-bubblers and, in devastating news to cost-conscious caddies, staying with anyone outside a player's four-person support group.
The strictness of both the testing/contact-tracing protocols and the on-the-ground rules have resulted in a cascade of withdrawals. Hideki Mastuyama and Zach Johnson are out due to positive tests. Bubba Watson, despite being vaccinated, cannot play as he was deemed a close contact. Kevin Na voluntarily pulled out after deeming the restrictions too onerous. In total, six of the world's top 54 players and 17 players who qualified—not including past champions who've decided to let the young guys have at it—will not compete. Sunday's winner will be a deserving one; there is no asterisk situation here. But it has been odd watching player after player pull out of such an iconic event. Let's hope the withdrawals are trickling to a stop and nothing COVID-related steals the headlines during the actual tournament.
Rahm's chance to separate
Dustin Johnson's form toward the end of 2020 was a tease at a dominant spurt to come. At the very least, it saw him separate himself from the pack in the best-in-the-world conversation. He began 2021 with a win in Saudi Arabia but has hit a lull since; his lone top 10 in his last 10 starts is a T-10 against a weak field at the Palmetto Championship.
Enter Jon Rahm, who's emerged as undoubtedly the finest golfer on the planet, at least at this literal moment. He blitzed the field through three rounds at the Memorial, leading by six and marching to victory until an extremely poor-timed positive test. He followed that with a storybook performance at the U.S. Open, birdieing the 17th and 18th at Torrey Pines South to win his first major. He comes into Royal St. George's off a seventh-place finish at the Scottish Open, where he was just two shots outside a playoff despite missing two jaw-droppingly short putts on Saturday. Rankings be damned—Johnson actually took back the No. 1 spot from him Sunday morning, somehow­—Rahm sits on top of the sport and has the chance to cement his status as top dog with a victory here. He enters as the clear favorite, and he'd be the first player since Tiger Woods in 2000 to win the U.S. Open and the Open Championship in the same year.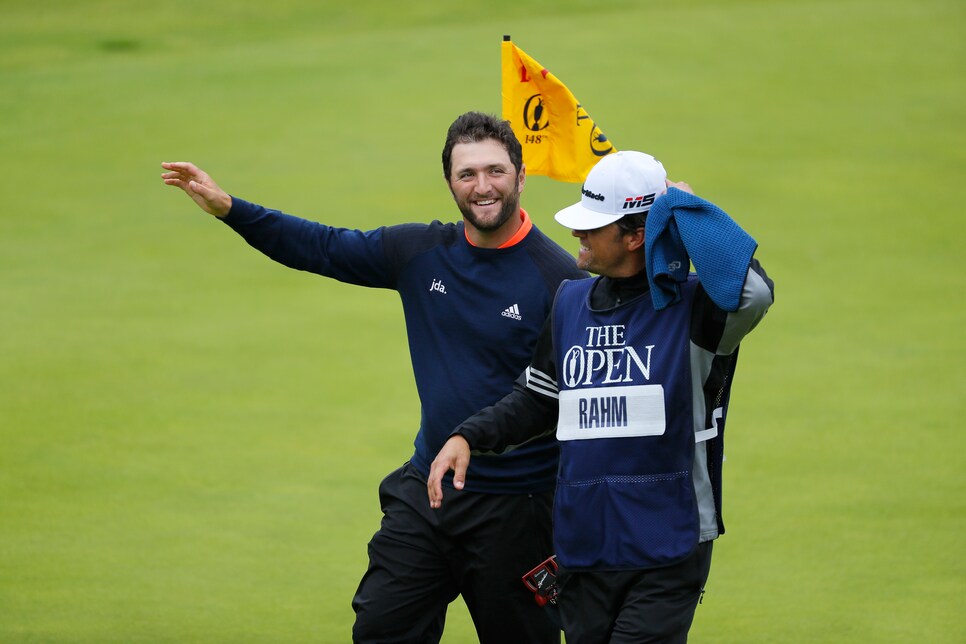 This marks the first time in 50 years that the Open falls as the last major before a Ryder Cup. (Back in 1971, the PGA Championship in Palm Beach, Fla., was moved to February for one year only in anticipation of oppressive heat. Jack Nicklaus won it. Fun fact!) As such, this week presents the last massive tournament for fringe Ryder Cup players to make a statement—particularly on the European side, where several bubble guys do not play on the PGA Tour and thus will not participate in the FedEx Cup playoffs.
As it stands currently, Team Europe stalwarts Sergio Garcia and Ian Poulter would require captain's picks to join the squad at Whistling Straits, a prospect captain Padraig Harrington has hinted he's more than open to. Defending Open champion Shane Lowry has some convincing to do, as do younger players like Victor Perez, Robert MacIntyre and Guido Migliozzi. Justin Rose needs to make something happen quickly if he's to make his fifth straight team.
The American picture is comically crowded this year as well, and with only six auto-qualifiers, there's plenty of space for a player to make his presence known for captain Steve Stricker. Household names like Tony Finau, Webb Simpson, Jordan Spieth, Patrick Reed and Phil Mickelson are outside that top six. Then there's the newcomers clamoring for a spot: Harris English, Scottie Scheffler, Max Homa, Will Zalatoris, Jason Kokrak and Sam Burns, to name several. For any of these players, a victory would all but guarantee a spot, and a top-three finish might even be enough.
Can Jordan Spieth resume adding to the major tally?
Golf's most curious slump—a generational talent, with three majors before his 24th birthday, failing to win another tournament for nearly four years—is now firmly in the rearview mirror. With 11 finishes of T-19 or better in his last 13 starts, Spieth has been, according to some metrics, the best player in golf in 2021. He also returned to the winner's circle at the Valero Texas Open back in April. But players of Spieth's caliber and CV are judged by how many major championships they win, and he's stuck on three.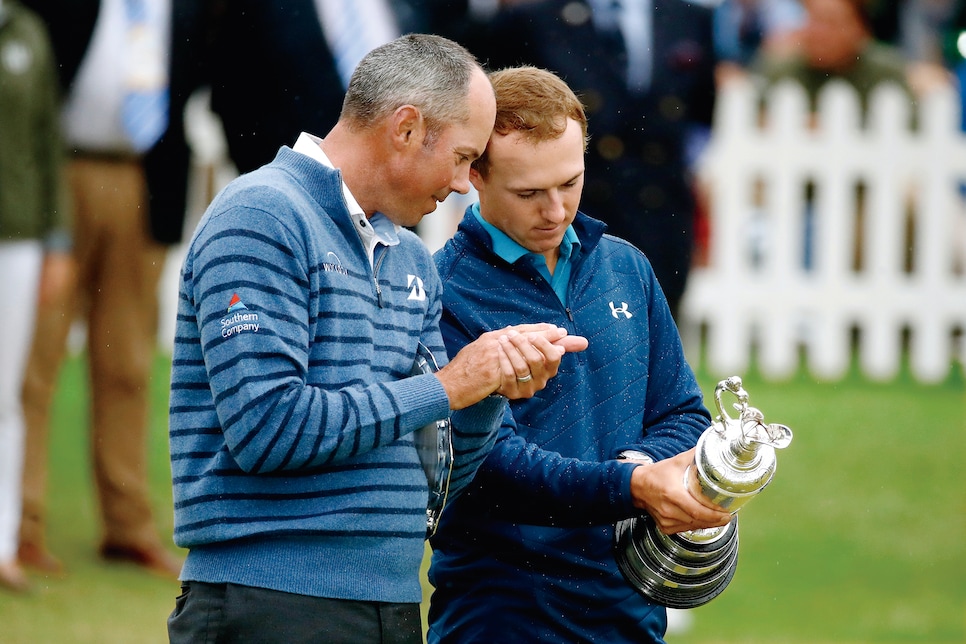 Photo by Gregory Shamus/Getty Images
Perhaps that changes this week. Spieth is a feel-first player who excels on courses that reward imagination and variety; it's why he's fared so well at Augusta National. While the Open's seaside does not resemble that of Georgia, Royal St. George's will ask creativity and feel questions of players all week­—bomb and gouge will not play here, which plays into Spieth's hands. In addition to his victory at Royal Birkdale, he has two other top-10 finishes in Opens and comes into this week somewhat under the radar, mostly because he hasn't played since the U.S. Open. Now is as good a time as ever for the Texan to equal Brooks Koepka and Rory McIlroy by winning a fourth major championship.
It sits on the Mount Rushmore of Golf Cliches: the vagaries of links golf. But it's a cliché because it's true—more so than any event stateside, the Open lends itself to some funky stuff. When the weather gods are feeling particularly tempestuous, one half of the field can be essentially wiped out for no other sin than having a tee time on the wrong side of the draw. Back in 2010, Rory McIlroy opened the action at St. Andrews with a 63 on Thursday morning, ran into a gale on Friday afternoon and shot 80. There will be funky bounces, drastically different weather forecasts, weak putts that roll right back to a player's feet, greedy bunker shots that run into a pancake-stack bunker face, balls lost in the gorse, mis-hit approaches that roll forever and ever, and who knows what else? Such is the beauty of links golf, where great golf without the blessing of the golf gods usually isn't enough to capture the claret jug.
MORE BRITISH OPEN 2021 STORIES FROM GOLF DIGEST: