Two long years
British Open 2021: 9 newsy golf stories that have changed since the last Open in 2019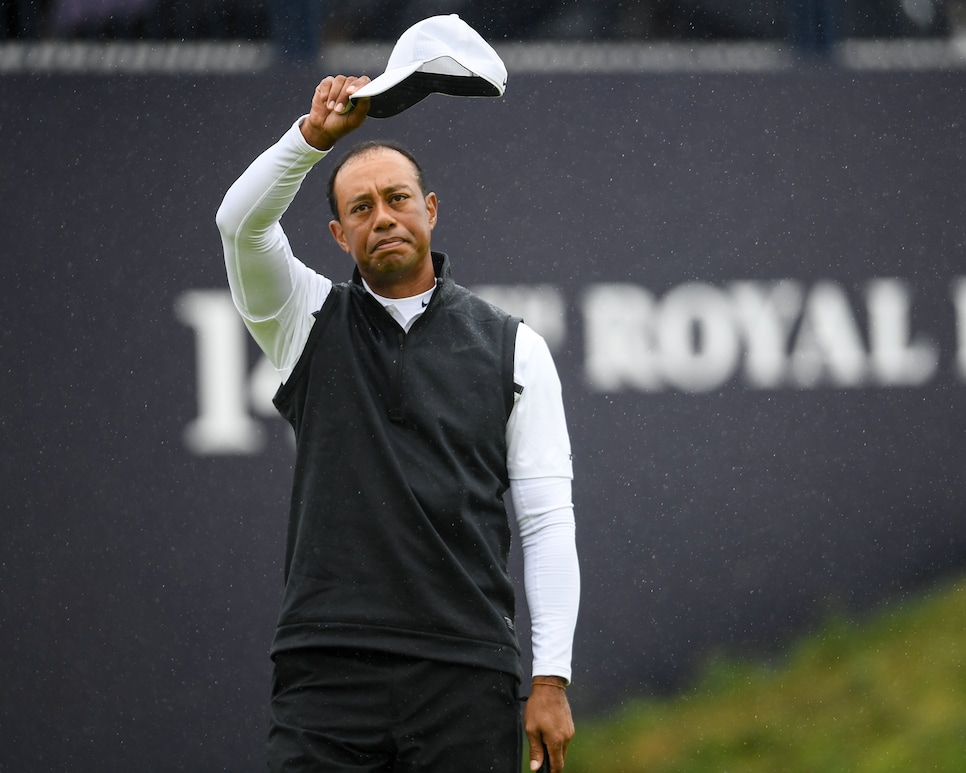 Tiger Woods waves to the crowd after the second round of the 2019 Open Championship, where he missed the cut.
Ramsey Cardy
Much has changed in the world of men's professional golf since the Open Championship last was contested at Royal St. George's in 2011. And that doesn't include the waistline and whitening hair of the winner that year, Northern Ireland's fun-loving Darren Clarke, who captured his only major championship by three strokes over Dustin Johnson and Phil Mickelson.
But that's nothing, really, compared to the tornado that has blown through the game since the Open was last played at all, which was two years ago at Royal Portrush in Northern Ireland, the championship's first visit to the famed links course in nearly 70 years.
The COVID-19 pandemic wiped out scores of tournaments around the globe last year, but the biggest casualty, of course, was the Open Championship at St. George's, which was canceled and gets a mulligan this week so that the Old Course at St. Andrews still will be the host site for the 150th championship now set for 2022.
The player who made out best amid this otherwise disappointing development was Shane Lowry, who was the feel-good winner at Portrush, an Irishman winning the claret jug. He had the good fortune of holding onto trophy for two years.
And while Lowry has been doing that, golf has hardly stood still itself. Here are nine newsworthy things that have changed in golf—be they tournament outcomes, controversies or player-related developments—in the 24 months since the Royal Portrush Open:
Bryson DeChambeau was somewhere around the super middleweight or light heavyweight division.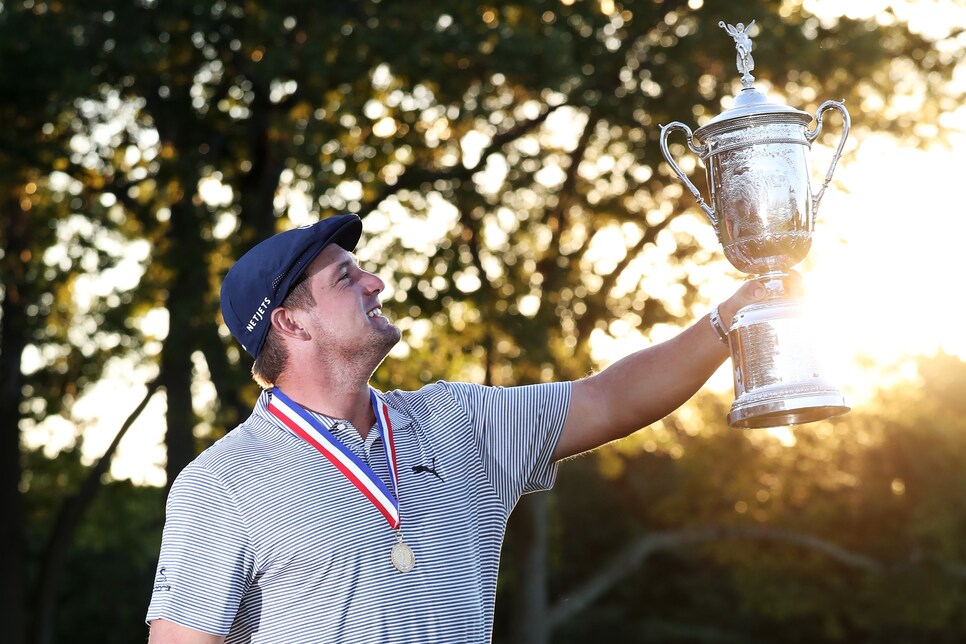 Bryson DeChambeau celebrates with the championship trophy after winning the 120th U.S. Open.
Jamie Squire
There was no bulked-up Bryson the last time the Open was played. DeChambeau weighed less than 200 pounds when he teed it up at Royal Portrush. Then he embarked on a workout plan and soon thereafter decided to eat his way to a better game, consuming up to 6,000 calories a day. It was all in an effort to chase distance like no one had chased it before, and while the change in his physique was drastic, so was the change in his style of play (if you could call it style). Forget strategy. DeChambeau started swinging all out, reaching ball speeds of up to 200 mph. Accuracy mattered, but not a whole lot, and for his novel decision, the cerebral California native blasted his way, most notably, to a six-stroke triumph in the 2020 U.S. Open at Winged Foot. The question now is whether this style of play will translate into success on a links course like St. George's.
DeChambeau and Brooks Koepka were on actual speaking terms.
The first hint of the ever-intensifying antagonism occurred the month after the Open, when the two engaged in an impromptu discussion of slow play, at DeChambeau's request, prior to the final round of The Northern Trust the next month. Things have gotten uncomfortably chilly ever since, with Koepka the usual instigator via trolling on social media. The real squabble in 2019 involved Golf Channel's Brandel Chamblee and … Koepka. (Hey do we see a pattern here?) Early that year, Chamblee questioned Koepka's toughness and called out the then-three-time major winner for his earnest weight-loss plan in preparation for his photo shoot for ESPN The Magazine's Body Issue. Chamblee called it "reckless self-sabotage." Brooks, no surprise, did not take the criticism well, then went on to win the 2019 PGA. Odd side note: Brooks manically losing weight and Bryson frantically gaining it is an authentic microcosm of their divergent personalities, no?
Tiger Woods was Tiger Woods again.
Betting odds on Woods, the reigning Masters champion, were 12-1 at Portrush, third behind Koepka (6-1) and Rory McIlroy (10-1). Ranked fifth in the world, Woods claimed his fifth Masters victory in April, a win, that had the golf cognoscenti wondering if maybe he could still catch Jack Nicklaus' record of 18 majors after all. That thought hadn't waned in July, even though Tiger missed the cut at the PGA Championship at Bethpage Black and was a non-factor at the U.S. Open on the friendly confines of Pebble Beach. But then he missed the cut at Portrush, and soon thereafter his back started acting up again. Eventually, he'd undergo a fifth back procedure in December 2020, which was overshadowed when he was involved in a single-car crash in February that has put his career on hold.
Golf gaming was just taking off in the U.S.
Betting on golf long has been a common practice in the U.K., but it's only been a recent phenomenon in the U.S. The PGA Tour, which once frowned upon any semblance of gambling at its events, now fully embraces and promotes legal betting on its players and tournaments, something it felt compelled to do after a 2018 U.S. Supreme Court ruling that struck down a federal law regulating sports betting in the states. Since then, the PGA Tour has formed alliances with several sports betting operations and websites with the stated goal of one day creating in-play betting, which the tour believes will significantly boost fan engagement and popularity.
Jordan Spieth was mired in a slump (not that we dared to call it that)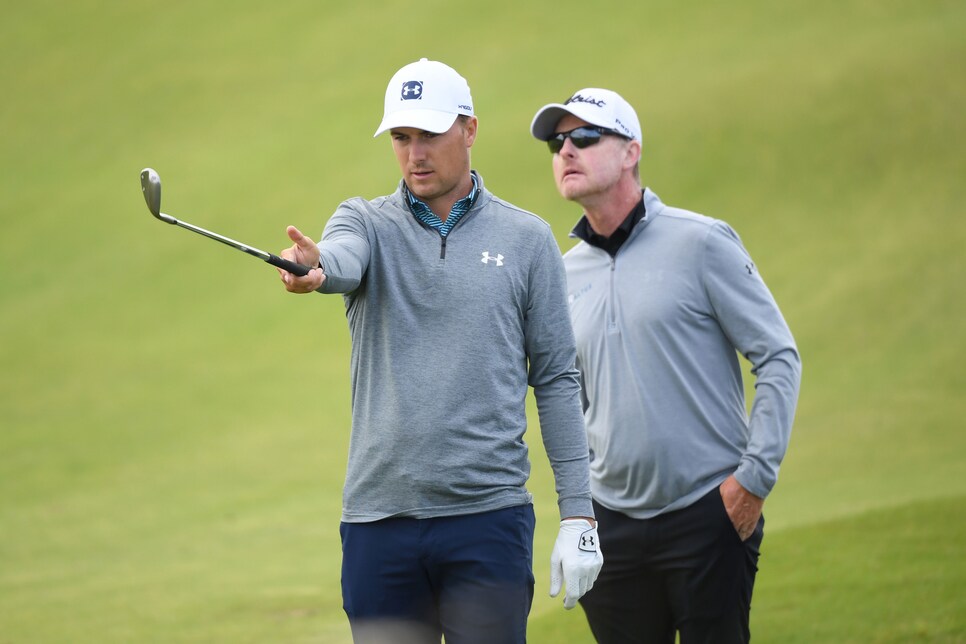 Jordan Spieth was starting to search for answers with instructor Cameron McCormick at Portrush, having failed to win since his 2017 Open triumph at Birkdale.
Jan Kruger/R&A
When Spieth arrived at Royal St. George's, the former World No. 1 had fallen to 37th and was two years removed from his last win, the 2017 Open at Royal Birkdale, where he orchestrated that insanely inspired rally to beat Matt Kuchar. In the 2018 championship at Carnoustie, he shared the 54-hole lead with Xander Schauffele and Kevin Kisner only to card a birdie-free 76 and drop to T-9, perhaps signaling his relative struggles to come, especially on Sundays. Those struggles included missing the Tour Championship for the first time in his career. He fell all the way to 92nd in the world at this year's Farmers Insurance Open before starting a steady climb that included a victory in the Valero Texas Open. He is currently 22nd and fifth in the FedEx Cup standings.
Driver testing was a hotter topic than drivers themselves at Portrush
Xander Schauffele brought the subject to a head when he revealed that driver, one of about 30 randomly pulled aside by the R&A, had failed testing in the days ahead of the practice rounds. It was considered "hot" because it surpassed the set limit for spring-like effect. Needless to say, Schauffele was hot, and he had a lot to say. "The R&A, they pissed me off," he said not too delicately, feeling like the organization had "tried to ruin my image. This is me coming out and treating them the exact same way they treated me." There is still driver testing on the tours, but we don't hear much about it. By September, the PGA Tour had informed its members of enhanced testing protocols, and as time has gone by, manufacturers have done a better job of ensuring that their driver heads remain conforming.
An American no bigger than a fiber-optic cable named Will Zalatoris was a relative nobody.
While the biggest names in golf were in Northern Ireland for the 148th Open, Zalatoris was teeing it up in the Pinnacle Bank Championship presented by Chevrolet at the Club at Indian Creek in Omaha, Neb., total purse $600,000. The week prior, Zalatoris was coming off his career-best finish, a T-3 at the LECOM Health Challenge, which raised him from 1,002 to 687 in the World Ranking. His lone Korn Ferry win at the TPC Colorado Championship was a year away, but that victory proved enormous. It helped him gain entry into the 2020 U.S. Open at Winged Foot, where Zalatoris finished T-6. He followed with three more top-10 finishes on the PGA Tour … which got him into the 2021 Masters … where he ended up second behind Hideki Matsuyama … propelling him to 27th in the world and catching the attention of U.S. Ryder Cup captain Steve Stricker. Whirlwind stuff.
Dustin Johnson still was seeking his second major title.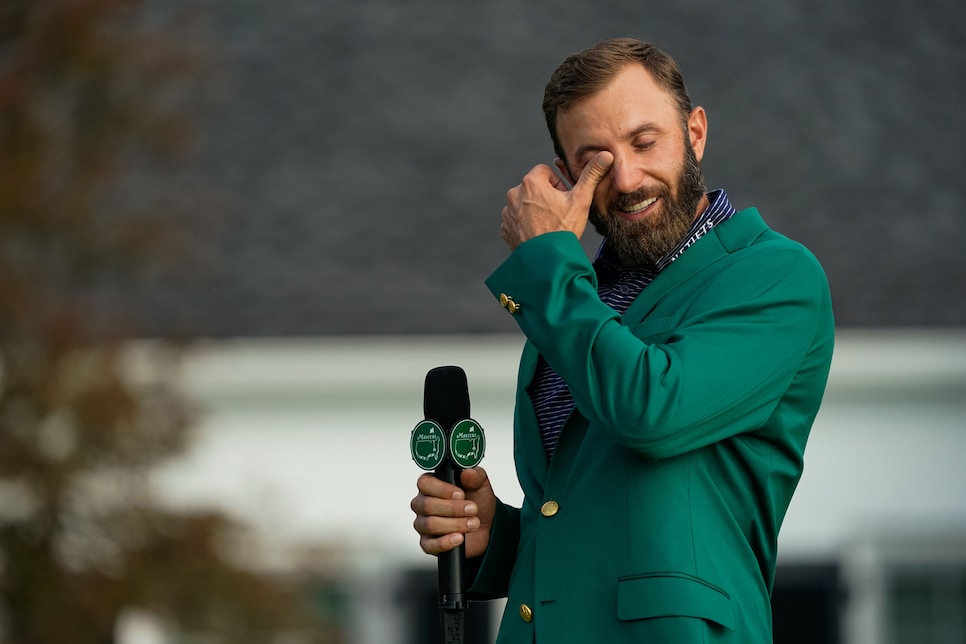 Dustin Johnson tears up talking about his Masters win in 2020.
Speaking of the Masters, they snuck in the 84th edition in November 2020 amid the reconfigured golf schedule, and the world got to see teary-eyed South Carolina native don the green jacket to complement his breakthrough major triumph at the 2016 U.S. Open at Oakmont. In the 15 majors in which he appeared between the two victories, the hard-luck Johnson had finished in the top-10 seven times that included three runner-up finishes and a third, results that strongly resembled his finishes prior to Oakmont. There were no roars at Augusta National as Johnson held on to beat Cameron Smith and Sungjae Im by five shots because fans were not permitted on the grounds, but the golf world reveled in his long-anticipated second major title and in seeing the usually cool Johnson react emotionally to capturing the tournament he most wanted to win.
The penalty/free drop from knee height still was an object of derision.
The USGA and R&A instituted a new set of modernized rules at the start of 2019, some of which were met with less than enthusiastic acceptance by the golf world, particularly in the professional ranks. Among them was the new drop rule, which still looks awkward, but has since been more or less embraced. Yet early in 2019, there were multiple instances of players making a mockery of the change, most notably Rickie Fowler squatting and dropping from behind at the WGC-Mexico Championship in late February. At the Open Championship there was still plenty of banter about how odd the exercise appeared. Obviously, by early 2020 there were more important things to talk about in the world. Just don't get us started on "all square" vs. "tied" in the altering of golf lingo.