National Pride
British Open 2021: Can a run of Australian success continue at Royal St. George's?
SANDWICH, England — As it is mid-winter "Down Under," July in Australia is not normally the brightest or warmest of months. But the nation's sportsmen and women have been doing their best to warm things up at a locked-down home. Great things have been occurring in both tennis and golf.
Pride of place must go to (low-handicap golfer) Ashleigh Barty's triumph in the Wimbledon women's singles. But if we include Stephanie Kyriacou's win in the Big Green Egg Open in late June on the Ladies European Tour, Aussies have chalked up four tournament victories in the last two weeks. On July 4, former Australian Open champion Cam Davis won the Rocket Mortgage Classic on the PGA Tour, the same day that Lucas Herbert made off with the Irish Open title on the European Tour. And one week later, Min Woo Lee added the Scottish Open to the mix, with Herbert only one shot out of the playoff that decided the destination of first prize.
It's a heady wave of success, one that the 11-strong Aussie contingent at Royal St. George's will surely be hoping to ride to Open glory come Sunday afternoon.
"It's been good to see the success of Cam and Lucas and a bit of Aussie domination the last few weeks," says Adam Scott, runner-up in the 2012 Open at Royal Lytham. "They're obviously playing well. But the great thing is they're not alone. Cam Smith seems to play well at big events every time at the moment. And Marc Leishman has come close at an Open as well.
"I'm a tennis fan, and like everybody in Australia, I'm a huge fan of Ash," continued the 40-year old Queenslander. "She's brilliant. She's having a great year, too. To win Wimbledon, it's like winning the Open or the Masters for a golfer. It feels like that. So it is incredibly significant. She played great, and it would be fun to keep that Aussie theme going and kind of take Wimbledon away from the U.K. and the Open trophy. That would be great."
One thing Scott isn't going to be winning this month is an Olympic medal. The former Masters champion opted out of the event a few months ago and nothing has changed his mind on the matter. If anything, he is even more definite about not going to Japan. The two men wearing the green and gold of Australia will be Smith and Leishman.
"I've had no second thoughts about it," said Scott. "It's questionable really whether it should go ahead, an event of that scale. The fan situation is not good at the moment. I don't think certain parts of the world understand the fear that the Japanese are experiencing at the moment. They're not that advanced vaccination-wise. So you have to question whether it's really a responsible decision to go ahead."
Still, none of the above is currently bothering Herbert. First and second in his last two events, the 25-year-old is bubbling with confidence.
"Other than the girls, I'm trying to beat all the other Aussies," he said with a smile. "It's nice to see, especially Ash winning Wimbledon. She is such a great human being and represents Australia so well. And, yes (big sigh and smile) it was nice to see Min Woo win last week. Which is not to say it wasn't gutting that I didn't win. But yes, I love watching Aussies in general winning at just about anything."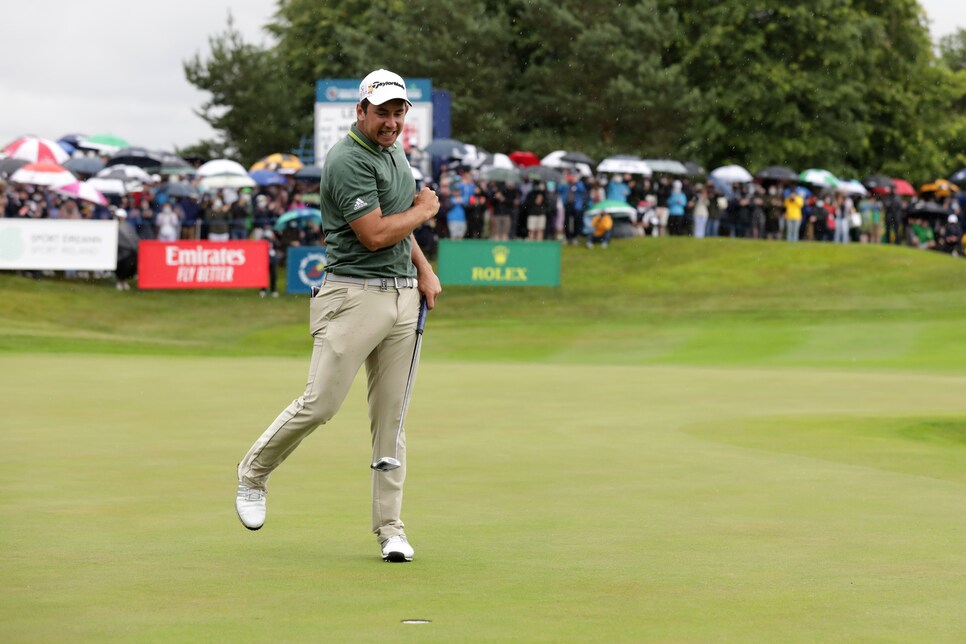 Lucas Herbert celebrates victory on the 18th green after the final round of The Dubai Duty Free Irish Open.
Patrick Bolger
As to whether recent upward trends will continue at Royal St. George's, the jury is out. Greg Norman recorded Australia's only victory here in 1993. But the post-war era at just about every Open has featured an Australian somewhere on the leader board. Brian Jones pulled up in a tie for eighth in 1981 after David Graham hovered near the top of the leader board early in the championship; and Bill Shankland finished T-11 in 1949, when Bobby Locke won.
Not bad. But the real inspiration for every Aussie remains Norman's win and his closing round of 64. Especially for Scott, whose 13-year-old self watched at home on television.
"It was an impactful time for me," he said. "I was really into the golf at that point. I remember getting up early and watching the end. I have strong images of that final round of Greg's. It was the perfect victory and timing for me. Looking back I wanted to be out there doing what Greg did."
If recent events are anything to go by, Scott may have to get in line for that honor.
MORE BRITISH OPEN 2021 STORIES FROM GOLF DIGEST: