News
U.S. Open 2020: A reminder that this U.S. Open at Winged Foot is a minor miracle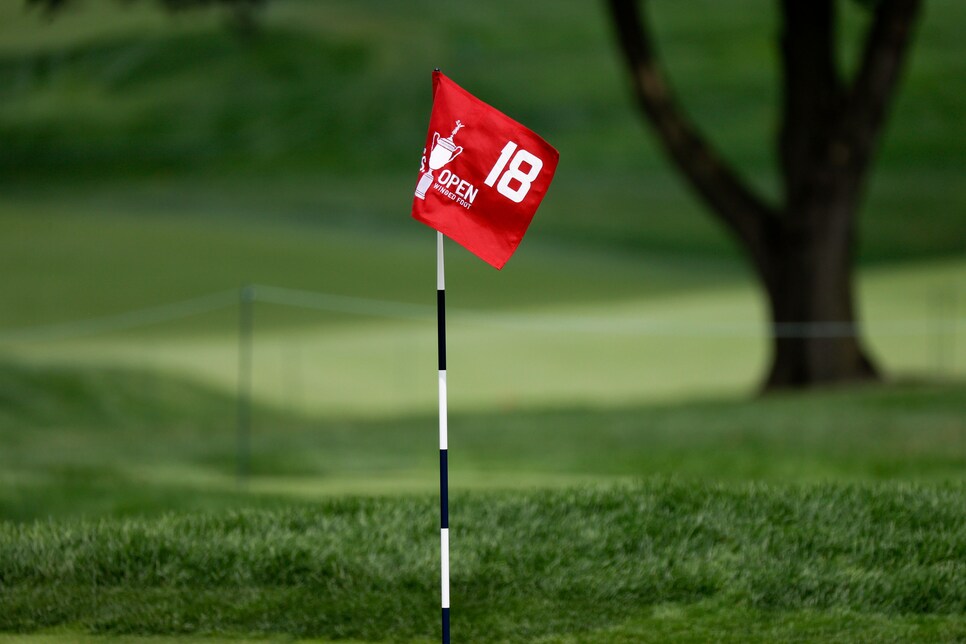 A flagstick is seen on the 18th green during Monday's practice round ahead of the 2020 U.S. Open at Winged Foot.
Jeff Haynes
MAMARONECK, N.Y. — The platform is mostly empty. Same goes for the train that stops just shy of 6:50 a.m. It has been this way for some time but remains an odd sight, quiet where there was once daily bedlam. The Mamaroneck station was supposed to be especially chaotic this week, tens of thousands of fans making their way on and out of the Metro North's passenger cars. Instead, just a half-dozen people descend from the walkway, and none will be in attendance at the U.S. Open at Winged Foot.
Of course, this week was supposed to happen three months ago. That it's happening at all, and here, is a marvel.
Professional golf has been back since June. In our rapidly-changing world, the sport's resumption of play no longer feels new but routine. That's in no small thanks to the PGA Tour's vigilance, keeping its constituents safe as it traveled across the country for 14 weeks. A stretch that included a major championship, the PGA of America hosting its flagship event in early August without issue. In that vein—to say nothing of baseball, basketball, football returning to their respective worlds—this week's U.S. Open is the expected continuation of the success that came before it.
It is an understandable mindset, albeit one that lacks cognizance and context. Right down the tracks from Mamaroneck, three miles to be exact, is New Rochelle, N.Y., one of the first COVID-19 outbreak centers in the United States. Hundreds of National Guard members descended in March, turning the town into a containment zone. Men and women marched in the streets in military fatigues and hazmat suits. Blockades and tent villages were erected, businesses were shut down, citizens confined to their homes. The scene was nothing short of dystopian.
It's September now, the National Guard has dispersed, the tents are down, and people walk the streets. But the scars remain, particularly for those who were lost, are battling or recovering from the virus, and whose careers and families and friendships were uprooted. The train stations embody this new reality, operating in semi-dormancy with locals continuing to work remotely and those that do need to travel doing so in their own vehicles. So much has happened that last week feels like last year, but these wounds are still fresh.
There is no script on how and when to move forward. But life does go on, regardless of our timelines. On that journey, this week's U.S. Open at Winged Foot is a milestone of sorts.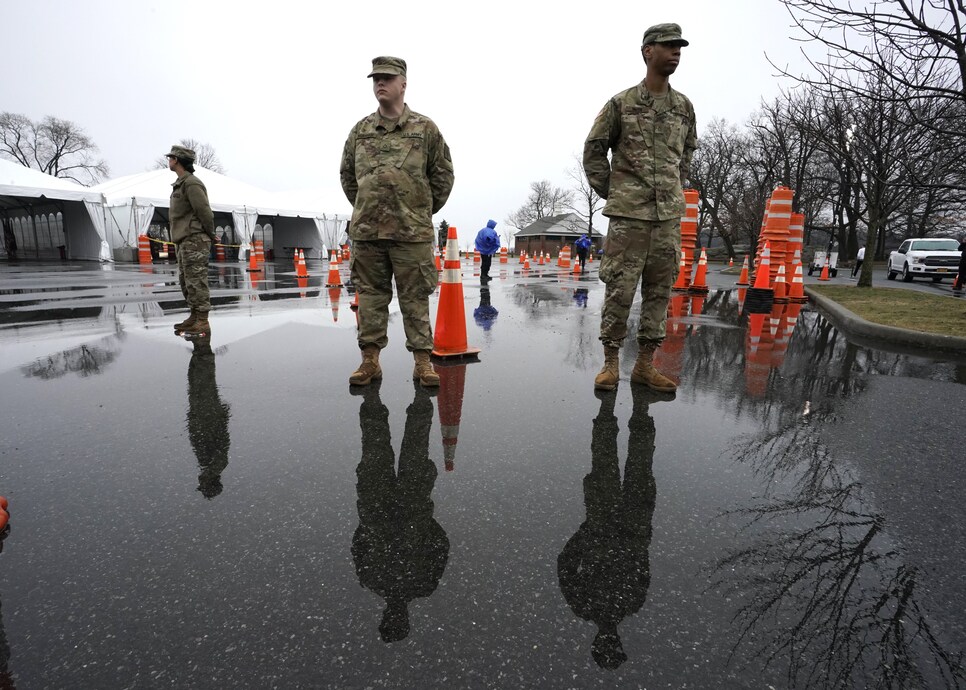 In March, National Guard troops stood by as people waited to be tested at the New York State's first drive-through COVID-19 mobile testing center at Glen Island Park in New Rochelle.
TIMOTHY A. CLARY
No, things aren't normal. That is very apparent. Players enter the property wearing masks. Colleagues who haven't seen each other in months eschew handshakes for head nods. Everyone on site is given a disinfectant packet, with social-distance reminders plastered at every turn. Most notably and importantly, there are no fans.
And yet, even if New Yorkers can't watch in person, knowing the tournament is here signals a hope that tomorrow might not be as bad as the days before it. Sports have the power to heal, and you don't have to squint to see the symbolism of the United States Open being played in an area that was closed and contained from the world just months before.
For that, all credit to the USGA. After discussing moving the championship elsewhere, the governing body put its faith in Westchester County and its people. So much had already been taken from them; the USGA wasn't going to add to their plight. The USGA's conviction was rewarded, the championship venue that awaits players at Winged Foot epitomizing the challenges the association seeks of a U.S. Open test.
Test. That is a word synonymous with U.S. Open setups. Whatever obstacles lie ahead for the field at Winged Foot, they won't be as difficult as the ones hurdled to get here.