News
The PGA Tour completes first step on its tightrope walk back to competition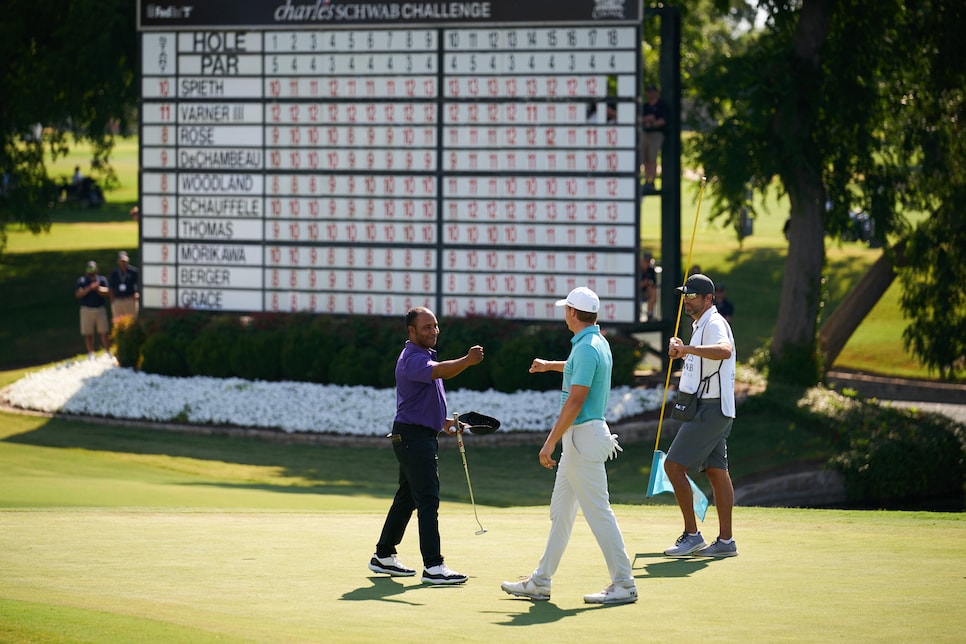 Darren Carroll for Golf Digest
It wasn't so much a celebration as it was a sigh of relief for Daniel Berger, eschewing a smile or raised arms upon winning Colonial's plaid jacket Sunday for a nod and pound-hug with his caddie, Josh Cassell. But it was apropos, the moment calling for a reserved reaction, and it had nothing to do with Collin Morikawa's lip-out.
The PGA Tour passed its Week 1 test following its three-month break for the coronavirus pandemic, if not solely due to none of its players or caddies testing positive for COVID-19. Even that merits a caveat, as it can take up to 14 days from exposure to trigger a positive test. Fact is, safety is how the entire season will be graded, and stout as the tour's safety protocols might be, what it is attempting amounts to a tightrope walk. Success is making it to the other side, and that finish line is months away.
"Listen, there is more work to be done, but this is a phenomenal start to our return," PGA Tour commissioner Jay Monahan said on Sunday. "There's no question about it."
It's not just commissioner lip-service, as the players echo Monahan's belief. If that seems like a given, well, tour players are creatures of habit, not the most flexible of groups when it comes to changes or edicts from above. However, there does seem to be a buy-in for the greater good.
"Overall, for the first week, I think we did a pretty good job," Jim Furyk said. "I think the tour went through a lot of painstaking conversations and a lot of hours spent on everyone's safety." Added Jordan Spieth: "From my perspective out here, certainly weird on the weekend not having fans, but everything going smoothly and no negative tests early in the week, and certainly nobody having to go take them mid-week, it's awesome."
There's the notion that this remains an ongoing process, one that will evolve through experience and education. Players and caddies were inconsistent at times following social distancing recommendations, something the tour will need to remind them about and, perhaps, more vigilantly enforce. But the early returns were promising.
"I think as we leave here with the first—concluding the first week of a new safety and testing protocol, to not have had any issues, and for players to adapt to that system so well, and for us as a collective to be focused on what's actually happening inside the field of play, watching competition," Monahan said. "I think it's gone about as well as we could have hoped for."
It is a point even the most ravenous critic would allow, for it seems the golf gods met and decreed, "Thy pour souls have suffered verily; let's give 'em a break."
The Charles Schwab Challenge boasted a leader board of chalk and intrigue. One could dismiss it as a byproduct of a loaded field, yet Colonial's weekend lineup was one most majors can only dream. Fourteen players began Sunday within three shots of the lead, a list that included two of the biggest attractions in the game in Rory McIlroy and Justin Thomas, the wildly underrated Xander Schauffele, rising star Morikawa, reigning U.S. Open champ Gary Woodland and everyone's favorite talking point Patrick Reed. There was also the ongoing fascination of Bryson DeChambeau, whose bodybuilding metamorphosis has gone from novelty act to act of disruption, and the play of Harold Varner III, whose performance against the backdrop of civil unrest was an inspiring display.
Still, it was the presence of Spieth that elevated Colonial to must-see TV. His revival, a shot-by-shot rollercoaster ride that is not for the faint of heart, is among the sport's biggest storylines not involving a certain 44-year-old, 15-time major winner. That the Spieth Cyclone hit a few banks and froze on its barrel roll is beside the point. For the PGA Tour is a glorified stage hand. It can paint a beautiful backdrop and get the lighting just right. But the show, ultimately, is dependent on the players, especially its marquee names, getting on stage to perform, and they did just that at Colonial.
As for the show's broadcast, CBS, much-maligned for its presentations the past few seasons, was nimble with a skeleton crew, only the diehards noticing a drop in production value. Granted, it wasn't perfect—there were miscues from Spieth that didn't make it to air, and kudos for the network for seemingly adding commercials in a time when most advertisers are pulling their products back—but a modicum of leniency is warranted.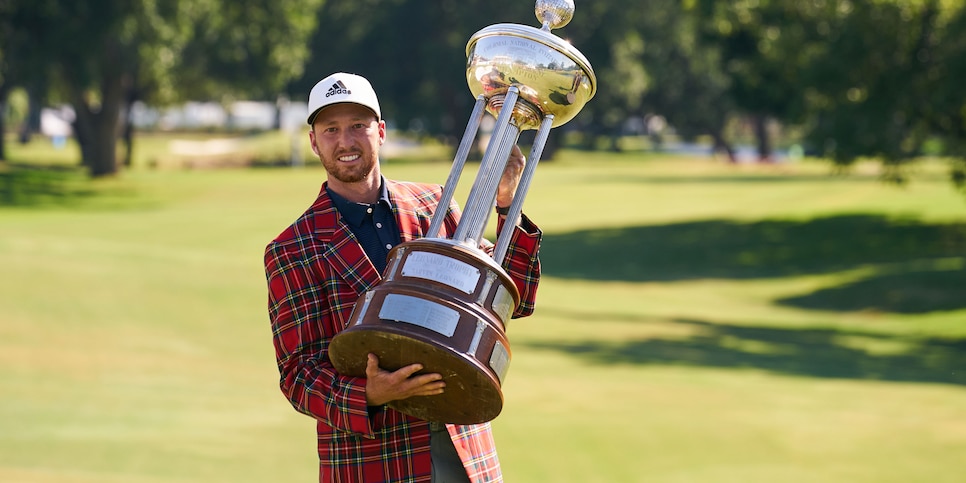 Darren Carroll for Golf Digest
Nevertheless, there is an urgency to get things right across the board, for desires that are not entirely altruistic.
The National Basketball Association's return saw a hiccup over the weekend, a faction of players raising the question if playing is the right thing amid the Black Lives Matter moment. Meanwhile Major League Baseball, as it is prone to do, seems intent on self-destruction. Football, golf's feared enemy, is also experiencing bumps, as college programs are reporting positive cases to their student-athletes in their return to campus. In short, for the foreseeable future, golf is going to be the only game in town, a sentiment supported by the early TV returns (CBS reported household ratings were up 50 percent from last year's Colonial third-round action). The sport, which has longed to grow its audience, is getting its opportunity.
"I know there's a lot of people that are watching us, and hopefully they're proud of what's been done here," Monahan said.
There will be time to evaluate this daredevil feat, particularly as the tour journeys across the country—and the coronavirus beast does the same. Setting up shop at a new course and in a new state as the tour arrives at Harbour Town for this week's RBC Heritage poses its own next-level challenge. As Monahan noted, much work remains. After all, this is a high-wire walk that's never been done. Through Week 1, all that matters is it did not fall.