The Best Golf Shots Of 2014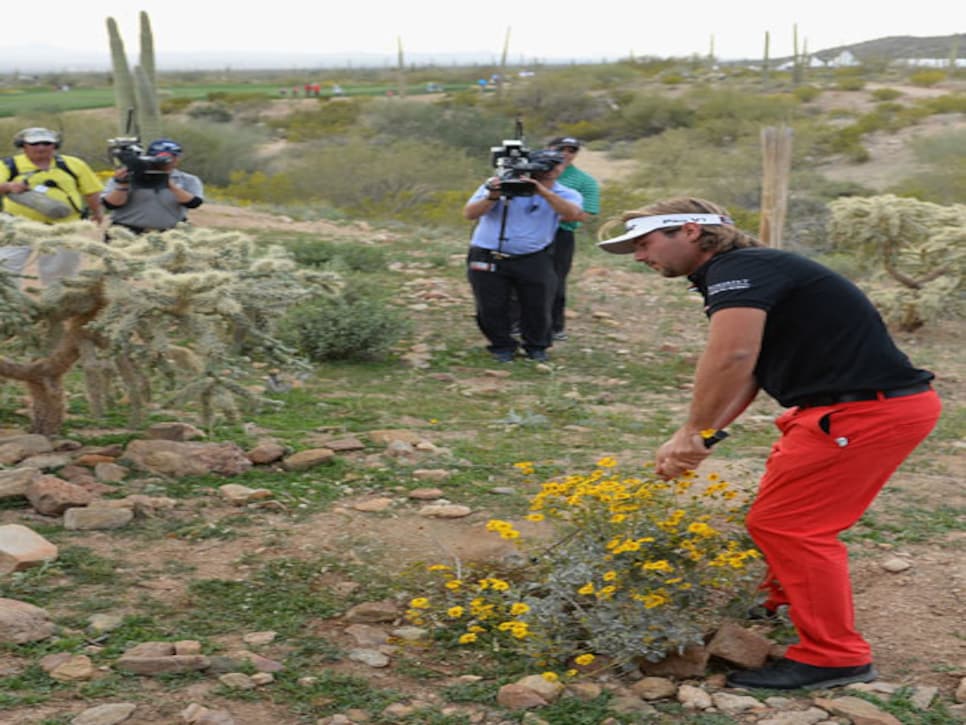 Victor Dubuisson (WGC-Match Play)
The Frenchman became an instant sensation in the U.S. with not one, but two incredible par saves from the desert in a sudden-death playoff with Jason Day in the final match. Dubuisson would eventually lose, but his short-game heroics gave many reason to believe the former top-ranked amateur has a bright future.
Paula Creamer (HSBC Women's Champions)
To make a big-breaking, 75-foot putt at anytime would be a feat, but Creamer pulled it off in a playoff to win the HSBC Women's Champions and end a personal winless drought of nearly four years. After giving arguably the best reaction to a shot all year, Creamer said she could have practiced that putt all day and not "get it within six, seven feet." The wild finish set the tone for a thrilling LPGA Tour season.
Matt Jones (Shell Houston Open)
How about picking up your first PGA Tour title by holing a shot in a playoff to beat one of the game's best players? That's what Jones did, knocking off Matt Kuchar and producing a great call by Johnny Miller: "The secret is here where do you leave this shot... that looks good... Maybe you leave it in the hole!" Jones also made a 46-foot birdie putt on the same hole in regulation just to get into the playoff.
Bubba Watson (Masters)
It's rare for a drive to be the most-played highlight of a golf tournament, but that was the case with Watson's ridiculous poke off the tee on Sunday at No. 13. The lefty launched a cut around the bend some 365 yards, causing such such a stir from the gallery at Augusta National that players on the par-5's green even turned around to see what happened. The shot set up an easy birdie as Watson pulled away from the field to capture his second green jacket.
Matt Kuchar (RBC Heritage)
After being victimized by Matt Jones earlier in the year, Kuchar finally ended a stretch of great play with a win by providing some dramatics of his own. Following an approach to the greenside bunker on Harbour Town's final hole, Kuchar knocked in his third shot for an unlikely birdie and a one-shot win over Luke Donald.
Martin Kaymer (Players)
The 17th hole at TPC Sawgrass has produced plenty of memorable moments through the years, but none quite like this. After a wild tee shot that nearly spun off the green and into the water and a fluffed chip shot, Kaymer looked like he'd lose control of the tournament he'd dominated since a 63 on Thursday. But he responded by draining a bending 35-foot par putt. Another par on No. 18 gave Kaymer his first Players title.
Martin Kaymer (U.S. Open)
After winning golf's "fifth major," Kaymer cruised to his second real major title at Pinehurst. On Saturday, he seemed to wrap up his wire-to-wire win with this shot out of a sandy waste area to about six feet on the par-5 fifth to set up an easy eagle. The shot -- at a time when it looked like the German might finally stumble -- pushed Kaymer's lead back to six and he wound up winning by eight.
Michelle Wie (U.S. Women's Open)
Coming off an out-of-nowhere double bogey on No. 16 to cut her lead to one, Wie suddenly needed to finish strong at Pinehurst to capture her first major. On No. 17, Wie safely found the middle of the green on the par 3 and then drained a 25-footer for birdie. The putt gave her a cushion heading to the last tee and she hung on for a two-shot win over Stacy Lewis.
Mo Martin (Women's British Open)
The unheralded Mo Martin winning a women's major was unlikely enough, but to do it in the manner she did was downright ridiculous. The diminutive Martin hit a 3-wood on Royal Birkdale's 18th from about 240 yards that rolled about the final 50 before caroming off the flagstick to set up an unlikely eagle -- her first of the year. The shot gave Martin her first LPGA victory of any kind as well.
Rory McIlroy (British Open)
After nearly blowing a six-shot lead, McIlroy turned things around in a hurry late on Saturday. He eagled the 16th hole and then struck a pure 5-iron right at the flagstick on his approach from 237 yards on the par-5 18th. McIlroy knocked in the 10-footer for a second eagle in three holes to take a six-shot lead into Sunday, which he converted to claim his first claret jug.
Bernhard Langer (Senior British Open)
It's hard to pick just one shot when you win by 13 (!), so we simply picked Langer's final stroke at Royal Porthcawl. The German made one final birdie on the last hole to cap the largest margin of victory in Champions Tour history.
Rory McIlroy (PGA Championship)
Unlike at the British Open, it actually appeared McIlroy was going to come up short at the PGA. He trailed by three heading to the back nine on Sunday until this 3-wood on Valhalla's par-5 10th from 280 yards out. McIlroy acknowledged after the shot came off left and low of what he was trying to do, but it wound up seven feet from the hole, setting up an eagle that ignited his come-from-behind win. "You need some luck in majors and that was my lucky break."
Rory McIlroy (PGA Championship)
There was no luck involved here. With a one-shot lead on the 17th hole, McIlroy found a fairway bunker on the right. But his sandy uphill approach to 10 feet set up another birdie and gave him just enough of a cushion to survive a crazy finishing hole and pick up his second straight major title.
Phil Mickelson (the Barclays)
Mickelson may have come up just short at the PGA Championship, but he proved yet again that no golfer entertains quite like him in the first FedEx Cup playoff event. Mickelson found the same grandstand two days in a row (he made a bogey and a par) and opted to hit from among the crowd both times. His adventures sparked a #PhilWasHere campaign on Twitter.
Fred Couples (Shaw Charity Classic)
Couples capped a closing 61 with a chip-in eagle on No. 18. Good thing, because Billy Andrade also eagled the hole to send the two to a playoff. There, Couples birdied the first playoff hole to secure the win.
Billy Horschel (Tour Championship)
Long known as a great ball-striker, Horschel's hot putter carried him to a win at the season finale and at no time was this more clear than on the 16th hole. With things getting tight in the tournament and the chase for the FedEx Cup, Horschel made a mess of East Lake's 16th hole, but managed to roll in a 30-footer for par that kept him comfortably in front. Horschel would hang on for his second win in a row to earn the biggest payday ($10 million) in golf.
Jamie Donaldson (Ryder Cup)
Another European victory was just a matter of time by Sunday afternoon at Gleneagles, but the unheralded Ryder Cup rookie offered an emphatic ending. Donaldson stuck a wedge on the 15th hole to concession range to wrap up a 4-and-3 win over Keegan Bradley and start the Euro party.