Diaz
Golf's Five Best Ceremonies
Jaime Diaz on the five most poignant moments in golf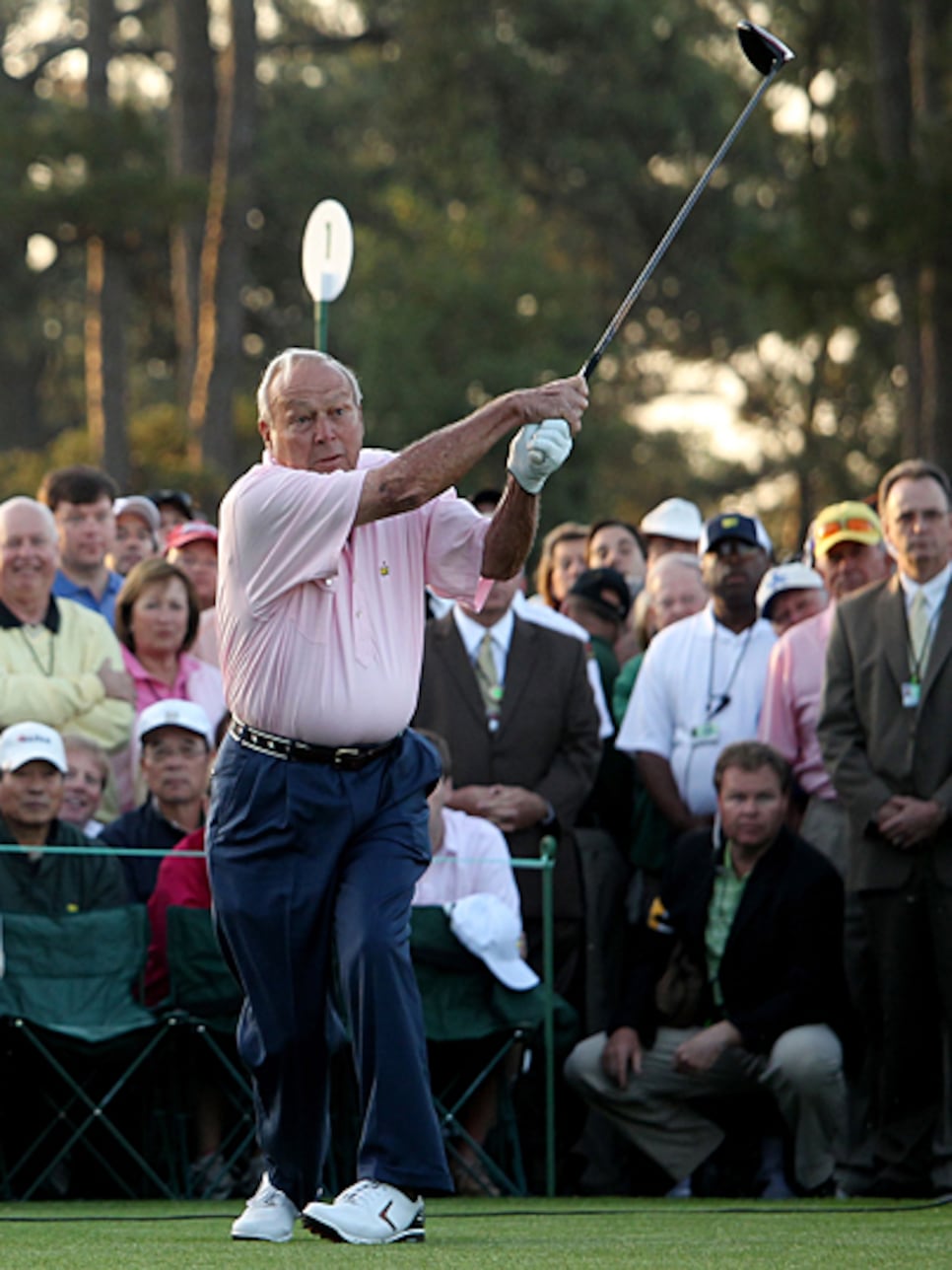 Photo By: Andrew Redington/Getty Images
Photo By: Paul Severn/Getty Images
Photo By: Oscar Sosa/AP Photo
Photo By: Eric Risberg/AP Photo
Photo By: Lennox McLendon/AP Photo
Opening Drive at the MastersSimple and natural and always imbued with history, the early Thursday morning ritual never fails to feel right. It began in 1963 with Fred McLeod, who played in the first Masters in 1934, and Jock Hutchinson, who played in the second. The ceremony was discontinued after 1976, but picked up again in 1981 with Byron Nelson and Gene Sarazen. Ken Venturi was the sole starter in 1983, but Nelson and Sarazen returned in 1984, along with Sam Snead. Various combinations of those three would continue the tradition until 2002, when Snead did the honors alone. Arnold Palmer was chosen to be the sole starter in 2007, and was joined by Jack Nicklaus in 2010. Player's inclusion means the Big Three will perform together again.
Photo By: Andrew Redington/Getty Images
Former Champions Exhibition at British OpenTrue, there's only been one -- Lee Trevino coming up with the idea -- conducted on the Wednesday of the 2000 at St. Andrews, but it was a doozy. The four-hole loop made up of the first, second, 17th and 18th holes on the Old Course is wonderfully intimate, and the sight of the dignified parade of great figures was awe-inspiring. An 88-year-old Sam Snead broke into an impromptu jig crossing the Swilken Burn, and 77-year-old Roberto De Vicenzo drove it pin high on 18th. Unfortunately, a revival of the event in 2010 was cancelled due to bad weather. Earlier, an ailing Seve Ballesteros had regretfully decided not to come. Had he been able to play, it would have produced one of the all-time poignant moments.
Photo By: Paul Severn/Getty Images
World Golf Hall of Fame Induction CeremonyThere have been some magical moments, but overall the night leaves a lingering feeling of something missing. Perhaps the outdoor amphitheater is a bit too modern and vast to produce the necessary warmth and close connection with the audience. More likely, too many of the inductees are simply too young, with several players under 50-years old voted in, especially in recent years. As at Cooperstown and Canton, the best moments invariably come from older inductees recognized at a time of life when such honors mean the most. Perhaps the most profoundly moved was Charlie Sifford, who spent many years admittedly embittered by the institutional racism that hindered his prime. His heartfelt acceptance speech -- full of humor, raw emotion and deep gratitude -- remains my favorite.
Photo By: Oscar Sosa/AP Photo
21-Ball Salute to Payne StewartHeld on the Wednesday of the 2000 U.S. Open at Pebble Beach, in honor of the defending champion who had died eight months before in a plane crash. With the early morning sun shimmering off the Pacific, 21 balls were teed up along the left edge 18th fairway, and on the call of "ready, aim, fire," players including Phil Mickelson, Davis Love III, Tom Lehman, David Duval, Chris Perry -- who wore the knickers and cap Stewart favored for the occasion -- and Paul Azinger -- who wrote a message to his late friend on his ball -- simultaneously drove them into Carmel Bay. A majestic sight, and pitch-perfect memorial.
Photo By: Eric Risberg/AP Photo
Jump into Poppie's Pond by Kraft Nabisco Championship winnerAmy Alcott started the tradition when she won the year's first women's major championship in 1988 and spontaneously ran into the water behind the 18th green at Mission Hills to celebrate. Alcott did it again, with Dinah Shore herself in tow, when she won again in 1991. But no other player took the plunge until Donna Andrews in 1994. After that, a white terrycloth robe was provided when the winner emerged, and since then no one has failed to jump. The water's gotten a lot cleaner -- 1999 winner Dottie Pepper caught a bacterial infection -- but there are still mishaps. This year, the mother of winner Stacy Lewis broke her fibula when she underestimated the impact from the pond's shallow bottom.
Photo By: Lennox McLendon/AP Photo