Diaz
My Five: Best Sudden-Death Playoffs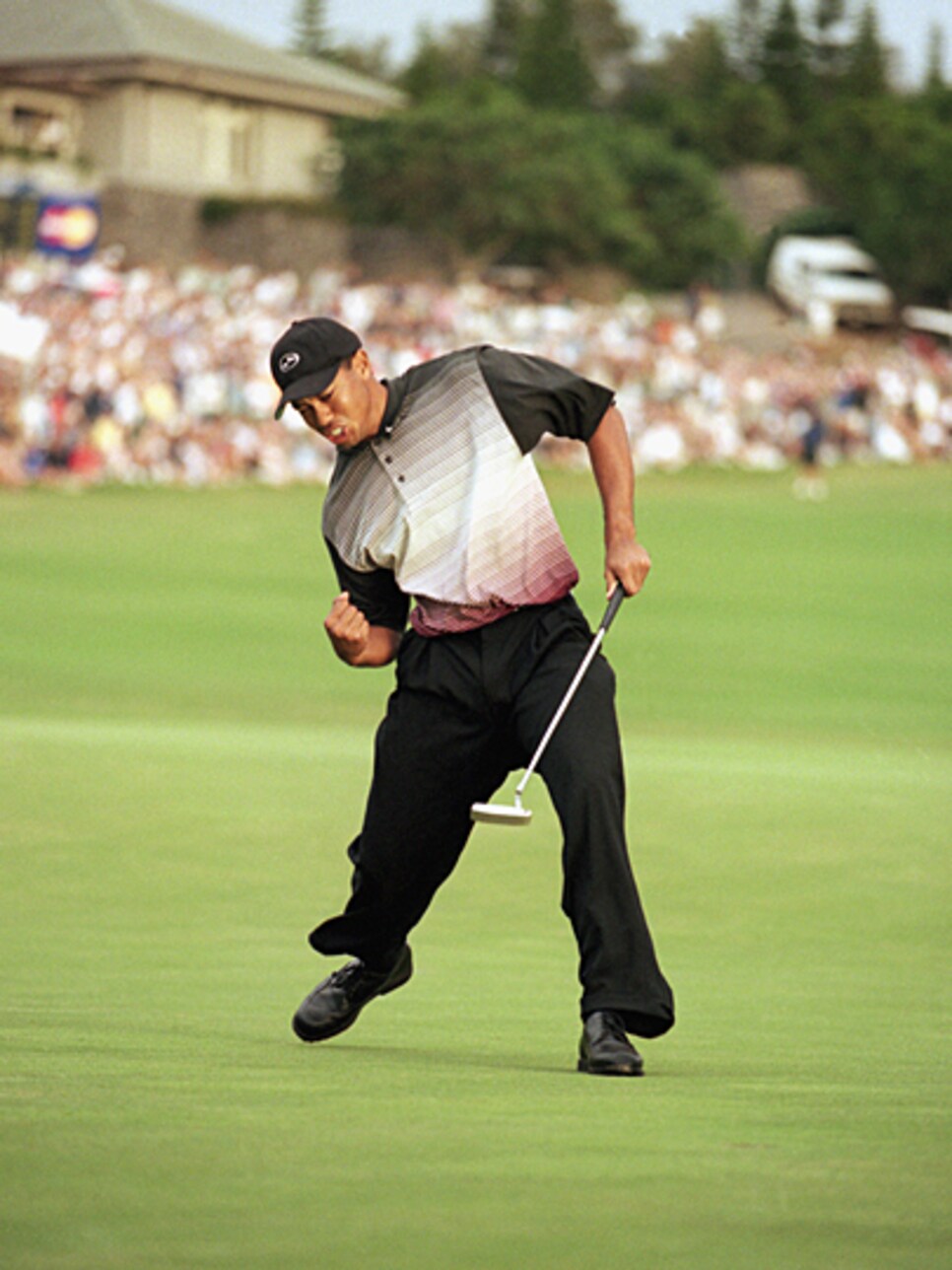 Photo By: Harry How/Getty Images
Photo By: Stephen Szurlej
Photo By: Scott Halleran/Getty Images
Photo By: Gary Newkirk/Getty Images
Photo By: John Lindsay/AP Photo
Tiger Woods and Ernie Els (2000 Mercedes Championships)This was the kickoff of Woods' epic season, arguably the greatest single year in the history of golf. Woods was going for his fifth consecutive victory when he and Els played in the final group at Kapalua's Plantation course. The sudden death really began when they arrived on the 72nd hole, a 660-yard par 5, all even. There Woods hit a 3-wood second to 15 feet, while Els followed with 2-iron to 10 feet. Both made their electrifying eagle putts, then went back to the tee to begin the playoff proper. This time, after Els two-putted for birdie, Woods made an eight-footer to stay alive. On the next hole, the par-4 first, Woods holed a 40-footer for birdie, and when Els missed from 35 feet, the slugfest was over.
Photo By: Harry How/Getty Images
Johnny Miller and Seve Ballesteros (1981 Million Dollar Challenge)The tournament, set in South Africa as a promotion for the resort, was also known as the Million Dollar Challenge, offering the first six figure purse ever with a $500,000 first prize that was by far the biggest in golf. The field had only five players -- Miller, Ballesteros, Jack Nicklaus, Gary Player and Lee Trevino -- and after Nicklaus missed a three-footer on the 72nd hole to fall out of the lead, Miller and Ballesteros went into sudden death. On the par-3 first hole, Miller put a 6-iron to four feet, only to see Ballesteros stick his to six inches. After each followed with seven straight pars, Ballesteros finally three-putted the ninth playoff hole, missing from four feet. Miller called the playoff "the most excruciating pressure I've ever known."
Photo By: Stephen Szurlej
Tiger Woods and Jim Furyk (2001 NEC Invitational)Playing the last round together, both players made bogey on the 72nd hole. The playoff looked to be over early when Furyk left his third shot in the back bunker on Firestone's 18th, but he dramatically holed his fourth shot. On the next hole, Woods made a 20-footer for par to stay alive, and continued to save himself with recoveries as Furyk kept missing birdie putts for the win. Finally on the seventh hole of the playoff, Furyk drove poorly on the 18th and failed to reach the fairway with his second shot. Woods then closed the door, hitting his 8-iron two feet. "It was a war out there," said Woods. "It was just fun to compete like that where you were tested to the absolute utmost."
Photo By: Scott Halleran/Getty Images
John Cook and Gene Sauers (1992 Bob Hope Classic)After 90 holes, five players -- including Mark O'Meara, Tom Kite and Rich Fehr -- went into sudden death at Bermuda Dunes. But Cook and Sauers each birdied the first two holes to make it a two-man shootout. On the third hole, the par 4 first, Sauers was in close for another birdie, but Cook chipped in from 20 feet to extend the proceedings. Then on the par-5 18th, where Cook had saved par in regulation after hitting his 4-wood second in the water, Sauers put his second shot 40 feet away while Cook went long. But from 100 feet, Cook chipped in again for the winning eagle. "That's a hard way to lose," said Sauers, "to play four holes in sudden death four-under par and not win."
Photo By: Gary Newkirk/Getty Images
Cary Middlecoff and Lloyd Mangrum (1949 Motor City Open)After shooting closing 69s while playing together in the final group, Middlecoff, who had just won the U.S. Open, and Mangrum, the 1946 champion, began the playoff at the Meadowbrook CC in Northville, Mich. With steady golf, they again matched each other, each making eight pars and a birdie over the first nine holes. As darkness fell, they met with tournament officials and decided to play two more holes, but halved both with pars. At that point, they were declared co-champions and split the prize money, each getting $2,250. Both players, who coincidentally each won 36 PGA Tour events and were inducted into the World Golf Hall of Fame, then got into their cars for the long drive to the next tournament.
Photo By: John Lindsay/AP Photo