News
Shin Wins Sudden-Death Playoff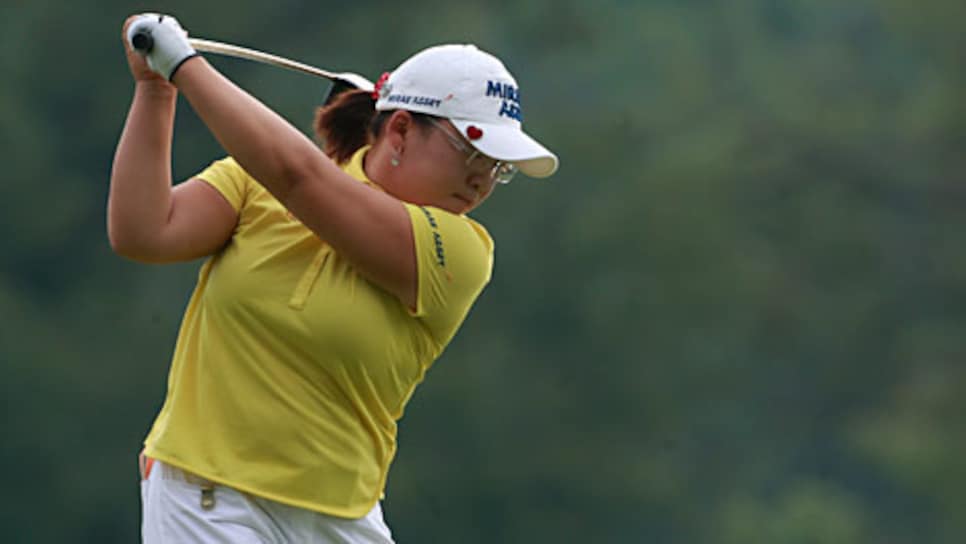 This was Shin's third win of the year, bringing her earnings just shy of $1.5 million.
ROGERS, Ark. (AP) -- Jiyai Shin shot a 7-under 64, then beat Angela Stanford and Sun Young Yoo on the second hole of a sudden-death playoff to win the P&G Beauty NW Arkansas Championship on Sunday.
Shin trailed by seven strokes at the beginning of the day but rallied to win her third LPGA Tour event of the year. She made a 12-foot putt for birdie on No. 15, the second playoff hole, to win the tournament. Stanford had just missed a longer putt for birdie.
Shin posted her final-round score around 12:30 p.m., then had to wait about two hours for everyone else to finish. Yoo birdied No. 18 to tie for the lead, and Stanford qualified for the playoff with a dramatic 18th-hole eagle.
The three played No. 18 again to start the playoff, and they all made birdies. On the next hole, Yoo's tee shot ended up on the fringe, and she then chipped close to the hole. Stanford missed her birdie putt -- on a similar line to the one Shin would putt along.
Shin sent her putt rolling toward the hole. She stepped back just before it dropped in, then raised her right hand.
Shin, of South Korea, is the first person to win three times on this tour in 2009. She's an LPGA Tour rookie, although she won the Women's British Open last year. This wasn't her first big rally this year. She trailed by four strokes with nine holes to play before winning the HSBC Women's Champions in March.
About an hour after Shin finished her round, Shi Hyun Ahn reached the green in two shots on the par-5 18th. She then three-putted to finish at 8 under.
Stanford's mother, who is battling breast cancer, was on hand for the exciting finish, although Stanford had to settle for her third consecutive top 10 finish. She began the day two strokes behind leader Song-Hee Kim, but after an opening bogey, she holed out a 9-iron from about 138 yards for an eagle on No. 2.
Her eagle on No. 18 was even more dramatic -- a 25-foot putt that had the crowd roaring. There was nearly a four-person playoff, but Kim missed her birdie putt to finish the day with a 72, one stroke behind the leaders.
For the third straight year, rain was a factor at this event, although it was fairly light Sunday and play wasn't delayed.
Earlier in the week, Shin had an English lesson at the media center, where she saw the tournament trophy. She said then she'd see it again Sunday, and she was right.