Must Be Nice
From celebrities to CEOs, people across the country have professed their love of the game by building their own personal field of dreams. Here's a look at some of the best we've seen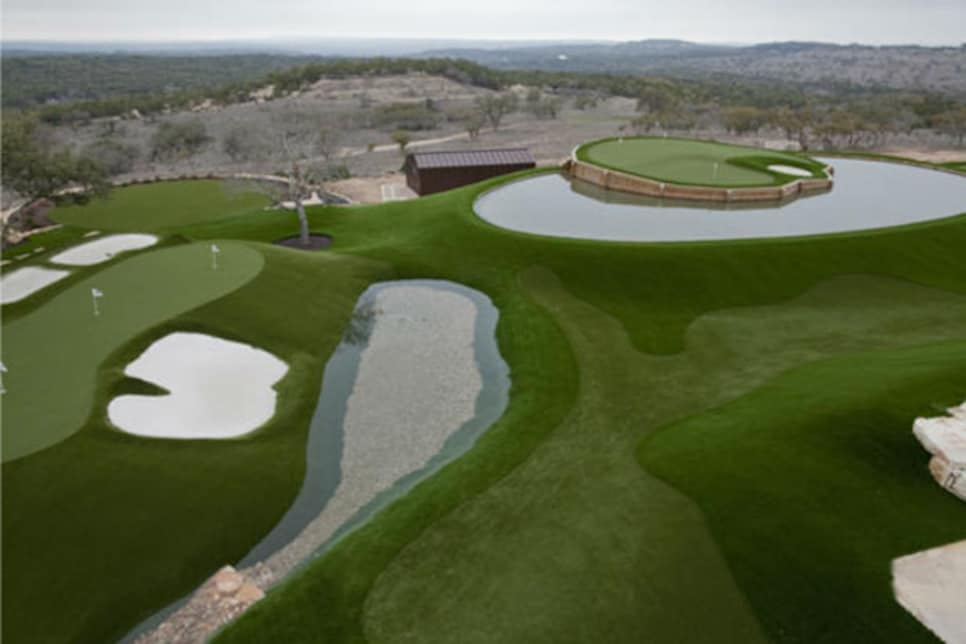 Photo By: Terry Yeager at Above & Beyond Aviation Services/Photo courtesy of [JeffRealty.com](http://www.jeffrealty.com/)
Photo By: Photo courtesy of SusanSellsLuxury.com
Photo By: Stephen Szurlej
Photo By: Stephen Szurlej
How does short-game guru Dave Pelz keep his own short-game sharp? With an incredible backyard practice facility at his home in the Austin, Tex., area. A couple of those greens should look familiar. One is a replica of the 17th hole at TPC Sawgrass (top) and the other is a copy of No. 12 at Augusta National (left).
A mansion on the market in British Columbia, Canada, has a practice area with a multi-tiered green and bunker. The view isn't bad, either.
Texas Rangers third baseman Adrian Beltre hit three home runs in four innings during an August 2012 game against the Baltimore Orioles. But that's not nearly as impressive as his 16,600-square-foot house in Bradbury, CA, he
just sold for $17 million
. And that doesn't even include the lovely practice facility seen above.
Tiger Woods' newest home in Jupiter, Fla., features an ultra-private practice facility. Near the water, the various sets of tees and greens should allow the 14-time major champion the ability to practice just about every shot under any wind condition.
Photo By: Terry Yeager at Above & Beyond Aviation Services/Photo courtesy of [JeffRealty.com](http://www.jeffrealty.com/)
Phil Mickelson has kept that flop shot sharp through the years with this short-game setup behind his Rancho Santa Fe home. But in 2012, the five-time major champion
put this luxury estate on the market
. The asking price? $7.095 million.
Photo By: Photo courtesy of SusanSellsLuxury.com
Someday John Smoltz will be inducted into the Baseball Hall of Fame for his ability to pitch. Until then, he can pass the time practicing his golf game in
the backyard
of his Ball Ground, Ga., home that features nine different tees and three greens.
Photo By: Matt Ginella
Back view of one of Smoltz's practice greens and his house in Ball Ground, Ga.
Photo By: Matt Ginella
Bend, Ore., is the site of this breathtaking private hole.
Photo By: Donald Miralle
Another view of this backyard beauty in Bend, Ore.
Photo By: Donald Miralle
As the president of Vornado Realty, Mike Fascitelli holds memberships to several prestigious clubs. He doesn't have to leave his Guilford, Conn., home, however to play a spectacular par 3. This hole features five tees, including two out in Long Island Sound.
Photo By: Stephen Szurlej
Another view of Fascitelli's seaside playground in Guilford, Conn.
Photo By: Stephen Szurlej
Less than a mile from famed Cypress Point Club, this Pebble Beach, Calif., home features a stunning view of the Pacific Ocean.
Photo By: Donald Miralle
Another view of this private layout on the Monterey Peninsula.
Photo By: Donald Miralle
The backyard practice green of Matt Keller in Scottsdale, Ariz.
Photo By: Joey Terrill
Vijay Singh has always been known for his marathon practice sessions at the range. Apparently, the former No. 1-ranked player in the world takes his work home as well. Here is an aerial shot of his Ponte Vedra Beach, Fla., home.
Photo By: Darren Carroll
A view from behind Jerry Marti's 6,500-square-foot synthetic green in Lamar, Mo.
Photo By: Steve Nowland
Jerry Marti and son Jeremy putt on their private green in Lamar, Mo.
Photo By: Steve Nowland
Mike Koprowski built his own 135-yard par 3 in the front yard of his Nashville, Tenn., home.
Mark Wahlberg shows off his backyard practice area. In between working on movies, he's working on his golf game on one of his four greens, hitting shots from over 140 yards. Pretty sweet setup. In fact, four of his career seven aces have come at his home.
NASCAR star Kevin Harvick loves Augusta National so much that he had a replica of the iconic par-3 12th built in his backyard. You can practically hear the Masters theme music playing in the background.