Style | Travel Gear
Don't Leave Home Without Them
Essentials for hitting the road organized and in style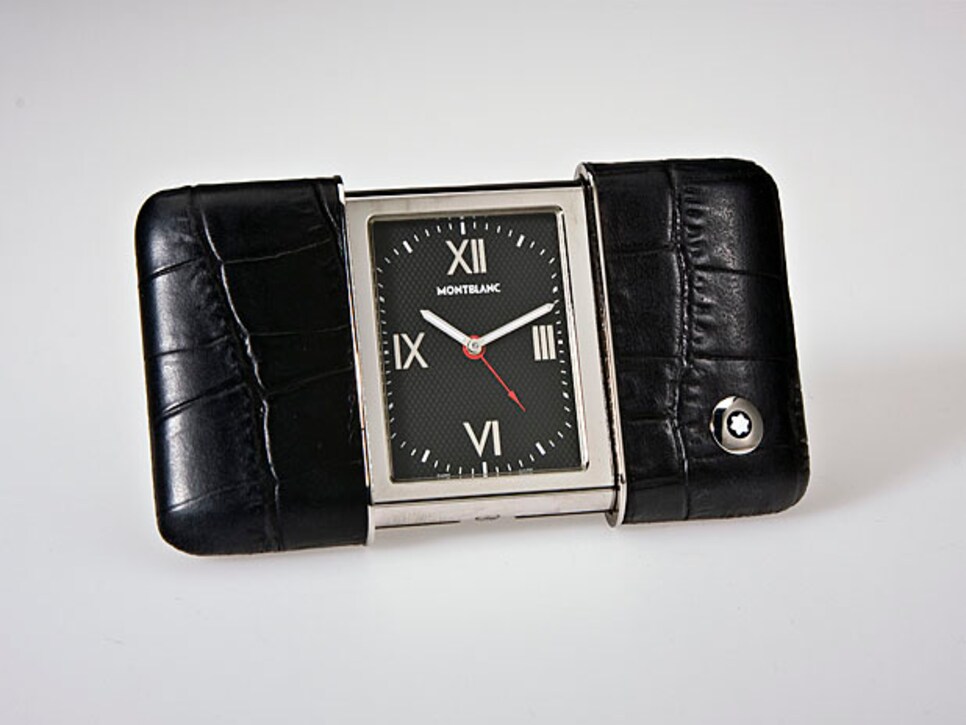 Montblanc Travel Clock, $530Wake up in style. This Swiss-made clock is perfect for travel because the case is integrated into the design. Slide it open, place it on your nightstand, and when it's time to leave, simply slide it shut.
Tiffany Money Clip, $125The perfect item for consolidating your winnings on the golf course. And if you happen to misplace it, an engraved return address will help reunite you with it.
Seiko Chronograph, $395Never miss another tee time. The Seiko Chronograph with one-way rotating timing bezel is a multi-function watch with a urethane strap that's both rugged and accurate. Perfect for staying ahead of the five-minute lost ball rule.
Tiffany Links, $200After a day on the links, the perfect accessory for your evening on the town. These sterling links make quite a statement.
Oakley Flak Jacket, $150White is right these days, from drivers to belts, and now, to sunglasses. Your eyes are the easiest part of your body to hurt and the most difficult to repair. Featuring the famous Oakley quality, these glasses are the the ones favored by Ian Poulter.
Ashworth Reversible Belt, $70For those insistent on matching their belt with their shoes, this item is indispensable. Black on one side and brown on the other, it saves you space in your bag by working double duty.
Tumi Travel Charger Kit, $95This versatile USB cell phone charger with ballistic nylon case ensures all of your portable electronics will be accessible, protected, and full strength. Charges up to two devices at one time.
ZIRH Anti-Aging Face Cream, $43Airline travel dries your skin but this cream moisturizes your skin and leaves you feeling fresh.
Oakley Gearbox Unobtanium Strap Edition Watch, $600Impact forged stainless steel case and unobtanium rubber strap, combined with precision engineering, make a modern statement.
Victorinox Swiss Army Loop Luggage Lock, $20This combination lock is TSA approved. Lock up your luggage or your golf bag for peace of mind.
Allen Edmonds Shine Kit, $50Make a good impression by keeping your footwear shined. The Allen Edmonds travel kit contains all the ingredients necessary to keep your shoes shiny and bright.
Menscience Travel Kit, $78The most complete and advanced men's travel kit. Designed to comply with current air safety rules, it means you don't have to check your favorite skincare or grooming products.
Brooks Brothers Dopp Kit, $98A double-zip water resistant canvas with leather trim toiletries case that enables you to take all of your favorite products on your next trip.
TUMI Packing Cubes, $19-$55Popularized by George Clooney's character in "Up In The Air," packing cubes simplify not only travel, but organizing your things when you arrive at your destination. Each cube enables you to store similar items in a neat and orderly fashion. Don't leave home without them.
Brooks Brothers Travel Tie Keeper, $128Don't get tied up. Keeps your neckwear protected. The perfect Father's Day gift.
Lacoste shirts, $79.50The iconic alligator logo, introduced in 1933, still looks modern today. Perfect for both on- and off-the-course adventures, these pique short-sleeve shirts define fashionable.
Brooks Brothers No-Iron Shirts, $79.50These wrinkle-resistant shirts can travel the globe and save you from the costly laundry services at hotels. They are soft and supple, but will remain crisp.
Ralph Lauren Medium Duffel Bag, $695Featuring a stylish tartan motif and leather trim, ideal for that overnight golf trip.
Superdry duffel, $140This very practical duffel can accommodate a week-plus-worth of clothes and golf gear. Inspired by Japanese design influences with vintage American styles. It's rugged and practical.
Louis Vuitton iPad case, $390In daimier graphite pattern, keep your iPad protected and make a fashion statement all at once.
RLX Half-Zip Windloc Vest, $245A lightweight and versatile travel essential that's appropriate both on and off the course.
Victorinox Shirt and JacketTwo essentials for any golf trip: you never know when it's going to get cooler or windy. The famous Victorinox quality assures you durable and practical sportswear.
Dockers SF pants, $65Be right on the fashion cusp with these stylish and modern-fit (slim) pants from the iconic Dockers brand.
Bose Quiet Comfort QC 15 Headphones, $299The perfect antidote for the loquacious seatmate on your cross-country flight. With advanced noise reduction, you can listen to in-flight entertainment or simply enjoy the peace and quiet. The padded air-fit earphones are very comfortable.
Callaway Chev 18 Laptop Backpack, $99.99Protect and consolidate your computer and other carry-on essentials with this padded, comfortable backpack. A must for those long walks to Gate Z-22. As an added bonus the padded rear "Security Fast Pass" compartment allows you to keep your laptop in your bag during airport security screenings. Need we say more?
The Eagle Creek Packable Duffel, $85Never have to buy that extra suitcase on your long trip. Merely include this packable large-sized duffel with its own carry case to enable you to bring all of those wonderful gifts home for junior.