News
USGA gaffe leaves teenager without promised USWO exemption
What would you do if, at age 17, you were told you were about to receive a spot in the US Women's Open? When current Ladies British Open Amateur champion Lauren Taylor of Woburn, England, learned online three weeks ago that the USGA had decided to extend an exemption to the winner of the 2011 LBOAC, she called the news "unreal" and "just so exciting." Today, she was told she won't be getting the exemption after all.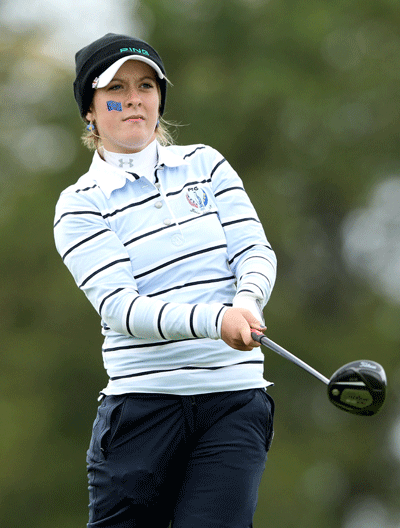 The news release put out by the USGA on February 4th announced the addition of four new exemptions into the men's and women's US Open Championships: The male and female winners of the 2011 McCormack Awards, given to the highest-ranked amateur players in the world at the end of the year, and the winners of the 2011 British Amateur Championship and Ladies British Open Amateur Championship would all be in the starting lineups as long as they remained amateurs until after the events. The problem is, the USGA meant to say that exemptions would go to the reigning champions of the latter two events. Since the Ladies British Open Amateur takes place in June, before the US Women's Open, there will be a new champion crowned this coming June to whom the 2012 exemption will belong.
You can call it a clerical error and an honest mistake, but it's a mistake that will undoubtedly cause Taylor some heartbreak.
The USGA released the following statement to GDW Thursday afternoon:
*"The United States Golf Association extends its sincere apologies to 2011 Ladies British Open Amateur Champion Lauren Taylor. We have the deepest appreciation for how disappointed Ms. Taylor must be. The USGA proudly created an exemption category for the champion of the Ladies British Open Amateur Championship into the U.S. Women's Open as a further commitment to the presence of amateur golfers in our respective major championships. We realize that our error may have caused the Taylor family an inconvenience and we wish to extend to them our regrets and our appreciation for their understanding. What occurred in this case is not typical of the USGA's level of service to the golf community. We remain committed to working with the highest standards for the good of the game." *
Taylor can still make it into the 2012 USWO through regular qualifying, or by winning the 2012 LBOAC.
What do you think? Should the USGA have made good on their promise and extended an extra exemption to Taylor after discovering their error? Let us know in the comment box below.