The Masters
How To Play Augusta National Without Becoming A Member
It is arguably the toughest get in golf. But as we detail, not impossible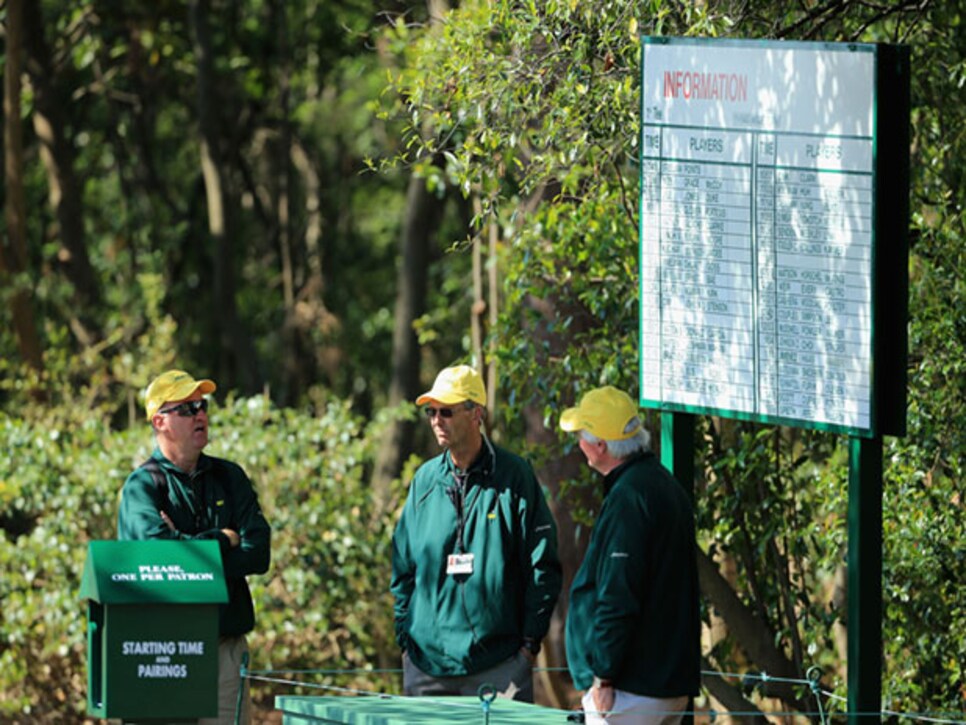 Become A Volunteer
It's a tough gig to get in the first place -- the tournament's volunteers return year after year -- but if you can weasel into becoming a volunteer, you'll be allowed to play Augusta National with the other volunteers the month after the tournament.
Win the media lottery
It's tough to convince the Augusta National powers that be to grant a credential to a rogue website unless it has a huge audience, so your best bet is trying to freelance at a major sports outlet. If you manage to do that (and win one of the spots in the lottery) you'll be one of about 20 media members who are allowed to play Augusta National on the Monday following the Masters.
Play college golf nearby
Aside from being able to boast that you're a high-level college golfer, one of the perks of going to nearby Georgia Regents University (formerly known as Augusta State), is that once a year the team will be invited to play. "In college," Vaugn Taylor once said, "when we went somewhere to play, people would see Augusta State and ask, 'How many times have you played Augusta National?'"
Write a book
As our own David Owen can attest: If you can write a book that's officially sanctioned by Augusta National, you may be able to play quite a bit,  for research.  "One afternoon, I played with three of the club's assistants," Owen says. "One of them was getting married, and there was going to be a party for him in the golf shop at 5:00. We realized that we didn't have time to finish, so we went straight from the tenth green to the fifteenth tee. In other words, we skipped Amen Corner—and by that point I'd played there so often that I didn't think anything of it."
Become a caddie
Augusta National runs a caddie service called Caddie Master Enterprises Inc. If you manage to get through the various computerized tests to get admitted to the program, put in the time and prove your worth, one day you'll be allowed to caddie at Augusta National and play the course once a year.
Get some other job at Augusta National
Augusta National needs new employees every so often, and when they do, they'll usually post the position on the Augusta Chronicle. If you pass the exceedingly high bar that Augusta National sets for employment, you'll be eligible to play the course once a year.
Win the Robert T. Jones Jr. Scholarship
Every year, Emory University, Queen's University, University of Western Ontario and Georgia Tech each select four graduating seniors or graduate students to spend a year studying at the University St. Andrews. You'll need good grades and a host of other good communication skills, but if you manage to win one of those four spots, you'll be allowed to play Augusta National once following your year go all-expenses-paid study.
Become a top women's amateur player
OK, technically this option is already restricted to half the population, but it's one more option than there was a year ago.
The Augusta National Women's Amateur will feature the 72 top women amateurs
the week prior to the Masters, with the first two rounds to be held at Champions Retreat Golf Club in nearby Evans, Ga. Only the 30 players and ties who made the cut will get to play a tournament round at Augusta National, but as a consolation, everyone in the field, including those going home after 36 holes, will play a practice round at the Masters home the Friday before the final round.