News
Don't try Tiger Woods' low-slung stinger at home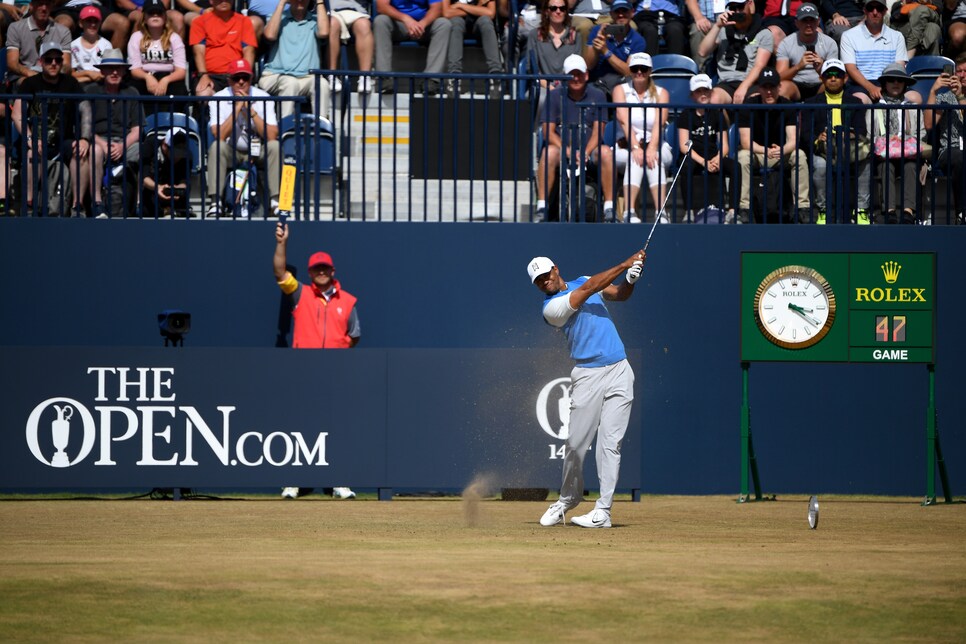 Tiger Woods' two most formidable major championship foes haven't been fellow competitors. Injuries have stolen most of the last five years, and even before that, inexplicable first-tee badness has gotten more than one tournament off to a rocky start.
At Carnoustie, Woods came out looking relatively fit (albeit with sports wrap on the back of his stiff neck and poking over the top of his collar), and he vanquished the bad start demon for at least one day by striping his trademark stinger low and straight down the first fairway with a new driving iron. It led to an approach shot 10 feet from the hole and ultimately an opening birdie.
Designed to come off head-high and run for ages under the Scottish wind, Woods' stinger requires coordination, good technique...and the horsepower to be able to dial back from a full swing and still produce a hard enough strike to get the ball off the ground. So if you're thinking about taking this shot out for a spin this afternoon, take Golf Digest 50 Best Teacher Hank Haney's advice first.
"Everybody always asks me how the average player can hit a shot like that, but the simple answer is they can't," says Haney, who worked with Woods when he won back-to-back British Opens in 2005 and 2006. "The average player doesn't know how to release the club with the knuckles on the lead hand turning down even on a regular shot. So to hit it low, they just play the ball back and smash down on it. For them, it's not a shot with a lot of control."
In contrast, Woods' setup doesn't change much from the normal one he'd use for a long iron. The difference comes in the size of the swing and the way the club comes through impact.
"I had him turn those knuckles to the ground, bow his left wrist and make a three-quarter backswing and abbreviated finish," says Haney. "You're trying to produce a low trajectory and take speed off—because speed produces spin, and spin makes the ball go up." It's a shot Woods used like a scalpel dozens of times at Hoylake in 2006, when he had what Haney calls the best ball-striking week he's ever seen.
This version of Woods isn't back to that standard, but seeing the familiar shot—and familiar name—on a major championship leaderboard is certainly a positive step. Now, about that putting...