Golf Instruction
Putting Styles That Got It Done
Reviewing the various putting methods that were effective in 2011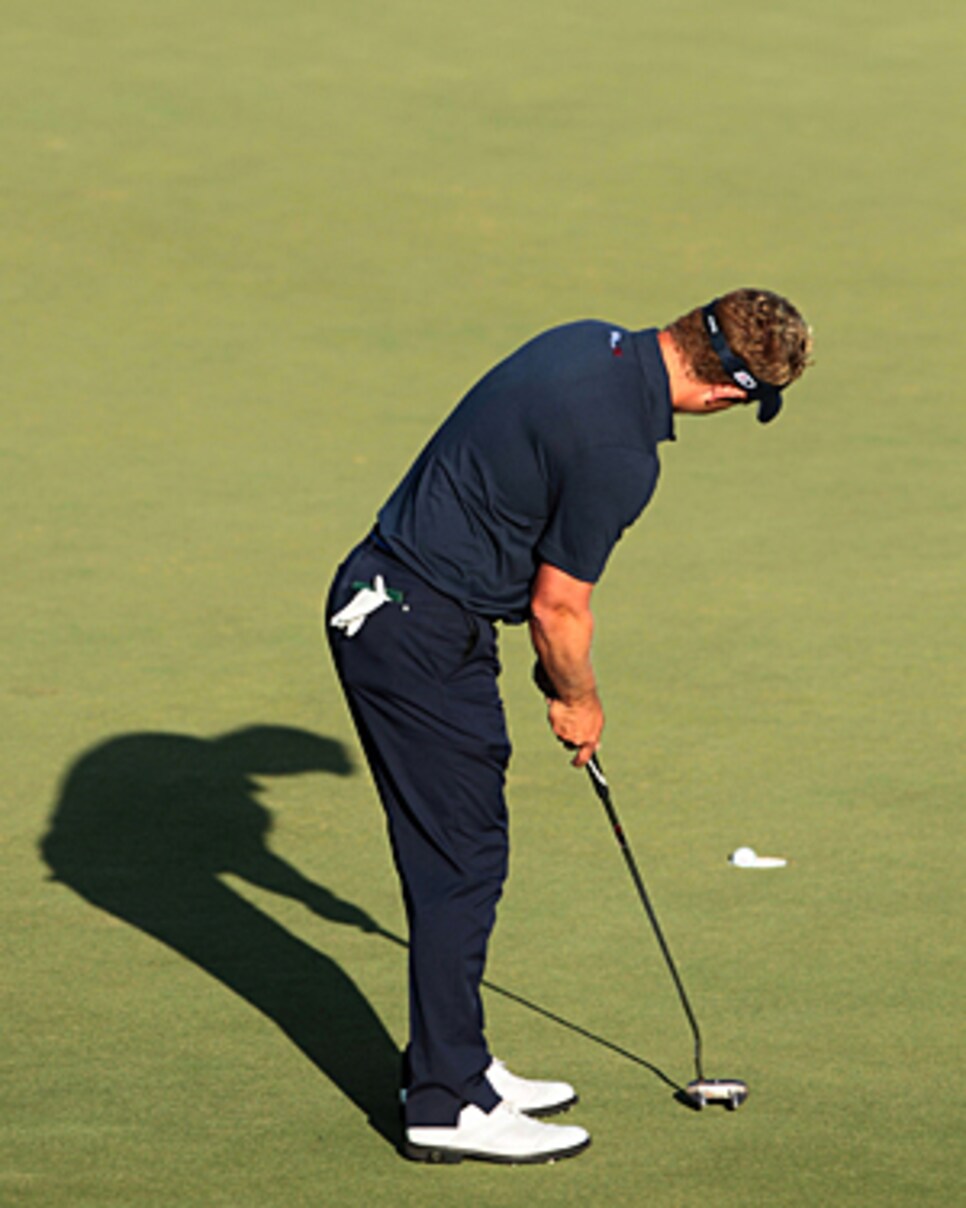 Photo By: Stuart Franklin/Getty Images
Photo By: Stuart Franklin/Getty Images
Photo By: Stuart Franklin/Getty Images
Photo By: Sam Greenwood/Getty Images
Photo By: Drew Hallowell/Getty Images
Photo By: Sam Greenwood/Getty Images
Photo By: Andy Lyons/Getty Images
Photo By: Walter Iooss Jr.
Reviewing the various putting methods that were effective in 2011
Luke Donald -- "Master of the conventional"
Luke's putting is as "conventional" as it gets, with the exception of his putter choice that has a unique design. Obviously he is comfortable with its feel and the results speak for themselves. At address, Luke has the shaft of the putter running up his right forearm. This makes the putter an extension of his right arm, and ensures that his grip is not too much in his fingers. That's a good thing in a full-swing grip, but not typically in putting. You couldn't go wrong in copying Luke's setup position.
Photo By: Stuart Franklin/Getty Images
Aaron Baddeley -- "Tradition Rules"
Aaron Baddeley has a very traditional stroke, very similar to Donald's. Most people would benefit by copying its simplicity. His body stays extremely quiet throughout as the putterhead accelerates into impact. Many students I teach tend to make larger-than-needed backstrokes, then are forced to decelerate in the forward swing. While backstroke-to-forward-stroke ratio amongst tour players varies greatly, I think the average player would improve by making a shorter backstroke and a longer follow-through. It will help avoid decelerating into impact. It has certainly worked well for Baddeley, who has led the PGA Tour in putts per round twice and finished no worse than 14th in the stat since 2003.
Photo By: Stuart Franklin/Getty Images
Sergio Garcia -- "Taming The Claw"
Sergio Garcia used a variation of the "claw" grip to help him win back-to-back European Tour titles this fall. Mark Calcavecchia and Chris DiMarco are the first players who come to mind that brought this grip to prominence. DiMarco used the claw during the 2005 Masters in which he lost to Tiger in a playoff. The right hand can be fit onto the grip in a number of ways, but they all try to eliminate excessive right-hand action through impact. It's the same goal as the cross-handed grip, but to some it might feel more comfortable since the top-hand grip remains conventional.
Photo By: Stuart Franklin/Getty Images
Robert Garrigus -- "Short is sweet"
Robert Garrigus used an extremely short putter during a 2011 season that was highlighted by a runner-up finish at the season-opening Hyundai Tournament of Champions and a t-3 at the U.S. Open. At 28 inches long -- some seven or eight inches shorter than standard length -- the putter seems especially short for a guy that stands nearly six feet tall. There are a lot of benefits to a shorter putter, and as an instructor, I'd much rather my students err on the shorter side when using a conventional style. One positive, especially on shorter putts, is that your eyes get much closer to your target line. You would never shoot pool by standing completely upright. Rather, you get your eyes quite close to the end of the pool stick. It's much easier to be accurate and make solid contact with the cue ball, very similar to short putts. The potential downside is long putts. A shorter putter produces less power, thus you need to put forth much more effort to make the ball go an equivalent distance. This can lead to off-center hits.
Photo By: Sam Greenwood/Getty Images
K.J. Choi -- "Trimming the fat"
K.J. Choi used an oversize "fat" grip on the PGA Tour in 2011. Choi's putting stats placed him in the middle of the pack for the season (Strokes Gained: 73rd), as did most of the statistical categories. What was not average about Choi's season was the $4.4 million in winnings and his fourth-place finish on the money list. That's what's funny about stats. They don't always correlate directly to earnings. The recipe on tour to make a lot of money is to play great a few weeks a year, as opposed to overall consistent play. Choi had top-three finishes in four tournaments in 2011. That accounted for more than 70% of his earnings for the entire year. Not surprisingly, his putting stats those weeks were excellent.The main benefit to this grip is that it reduces hand action through impact, keeping the face much more stable. This is a very good thing. Choi often tinkers with his putting, and even tried a "sidesaddle" method at St. Andrews in 2010, a la Sam Snead. The likely reality about these different putting styles comes down to the mental side of things. These players convince themselves that they are using a superior method, thus they should make more putts ... regardless if it is true or not.
Photo By: Drew Hallowell/Getty Images
Mark Wilson -- "Going Low With The Left"
Mark Wilson was the only player to win on tour using a cross-handed grip in 2011, winning the Sony Open in Hawaii and the Waste Management Phoenix Open early in the year. Wilson held the lead in the FedEx Cup standings for much of the season. Similar to the variations of the "claw" grip, cross-handed can eliminate the right hand from taking over in the stroke. Another benefit of the cross-handed grip is that it helps to level your shoulders and eyeline at address.
Photo By: Sam Greenwood/Getty Images
Adam Scott -- "Long in the Chest"
Adam Scott won the WGC Bridgestone Invitational this year after switching to the long putter. There are two main ways to use the long putter. The first is the "piston method," in which only the right arm moves back and forth in a piston motion where the rest of the body is still. The second I refer to as the "shoulder stroke," where the shoulders and arms work in a unison rocking motion. This is the method that Adam uses. I have heard much about his improved putting, but I'm not sure that stats really back that up. Scott ranked 144th in strokes gained and 158th in overall putting average. His numbers did improve from 2010, but in comparison to his peers, he is still far from being a good putter.
Photo By: Andy Lyons/Getty Images
Webb Simpson -- "King of the belly"
2011 was definitely the year of the belly, accounting for 17% (seven of 41) of the wins on tour. Webb Simpson won twice, Keegan Bradley won twice (including the first major ever by a belly or long putter), Martin Laird, Brendan Steel and Bill Haas all won once. In fact, 24% of all wins were won by non-conventional putting styles (seven belly putters, two cross-handed, and one long putter).But the question remains: is the belly putter the wave of the future? Well, for the players that won using a belly putter this year, they certainly do not rank highly in the putting stats. Here is where they ranked in the new statistical category of strokes gained, which most experts consider the most accurate indicator of the best putters on tour:Webb Simpson - 58thMartin Laird - 76thBill Haas - 85thKeegan Bradley - 98thBrendan Steele - 121st
Photo By: Walter Iooss Jr.