Golf Style
Alex Holmes takes a look at the fashion winners and losers from this year's Masters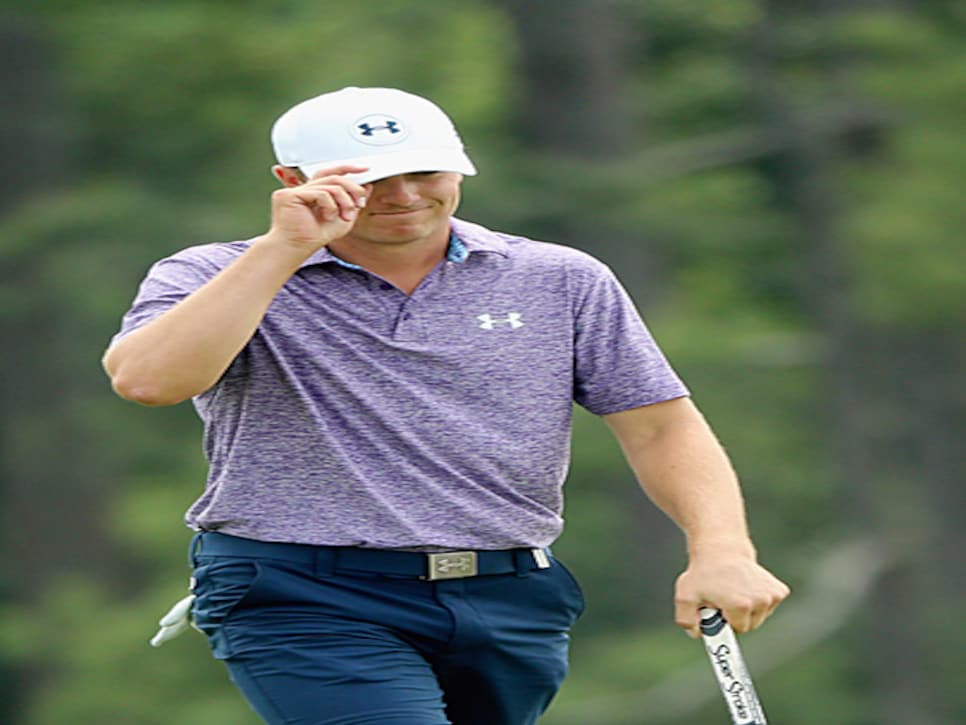 Jordan Spieth
It was an impressive week for the new Masters champ, and I'm not just talking about his golf game. That includes his fashion game, too. Jordan's simple setups suit him well. While Spieth does seem partial to the basic blues and whites, his Friday look that featured Under Armour's digital melange print in purple was the most interesting style in his script. This micro-print pattern is a subtle way to inject some pep into your look while still standing on solid ground.
Under Armour
Morgan Hoffmann
Hoffmann cued up some of the sharpest style we saw at Augusta thanks in part to his new partnership with Greyson. Overseen by former Ralph Lauren RLX head of design Charlie Schaefer, Greyson should hit the market next fall, and if Hoffman's Masters looks are any indication, the company will push the boundaries of golf gear with interesting prints, sharp fits and a keen attention to detail. Morgan's entire wardrobe felt fresh, and we can't wait to see more.
@GreysonNYC
Ian Poulter
Poulter is undoubtedly known for his patterned peacock style, but his simplest setups are often his most sophisticated. This navy-tonal-sweater-vest-and-polo combo is a super chic interpretation of one of the game's classic looks.
IJP Design
FootJoy
Billy Horschel
Almost everybody breaks out their brightest styles for Masters week, but it was business as usual for Horschel. The 2014 FedEx Cup champ wears bold color better than most and proved it with his Florida Gator gear Thursday and some bright green trousers Friday. Pro Tip: Notice how he uses that same navy belt on both days to smooth out his bold looks seamlessly from top to bottom. A white belt would've wrecked his whole look.
RLX-Ralph Lauren
,
FootJoy
Masters Patron Hat
The Masters gallery is always good every year for two style certainties: (1.) Styles you only see at the Masters. The guy in the straw hat that's flexing on the rest of us with how many Masters badges he's got.
Masters Gallery
. . . and (2.) A preview of the galleries we'll see at golf tournaments the rest of the year. . . . Guys that dress like they are actually playing in the tournament themselves. Even down to the spikes!
Danny Willett
The Englishman gets a nod as one of the sharpest looking dudes at Augusta in this super-clean color-blocked setup. Willet is working a stylish and athletic navy-blue theme throughout his whole outfit that he hits with his shoe's rubber insert, pebble-grain belt and cotton shirt stripe. This feels much more sophisticated than the stereotypical golf look of matching your hat, belt and shoes in exactly the same shade and material.
Callaway Apparel
Keegan Bradley
It's cool for Keegan to continue to rock red, white and blue, but it's time to drop the khakis if he's going to keep sporting those Air Jordans. Darker trousers that look and feel more like denim would blend much better with the shape of his sneaks and make him look a lot less like a grown man dressing like a high-school kid.
Nike
,
Travis Mathew
Phil Mickelson
Mickelson wore pink on Saturday because he felt like the color connected him to Arnold Palmer and black on Sunday because wearing black would evoke a more aggressive style of play. You know, because like he said, it's proven: "Studies have shown, like NFL teams. When they wear black, they have more penalties. That's what I need to do tomorrow – play more aggressive." So I guess that explains the Oakland Raiders of late?!?
House of Fleming
Darren Clarke
I'll be the first to say Clarke is one of the swaggiest dudes in the game. His clothes normally fit him perfectly, and he's got a very cool way of balancing his contemporary and classic style. However, he had a few missteps over Masters weekend. Saturday's windowpane trousers looked a little, umm, restrictive? And Sunday's head-to-toe pink play felt like Easter overkill.
Sang-Moon Bae
Sang-Moon's color-blocked polo and sharp attention to fit combine for a very modern look. This kid's got a ton a game and a style unlike anyone else on tour.
Original Penguin
Bubba Watson
While Bubba looks best in bright, energetic colors, this navy-and-gray solid setup looks great and the powder blue spikes are a cool touch. The man's game certainly has a personality of its own, so sometimes a solid outfit is the best way for Watson to go.
Oakley
Richard Mille
Geoff Ogilvy
Ogilvy has long been on my best-dressed list because of looks like this. Updated retro styles with cool details and sharp fits never go out of style and are not restrictive to the golf course. Take the hat off his head and the club out of his hand and Ogilvy would look stylish at home in any casual environment. If you're not into Nike neon or any other super sporty-looking golf gear, use Ogilvy's look to guide your game on and off the course.
Linksoul
Rory McIlory
Speaking of Nike neon -- or Volt as the Swoosh describes it -- it's kind of a tough color to wear in a large way. Rory does it well and pairs it perfectly with white trousers, but ultimately the color feels more appropriate as an accent.
Nike Golf
Paul Casey
To wit: Casey pulled it off perfectly on Sunday, managing to tie together this sporty, hi-res athletic vibe without going full-on crossing guard.
Nike Golf
Dustin Johnson
As always, Dustin's smoothest looks are his simplest ones. This monochromatic outfit made for a very impactful look on one of the game's most powerful players on Tuesday. And the fit is spot on. I get that everybody feels the need to break out the pastels at Augusta, but DJ could have cued up at least one more dark and dressy look outside of a practice round.
Adidas
Rickie Fowler
We've seen a lot of this ombre detail on tour this year, and as I've said before, I think it comes off a lot cooler as an accent than as a full-on shirt style. Rickie cued it up perfectly Saturday against a tonal gray ground. I'm still not feeling the white accessories though as they break up the continuity of the pale grays Fowler worked up from top to bottom.
Cobra Puma Golf