The Week In Style: British Open Style Preview
Mr. Style rates what the pros will be wearing at Hoylake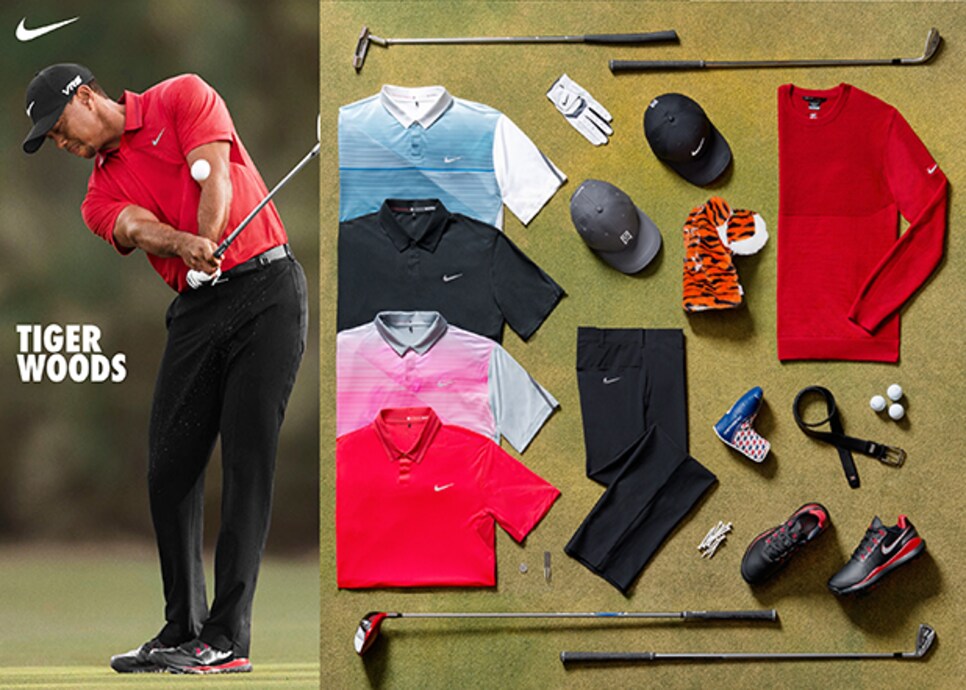 Tiger Woods: Birdie
There's some cool options that Tiger could be wearing at the Open, and certainly he will get the maximum visibility. Both the blue and white and pink and grey polo shirts look very Grateful Dead to me. And that's not a bad thing. Make sure to check out the putter head over of all the Nike players this week.
Nike Golf
Rory McIlroy: Birdie
With Rory, to me, it's all about the shoes. Those pink Lunar Ascends are looking pretty great, and we love that there's a great touch of color each day to liven up the selections.
David Duval: Birdie
Thank God for David Duval. We love that someone in the Nike camp will be wearing tartan trousers -- and making them look great. And thumbs up for not complicating it with a busy polo shirt.
Paul Casey: Bogey
While I'm a little worried about that blue-striped shirt doing funny things on the screen, Paul Casey's choices are pretty solid. I would prefer to see him wear belts that match his trousers. When you're short, don't wear something that calls attention to your waist. It makes you look even shorter (I should know since I'm shorter than Casey!) Besides, it's time for the white belt trend to move on to "greener" pastures.
Russell Henley: Lip-Out Par
While Nike hasn't specified which day he'll be wearing the various pieces, there's no question that Russell has an interesting number of choices. And in addition to the clothing, the Nike outerwear -- in particular the Hyperadapt rain gear -- will be an excellent option at Hoylake.
Francesco Molinari: Par
Molinari's palette is quite diverse, both impactful and dramatic. I'm not a huge fan of the white belt, but I love the yellow and blue polo choices.
Charl Schwartzel: Par
When you're this fit, it helps make anything and everything look fantastic. The gray camo and blue striped shirt have got a very interesting look and you can bet Charl will have everything in place each and every day. Let's hope he doesn't wear that great gray camo on a day where he has to wear a jacket.
Nick Watney: Par
The two-toned cap and the striped sweater are the standouts in Watney's wardrobe for the week.
Tommy Fleetwood: Par
Tommy Fleetwood's got an interesting print on the white background. I hope he'll be wearing it on a clear day so we can appreciate the pattern.
Jordan Spieth: Birdie
Fasten your seat belt folks, Jordan's about to breakout with some really strong color. Or at least strong for him. Burgundy red on Friday and Sunday are my two standouts. Maybe someone at Under Armour has been listening? Hooray for them for putting him into some strong, impactful selections. No more Mr. Monotone!
Under Armour Men's Golf
Hunter Mahan: Birdie
My only disappointment with the Hunter Mahan wardrobe is that he tends to go pretty dark and somber on Sunday. I love the fact that he's going to rock some green, which I think will contrast beautifully against the fescue at Hoylake. Thumbs up!
Gary Woodland: Par
There's something to be said for keeping it really simple, and Under Armour has certainly opted for this root for Woodland. While there might be an issue with the fine-striped shirt on Saturday, Woodland will look good each and every day.
Rickie Fowler: Par
I'm more concerned with the goatee to be quite honest. Clearly he has a ton of style and carries himself in such a positive way, that he looks particularly good in strong colors (see: Friday red and Sunday orange). While the other days looking rather timid by his standards, the color blocking will look great on TV. And I love that he's going to wear a different flat-brim every day.
PUMA Golf
Graham DeLaet: Eagle
I can't wait for Sunday, because that killer Storm-Stretch jacket he's going to wear is so modern and graphic. In fact, there are some great looking jackets on Thursday and Friday as well as Sunday. Good for Puma for anticipating how the weather will impact and affect the player's individual style selections.
Jonas Blixt: Birdie
That's a pretty interesting combo to open on Thursday, with the red trousers and gray top, and I think Blixt's personality will make these bold combinations work.
Brandt Snedeker: Birdie
We'll forgive Snedeker for the thin stripes on Thursday because he will sport a killer striped-pant/sweater combo on Saturday. The soft-purple sweater looks like a sweatshirt, and is going to feel soft and luxurious in the Peter Millar cashmere. Solid grades for clean and consistent presentation.
Peter Millar Golf Apparel
Bill Haas: Lip-Out Bogey
Haas has some stylish selections, but I'm hoping that Thursday will require him to wear his v-neck sweater, because the knit shirt selected for him, despite being an interesting engineered-striped pattern, will moray on television. It just amazes me that Peter Millar would select such a product for a major.
Branden Grace: Birdie
Grace is going to get a birdie as each and every day he has a smart looking combination of sweaters, shirt and pants. We love the purple shirt for Saturday and the quarter-zip for Sunday. This collection is just right.
Richard Sterne: Par
Sterne is in the same class as Bill Haas in that some of his striped shirts, while handsome, probably won't work well on the tele. Particularly the pink and purple (love the colors) striped-knit on Sunday. That said, they will look great as accents underneath the sweaters.
Harris English: Birdie
Finally, something bold, something graphic, and something strong. Harris opens with a fabulous burnt orange sweater and closes with a marvelous pair of burgundy trousers on Sunday. Definitely a kick-in birdie here.
George Coetzee: Birdie
Coetzee's Sunday outfit is definitely the highlight of his week with the Tarheel-blue, half-zip sweater. Combine this with the elegant gray trousers and the simple but classic lilac knit shirt and you have a wonderful balance that I'm sure will resonate.
Keegan Bradley: Birdie
Keegan opens strong with the red, white and blue striper on Thursday. It's bold enough that it should read well on TV. And you don't need the label to tell that it's signature Hilfiger. Simple, preppy, colorful. My only worry is the shoes he'll be wearing (not shown here). We know he loves the Jordans, but the jury is still out on how well they coordinate with the outfits.
Tommy Hilfiger Golf
Webb Simpson: Eagle
Hats off to Izod for having enough confidence in Webb Simpson to give him a menu of options from which he can choose. Pretty savvy to include some tartan trousers in the assortment as well as an interesting tartan print shirt. Take note of that blue bomber. It's clearly, in my mind, the most wearable -- and sellable -- item in his wardrobe.
IZOD Golf
Bubba Watson: Par
Luckily Bubba has a colorful personality. And while the clothes might be very conservative, he brings so much energy to the table when he gets on a roll, that it pretty much corrects the quiet color palette.
Oakley Golf
Zach Johnson: Bogey
Can you believe there's no logo on the right collar? What happened here? It's the only space that's still available. Which is why I'm a little worried about the Friday shirt, because while we love the engineered print, it's going to be in definite contrast with the six logos that we see on the front.
Dustin Johnson: Par
Simple, straightforward, with just enough color to add some zip; Dustin Johnson is going to look really strong every single day. He's a classic example of, "It's not what you wear, but how you wear it." And with that great physique, he's going to make each day look terrific.
adidas Golf
Sergio Garcia: Birdie
Kudos to adidas for opting for the dark, black-on-black palette on Thursday. For those of us still haunted by the all-yellow Chiquita outfit from Hoylake in 2006, we're happy to see he's in a much better place now sartorially.
Jason Day: Par
It's interesting that both Jason Day and Sergio Garcia's wardrobe have a red, white and blue influence. More importantly, in the case of Jason, excellent contrast each and every day. Makes perfect sense for someone who is in excellent physical shape. Worth noting he'll be rocking the same adizero one shoes all week (I'm sure he brought more than one pair).
Luke Donald: Birdie
What makes the RLX wardrobe for Luke Donald so interesting, is that each day has its own distinct look. Clean, clear and graphic. You'll be able to pick him out from two fairways over.
RLX Golf
Billy Horschel: Eagle
Talk about making a statement. Horschel has become the patron saint of "go for it." You gotta love those wild pants and that camo shirt -- on Sunday no less! This is an example of the clothing selections matching the personality of the player.