British Open Style Preview
Mr. Style takes a sneak peek at what the pros will be wearing at Muirfield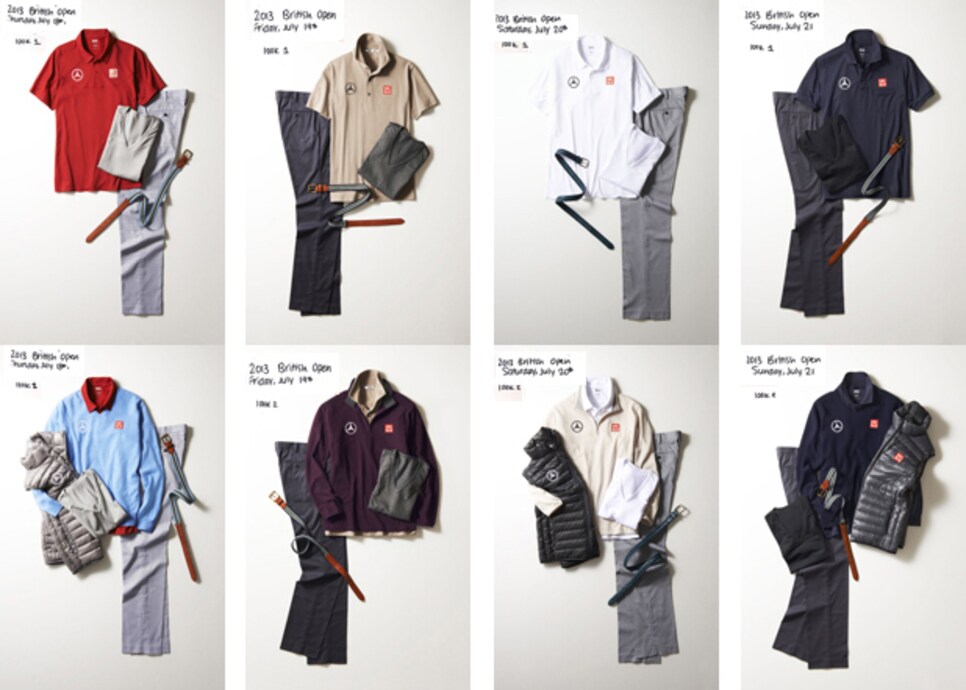 Adam Scott
The top row shows what the reigning Masters champion will wear if weather at Muirfield remains sunny and mild, as predicted for the rest of the week. The bottom row includes backup for foul weather. Scott relies on a simple palette, and I like his conservative choices. Classic always works in golf style, and Adam Scott can make simple look fabulous.
Tiger Woods
Tiger's apparel this week is as simple and conservative as Adam Scott's. Notice that he always matches his shoes with his belt and hat. Those TW14's would get more visibility if Tiger's pants were an inch-and-a-half shorter. The athletic shoes under classy trousers looks like a mixed metaphor.
Billy Horschel
If you're looking for someone with style and POP every day, set your dial to Billy Horschel. Colorful, sporty and dressy, all at the same time. A fantastic combo!
Rickie Fowler
I'm a little surprised by the conservative colors in the Puma outfits Rickie will wear, with the exception of his go-to orange on Sunday. While the Thursday and Friday choices don't excite me, the fit and Rickie's personality will give them a fun and dynamic look.
Carl Petterson
The Carl Petterson outfits look a lot like Carl Petterson: Some sharp color equals some fun.
Bubba Watson
That pink outfit for Sunday is going to generate a lot of conversations. Let's hope we get to see it.
Webb Simpson
Finally, someone making the commitment to purple and plaid. Fits right in at the Open Championship.
Scott Piercy
Make no mistake about it, the team at Izod feels purple is the correct color for this event, and I quite agree.
Matteo Manassero
Matteo will wear a great balance of color this week. The blue color-blocked Polo shirt is right on trend. Love the orange pants! Ditto for the green ones.
Charl Schwartzel
Schwartzel's wardrobe is perfectly consistent with his straightforward and easygoing personality. On his body frame, patterned shirts look elegant and stylish.
Thorbjorn Olesen
Those zip cardigans and signature flat-brimmed hats make a fantastic style statement. How about the tartans on Thursday and Sunday? Pretty cool!
Brandt Snedeker
A little bright, a little plaid, a little muted, a little bit of zip; all match Brandt's style DNA.
Francesco Molinari
This collection covers all the bases. Pattern, stripes, color block, bold, you name it. At some point this week you'll see it on Molinari. And he'll look great wearing it.
Luke Donald
I love those camouflage pants! Luke will carry the RLX banner with plenty of style at the Open. I especially like the Sunday color-blocked sweater.
Rory McIlroy
Finally, four days with some colorful, energetic looks. I especially like the Saturday diagonal stripe using the green accent. I wonder if green will start to become one of his signature components.
Dustin Johnson & Jason Day
Both players are making a stripe/color-block statement. See those blue shoes? The only thing missing is the size on the back, because to me they look like bowling shoes. Interesting how there's no Sergio scripting...
Oliver Fisher
Oliver Fisher, also wearing the Thorbjorn Olesen cardigan. The Friday/Saturday design of engineered stripes is right on trend.
Keegan Bradley
Keegan's clothes match his effervescent personality. Strong, bold colors with lots of contrast. There's nothing bashful about these selections. And being a fellow Red Sox fan, I love that Sunday color choice.
Justin Rose
Pretty straightforward, with a subtle dash of cool. When you study the way it's put together, it works very effectively.
Jonas Blixt
This eclectic assortment is the perfect match for Jonas Blixt's strong sense of style.
Bill Haas
No big surprises here, but I love that his trousers are flat fronts. That's a huge step forward for Bill.
Harris English
Don't be misled by the Peter Millar layout, there's plenty of pep in Harris English's wardrobe. Especially when he isn't wearing a sweater.
Budd Cauley
Bud Cauley's Greg Norman for Tasso Elba is right on trend. Engineered stripes look very today and the diamonds for Sunday are a classic nod to the past. Well done.