Style
2016 British Open Style Preview
Golf Digest's Mr. Style, Marty Hackel, looks at what tour pros will be wearing at Troon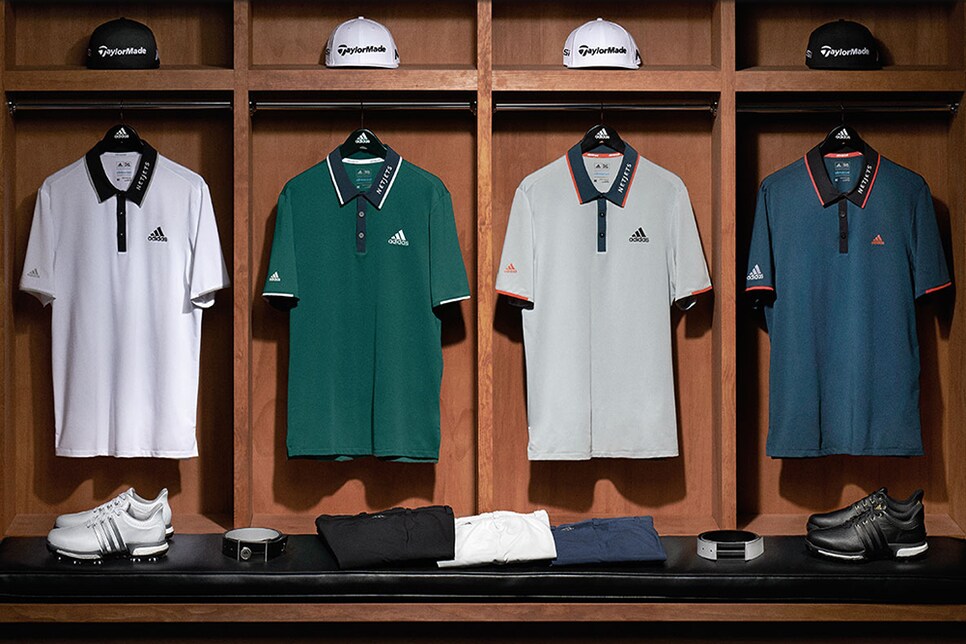 Dustin Johnson/Adidas
The newly minted U.S. Open champion has a great look going this week in Scotland with the contrast placket and tipping on both the sleeves and collar of his polo shirts. Johnson always looks athletic, and Adidas has taken great care to make certain that the fit on his clothes is just right.
Sergio Garcia/Adidas
The camo print for Saturday is the prime example of an entire lineup that is very accurate reflects many of the modern golf-apparel trends. My only wish is he were scripted with contrast collars each day, given the crisp look they help create.
Jason Day/Adidas
The World No. 1's weekend choices are very graphic and sharp as he too is keeping very much on trend. Day will also continue to wear his shoes with the Boa lacing system.
Webb Simpson/Izod
These choices accurately depict many of the trends we've seen in golf apparel this year. That includes the engineered stripes, clean sharp colors and self-collars on Webb's shirts. The quarter-zip pullover will get quite a bit of airtime as the forecast calls for cool temperatures from Friday through the weekend.
Rory McIlroy/Nike
McIlroy continues the pattern he followed at Oakmont, wearing the new Nike blade collar each day at Troon. It's a look that he makes work well as it's simple but impactful. Plus the bold, engineered stripes look strong. Having the same style pullover every day also makes a lot of sense as it simplifies everything (it's also a good way to pack for your next golf trip).
Peter Millar
The company showcased one outfit from each of the players it's dressing at Troon. On Sunday, George Coetzee will wear what the Peter Millar reps feel is an unexpected stripe pattern, which to my eye looks very solid. Brandt Snedeker will don the popular five-pocket pant style as well as smart looking quarter-zip windproof sweater. Bill Haas' outfit has great balance and will look great on TV. Harris English will have some tartan trousers and, as always, he will look smart and of the moment.
Billy Horschel/RLX Golf
The pants continue to entertain us. The weekend choices are inspired and fun (cross your fingers on Horschel making the cut). Preppy herringbone on Saturday and another bold floral for Sunday. Honestly it would be shocking to not seen some unusual patterned trousers. Love the left pocket on the Sunday shirt as well. It's very Arnold Palmer.
Justin Thomas/RLX Golf
The Open Championship rookie is taking a page from Horschel with some great patterned pants for Friday, and his purple pants for Saturday will look great. This is a good example of picking your spots to make a statement. Let people focus on one key element.
Rickie Fowler/Puma
We'll start at the bottom and work our way up: There are no high tops for Fowler. This is actually newsworthy given how he has driven this trend in golf footwear. As for the rest of his wardrobe, there is always a great deal of balance in what Rickie wears, and that's the case here, too. His belt color coordination is, as the British would say, "spot on the mark."
Jordan Spieth/Under Armour
Spieth's color choices are very focused on green, and he gets high marks for consistency. Thursday's green polo is particularly bold. I also like seeing his coordination of accessories (belts) as they are driven—smartly—by the pant color.