Style
2016 U.S. Open Style Preview
Golf Digest's Mr. Style, Marty Hackel, looks at what tour pros will be wearing at Oakmont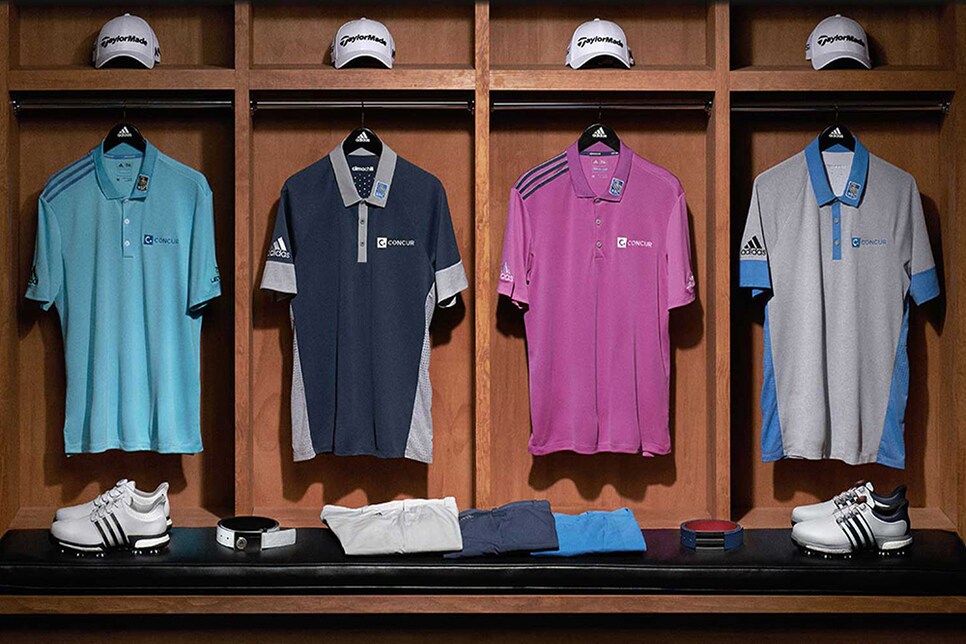 Jason Day/Adidas
Adidas' design team is outfitting Day with two distinct looks at Oakmont. On Thursday and Saturday he'll go with solids, and the color selections are perfect for TV. Saturday's pink has some real POP! On Friday and Sunday, he'll wear a contrast-placket-and-collar design that is very much on trend and emphasizes a major motif in Adidas' current collections. It's clean and sleek, and the fit suits Day's athletic frame. All the shirts utilize the Climachill fabric, which will be effective as the temperatures rise. Day also will wear Adidas' Tour360 BOA Boost shoes; he has become the most visible proponent of the BOA lacing system as he feels it maintains a secure fit.
Dustin Johnson/Adidas
DJ is right on trend with color in the placket and the use of tipping around the collar. The Sunday shirt is by far the best and strongest look of the bunch. Dustin is the perfect model, and he makes these selections look clean and strong.
Sergio Garcia/Adidas
The color blocking and engineered stripes give Sergio a solid look. The strong blue color on Sunday stands out in particular.
Danny Lee/Devereux
Devereux's design director, Robert Brunner, has outlined predictably a red, white and blue motif for Lee. The shirts are from the company's Americana Collection and are unique in that they have no side seams. This enables Lee to swing freely, especially if he needs to escape the thick rough at Oakmont. Saturday's selection is my favorite with the clean, bold navy-and-red stripe across the chest.
Webb Simpson/Izod
Izod stays on trend with engineered stripes and a strong nod to coral. The company traditionally selects a key color theme for each major, which I think is an excellent method of building some color/brand association. The Izod fit suits Webb's trim athletic frame.
Rory McIlroy/Nike
This just might be the best four-day major line-up we're seen from McIlroy. It's simple, clean and clear. The monochromatic look really works well, especially with his belt colors coordinating with the pants and the strong engineered color blocs. The Sunday stripes are great, and wearing the blade collar every day helps marry Rory to this look.
Paul Casey/Nike
I love the added feature of tipping on each of the shirts around the collar and the use of a design color contrast. Casey will make them all look great.
Brooks Koepka/Nike
The big difference for Koepka in coming to Nike has been how well all his clothes have fit. Two days of the Blade collar followed by the Fly Swing knits on the weekend make for a strong statement.
Bubba Watson/Oakley
Watson covers all the trend bases with his Oakmont wardrobe. The engineered camo-striped polos are consistent with Oakley's DNA. It's timely and will read well on TV. The solid-grey selection is a bit conservative for me, but the overall look works.
Brandt Snedeker/Peter Millar
Snedeker's pants always tell a story, and his five-pocket offering for Thursday is an excellent option for this summer. The wicking fabric makes it practical for the anticipated warm weather. Each day there is a stripe story in either the shirt, belt or pant, and the winner in my book is the Saturday's strong coral stripe.
Bill Haas/Peter Millar
This is a nice balance of stripes and color. Notice how a non-leather belt can add some zing to an outfit. Simple, clean and good.
Harris English/Peter Millar
The variety of colors in the pants stands out here, in a good way. English is slim enough to make Friday's blue shirt work with the lighter color pants.
Louis Oosthuizen/Ping
Oosthuizen's scripting covers many of the current trends: color blocs, engineered stripes, contrast plackets and collars. Each shirt shares the Sensorcool fabric, which has all of the correct bells and whistles as well: moisture control, crease resistant, UV protection, etc. Purple is a color that Ping should use on an ongoing basis with Oosthuizen as it suits him well.
Rickie Fowler/Puma
You can learn a lot from Fowler's Puma script. The key lesson: Have a base color. In this case, it's blue, which enables Rickie to rotate styles and pack accessories that coordinate accordingly. (Orange fans need not worry, though, come Sunday!) The engineered stripe for Thursday looks to have the most color impact. Friday's shirt, with contrast placket and collar, is bound to get plenty of TV exposure. Fowler is scheduled to wear Puma's six-pocket pant on three of the four days at Oakmont, which will also help define this clean casual look. (It has, in addition to a small coin pocket, a spot for your scorecard.) Notice the fit on Rickie's wardrobe, as it is textbook. And also notice: No joggers this week.
Billy Horschel/RLX Golf
Horschel once again sets a high bar for colorful, fun looks. Style tip: Make a statement with one element each day, whether it's the shirt, pants or even his shoes. When you focus on one, you increase the impact of the entire outfit. Like my grandmother said, "If you tell one joke and people laugh, shut up."
Jordan Spieth/Under Armour
Give Jordan credit for amping up his wardrobe by introducing some new colors and patterns. Thursday's opener is his go-to look, but Friday steps it up considerably. The shirt will look great on hi-def monitors. Saturday is once again standard Spieth, yet Sunday's shirt once again has some real pop. Overall, a solid step forward.