PGA Championship
2016 PGA Championship Style Preview
Golf Digest's Mr. Style, Marty Hackel, looks at what tour pros will be wearing at Baltusrol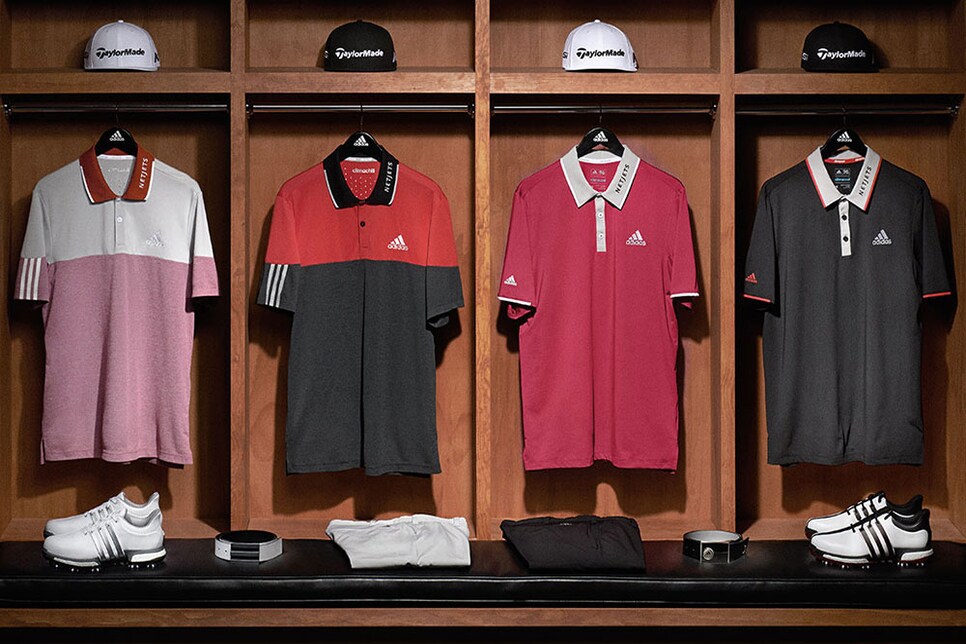 Dustin Johnson/Adidas
DJ starts with a strong color-block-polo look on Thursday and Friday before returning to the contrast collar and placket we've been accustom to seeing him wear this year. The latter has become Dustin's signature look, and for good reason considering how strong it makes him look. He (and Adidas) would be smart to stick with it.
Jason Day/Adidas
The defending PGA champion's emphasis on color-block polos puts him right on trend. I like that he's alternating between just two different styles of shirts. To me this is the best way to have an impact with his scripting. And as usual Day is using the Boa lacing system with his footwear.
Justin Rose/Adidas
Rose started wearing Adidas earlier this month and is looking strong. I think he should stay with the solid polos and adopt red as his go-to color. The color block for Friday is an excellent selection as well, before Rose returns to the standard issue contrast-collar look for the weekend.
Webb Simpson/Izod
Simpson makes a strong stripe statement that's enhanced by his new physique. I also like the Blue Check pants. Having some patterned trousers gives the week's wardrobe some added dimension.
Rory McIlroy/Nike
Nike's continued consistent emphasis on the blade collar each day makes great sense. Simple, straight-forward engineered stripes maintain a very uniform look, which I think has great merit.
Louis Oosthuizen/Ping
The real story behind Oosthuizen's look is the SensorCool technology in the shirts, which moves moisture away from your body and will come in handy given the warm, humid week that's forecasted. The Thursday engineered-stripe button down is neatly on trend. The striped shirt scheduled for Friday will read well on TV, and it's a very clean look. The shirts for the weekend are a bit muted, and while I think they are strong sellers, they will not project well on the screen.
Rickie Fowler/Puma
Fowler's wardrobe is, as usual, quite stylish; his shirt fabrics will perform well and its design elements are right on trend. But at first glance the entire scripting is way too dark and somber. While understanding that Puma is pulling items from its Fall collection, it just looks a little off for July and the bright, hot conditions expected at Baltusrol. And for the second-straight major, there are no high-top shoes to be found.
Billy Horschel/RLX Golf
By far this is Horschel's best scripting from the year's four majors. I give him high marks for wearing his strongest patterned trousers on Sunday, but the Thursday and Friday pants are also very impactful. The strong shirt stripes are excellent, too. Style tip here: it's best to select one article to be bold with and have everything else take a subtle, supporting role.
Justin Thomas/RLX Golf
The kid is starting to show some strong style. I love the floral pants on Thursday, and that pink for Sunday makes a very strong statement. Looks like both Thomas and Horschel will be in green bottoms on Friday, which rather than compete will increase the impact in that they will have two distinctly different shirt patterns and colors.
Jordan Spieth/Under Armour
With Jordan's major scripting, you expect to see lots of blue and grey, and his PGA line-up does not disappoint. The Thursday striped shirt will look great, and staying within this palette gives Jordan a consistent look. Note the woven belt as it looks smart and is a sensible, practical accessory. And with Spieth wearing
Under Armour's prototype Smart Shoe
, we're anticipating learning more from his footwear (like how many steps will he take this week).