PGA Championship Style Review
Mr. Style breaks down who wore it best at Oak Hill with the PGA Championship edition of the Week In Style.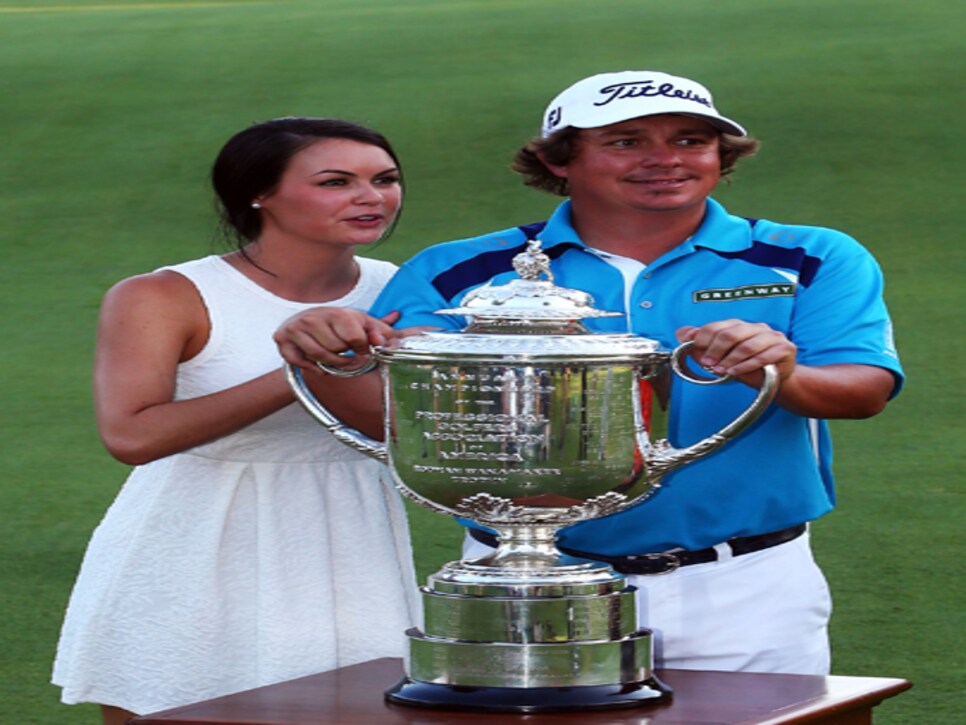 Jason Dufner
Not sure what they're looking at, but if it's the future, I think it's coming up roses. Amanda's Sunday dress looks perfect against the backdrop of green and silver.
Rory McIlroy
I think the sweater vest looks terrific on Rory, and I think he -- and his game -- looked great all week.
Ryo Ishikawa
Take two looks at the best-dressed golfer on tour.
Jonas Blixt
In case you didn't realize it, this is the color combination of the Swedish flag. Pretty savvy move by Blixt.
Graeme McDowell
Elegant. Classic. Very G-Mac.
Paul Casey
Casey looking thoroughly modern. We're smiling too.
Kohki Idoki
I'm not sure wearing your pants this high is okie dokie, but it works for Mr. Idoki. And he certainly has game.
Miguel Angel Jimenez
I know there's a story behind that belt buckle, so stand by. . .
Billy Horschel
Horschel looking like Horschel. And if you're keeping tabs, you'll notice that stripes are making a lot of appearances.
Henrik Stenson
Stenson in Boss and on trend with stripes. Hard to go wrong with that combination.
Lee Westwood
Speaking of trends, Westwood is right on with that lime green. Bright colors and stripes were on display at the PGA. Now if we can only get him to reconsider that white belt.
Rickie Fowler
No one plays bold better than the trend-setting Fowler. And no one was more creative with their use of stripes at the PGA than Puma with these shirts.
Webb Simpson
The bold red suits Simpson.
Fredrik Jacobson
We love the new hat. Sorry we don't have an image of the plus fours, which were also fantastic.
Adam Scott
Not only looking like Adam Scott, but playing like Adam Scott.
Martin Kaymer
Is Kaymer doing the skeleton thing here? It looks like a silhouette of a skinnier version of himself. By the way, nice shot.
Tiger Woods
Pretty interesting shirt, isn't it? Love the new grey back to his Sunday red.
Steve Stricker
Stricker makes this striped FootJoy a winner. Have we mentioned stripes?
Justin Rose
We're huge Rose fans, but wearing all blue is pretty dull. We're just shocked he didn't have a blue putter grip.
Francisco Molinari
Stripes, stripes, stripes, stripes. And here's yet another variation on the striped theme.